James Percival Yates, 1859 - 1925
by Brian Stevenson
last updated January, 2018
J. Percival Yates' microscope slides are particularly appealing due to his distinctive, elegant handwriting, and the good quality of their finish. Records suggest that he was an active, amateur slide-maker for about 14 years, from ca. 1880 until 1894, and examples of his work probably come from his personal collection or from colleagues with whom he traded.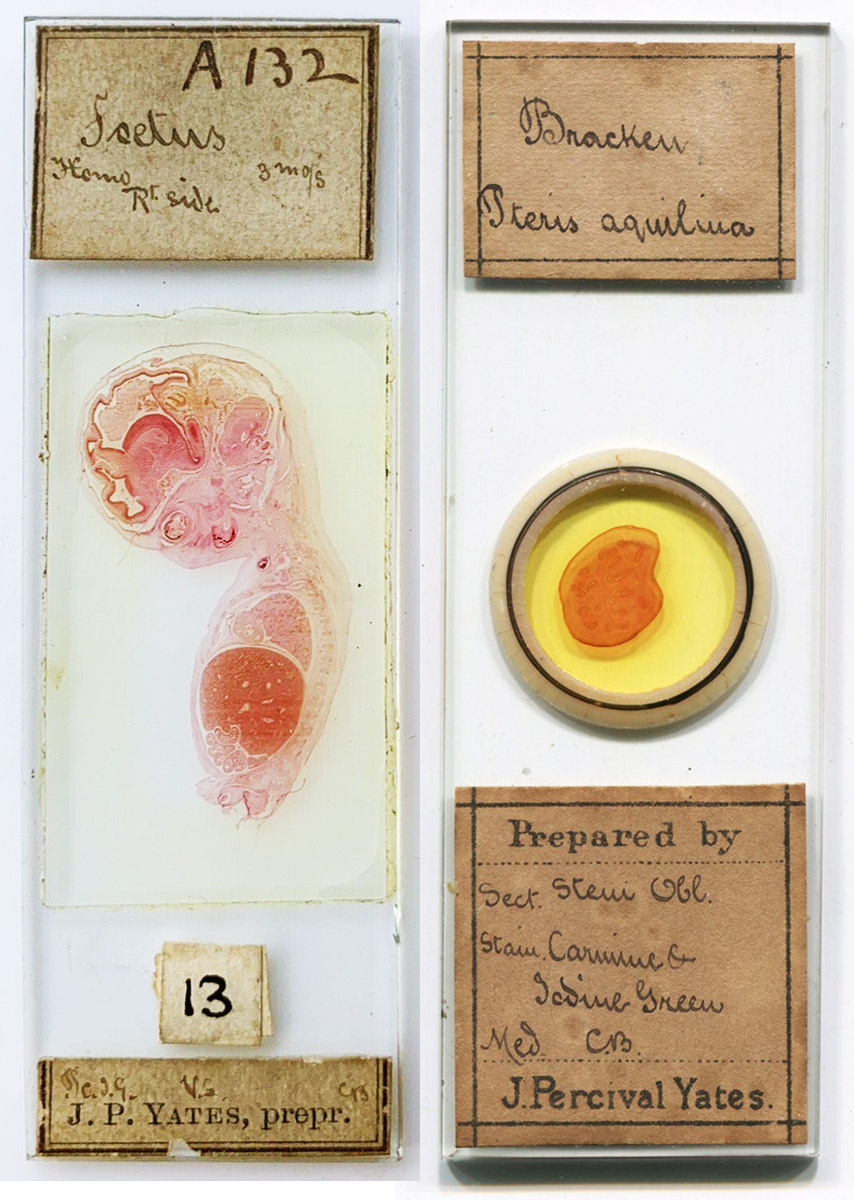 Figure 1. J. Percival Yates microscope slide of oblique section of a bracken stem, stained with carmine and iodine green, and mounted in Canada balsam (CB).
&nbsp


Figure 2. An example of Yates' handwriting, from his 1894 marriage record.
&nbsp


Figure 3. Another example of Yates' handwriting, from the 1911 census of England. Household heads were requested to fill out the forms.
&nbsp
Born James Percival Yates in late 1859, he generally referred to himself on records as "J. Percival", and probably was familiarly known as Percival.
He was the only child of Nathan and Emma Yates. The father was a salesman, evidently quite successful. All censuses record that the Yates home included a live-in domestic servant. The 1861 census, taken when Percival was 1 year old, included his wet nurse among the household.
The Yates lived in the area of Manchester, England. Percival was born in Cheetham, then they moved to Hulme before he was 11.
Percival trained as a chemical analyst, an occupation listed on his 1881 census entry. His 1883 and 1884 listings on the membership roles of the Manchester Microscopical Society gave his address as "City Laboratory, 29 Princess Street". This was also the address of chemist Charles Estcourt, for whom Yates likely worked.
In 1881, when only 21 years old, Yates served as Honourable Secretary of the Manchester Science Association. He was already an active microscopist: a report of the Association's 1881 soiree states that he presented slides of "Pediculus vestimenti (without pressure), Pulex musculi (without pressure), T. Sect. inject. Human Kidney, and Goniodes stylifer" (the first, second, and fourth items are the human body louse, a flea, and a bird louse, respectively). Considering his future productions, it is probable that Yates prepared the slides himself.
By 1883, Yates joined the Manchester Microscopical Society. He was listed in the 1883 and 1884 list of members, but not again for several years.
Yates was recorded in the 1891 census as being a "pathological curator", in 1901 as an "anatomical steward", and in 1911 as "anatomical assistant, medical school". His 1894 marriage record listed him as an "anatomist". These job descriptions suggest that he managed anatomy laboratories, all of which were probably educational.
Percival re-emerged onto the membership lists of the Manchester Microscopical Society in 1892. His address that year was given as "The Museum, 8, Chatham-street, Piccadilly". He was also a member of the Society's Mounting Section, a group devoted to preparing high-quality microscope slides. It was probably there that Yates learned advanced techniques for preparing and finishing his slides.
The 1893 membership list placed him at his parents' house, 2 Mayfield Grove, Embden Street, Hulme. He exhibited to the Society on "circulation in frog's foot", and gave demonstrations of "embedding, &c., of animal tissues in paraffin" and "in celloidin". Those latter two were probably methods for embedding and fine-sectioning soft tissues. They may have been associated with his job as an anatomist.
Yates is last listed in the membership roles of the Manchester Microscopical Society in 1894, which would have been assembled in late 1893. He married Lois Banning on August 25, 1894. Marriage appears to have altered his focus, and his name no longer appeared as a member of the Manchester Microscopical Society.
Little more is known about Yates, except his census records. He died during early 1925.
&nbsp
Resources
The Chemical News and Journal of Physical Science (1881) "Institute of Chemistry of Great Britain and Ireland Fellows: Estcourt, Charles, FCS, 29 Princess-street, Manchester", Vol. 45, page 210
Christening record of James Percival Yates (1860) Jan 8, at Saint Mark's Church, Cheetham, accessed through ancestry.com
England census and other records, accessed through ancestry.com
Marriage record of James Percival Yates and Lois Banning (1894) August 25, at Didsbury Parish Church, accessed through ancestry.com
The Northern Microscopist (1881) "Manchester Science Association. Hon. Sec.: Mr. J. Percival Yates. Meetings Second and Fourth Tuesday in each month", Vol. 1, page 193
The Northern Microscopist and Microscopical Record (1882) Manchester Science Association, Vol. 2, pages 40-41
Transactions and Annual Report of the Manchester Microscopical Society (1883) Members, "Yates, J. Percival, City Laboratory, 29, Princess-street"
Transactions and Annual Report of the Manchester Microscopical Society (1884) Members, "Yates, J. Percival, City Laboratory, 29, Princess-street"
Transactions and Annual Report of the Manchester Microscopical Society (1892) Members, "Yates, J.P., The Museum, 8, Chatham-street, Piccadilly" (also noted that he was a member of the mounting section)
Transactions and Annual Report of the Manchester Microscopical Society (1893) Members, "Yates, J.P., 2, Mayfield-grove, Embden-street" (also noted that he was a member of the mounting section)
Transactions and Annual Report of the Manchester Microscopical Society (1894) Members, "Yates, J.P., 2, Mayfield-grove, Embden-street" (also noted that he was a member of the mounting section)