Charles Bailey, 1838-1924
by Brian Stevenson
last updated June, 2018
Charles Bailey was an amateur botanist and microscopist, and long-time member of several scientific societies in Manchester, England. The majority of his working life was spent with Ralli Brothers, an international trading business, rising to become one of the firm's managers.
As might be expected, the majority of Bailey's microscope preparations deal with botanical subjects (Figure 1). A substantial number of Bailey's known slides were obtained from colleagues or professional preparers, which he relabeled with his own customized labels. He noted the sources of those materials/slides.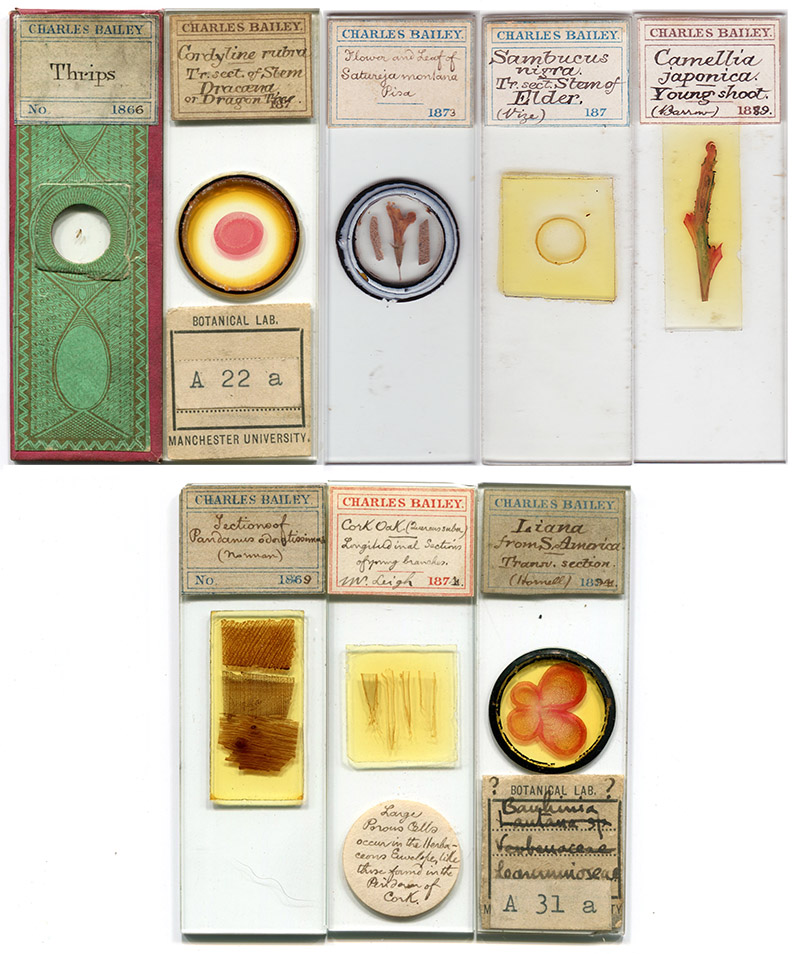 Figure 1. Examples of microscope slides produced or owned by Charles Bailey. The two shown on the right side of the upper row were evidently prepared by Bailey's Leeuwenhoek Microscopical Club colleagues John Vize and John Barrow. The slides on the lower row were obtained from professional slide-maker John Norman, an unidentified Mr. Leigh, and professional slide-maker James Hornell. The green-papered slide in the upper row, dataed 1866, was probably also made by a professional. As did several of his other Leeuwenhoek and Manchester Club colleagues, Bailey made use of customized labels pre-printed with the decade of use. Upon Barrow's death in 1890, his family gave Bailey over two thousand of Barrow's preparations.
&nbsp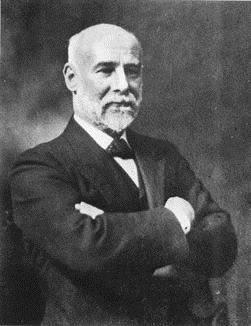 Figure 2. Undated photograph of Charles Bailey. Adapted for nonprofit, educational purposes from https://herbologymanchester.wordpress.com/collectors-2/.
&nbsp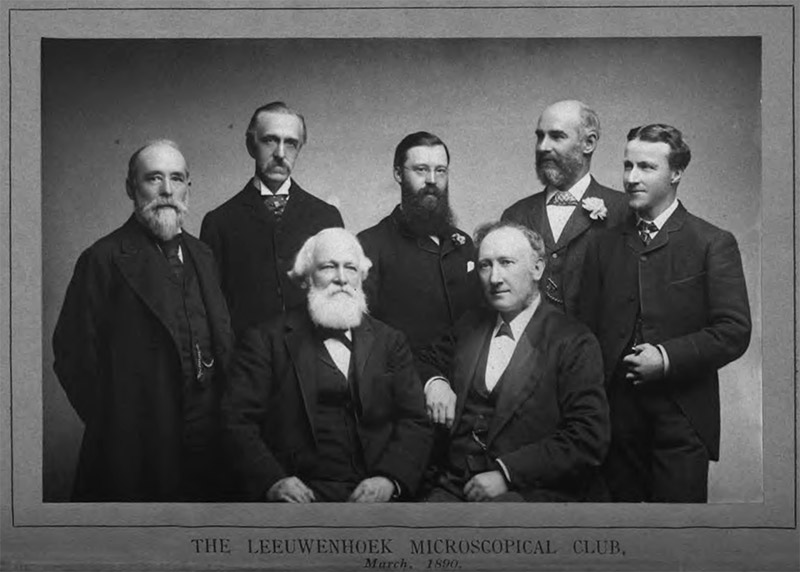 Figure 3. The Leeuwenhoek Microscopical Club, as it existed in March, 1890. The gentlemen can be identified from other photographs of them, and their ages at the time. Left to right, Mark Stirrup, William Blackburn, John Barrow, John Boyd, John Tatham, Charles Bailey, and John Pettigrew.
&nbsp
Charles was born in Atherstone, Warwickshire, the first child of Charles and Mary Elizabeth Eglington Bailey. Charles Senior was reported to be a "currier" on his son's baptism record. Young Charles was christened at Saint John in the City, Coventry, on July 18, 1838. Some biographical sources state that to have also been his birth date, which is highly unlikely. Other sources give his birthdate as July 14, 1838. Three other children followed, John Eglington (1840), James (1843), and George Henry (1845). John Eglington Bailey became a famous antiquarian and was one of the first contributors to the Dictionary of National Biography.
Charles' father died when he was young, possibly in 1849. The 1851 census found Charles, his widowed mother, and his brothers living with a maiden great-aunt in Ashbourne, Derbyshire.
The family moved to Manchester in 1852. In 1854, Charles began working for Ralli Brothers. His brother John also worked for that firm. The 1861 census recorded Charles as a "cashier to shipping merchant", and John as "commercial clerk to shipping merchant". Brother James was a "salesman" for a collier, while youngest brother George was able to remain a "scholar" at age 15. Presumably due to the elder siblings' incomes, the family employed a live-in domestic servant.
Charles married Hannah Dean during the summer of 1870. The couple did not have any children. Charles' salary enabled the pair to employ a servant.
Bailey attended botany courses at Owen's College of Victoria University (now Manchester University), and became a member of the Scientific Students' Association.
He helped form the Manchester Scientific Students' Microscopical Club, which first met on October 17, 1867 at the Bailey home. The club was limited in size to seven, that being the number of men who could fit around a table at the members' houses. In addition to Bailey, the first members were the Reverend John Vize, Mark Stirrup, John Hardy, Thomas Peace, John Barrow, and James Bussen. Vize was the first President, and Stirrup the first Secretary. Hardy took on the presidency in October, 1868, when Vize moved to Wales.
Club records credit Bailey with the invention of a table-mounted microscope carrier that revolved on a central pivot. It was "a very simple but useful and effective means for the transport of one or more microscopes from person to person of a company seated around a table... The most suitable method of accomplishing this end had been a problem to the members before they constituted themselves into a Club, as it is extremely inconvenient to keep changing seats every time a fresh slide needs to be seen. The mode in vogue at that date was to place the microscope and lamp upon a square tray having rollers at its corners, and then slide it round the table from one individual to the next; but this was not a satisfactory arrangement, as the jolting often disturbed the focus, and the light could not be taken from a chandelier. At the opening meeting of the Club in 1867 Mr. Charles Bailey had devised the plan of covering a solid table with maroon cloth, and with a hole in its centre in which a screw was fixed; round this screw revolved a polished bay-wood carrier having in its triangular end several holes for adjusting the carrier to the size of the circle of observers seated round the table".
At the start of 1875, the club's name was changed to the Leeuwenhoek Microscopical Club. That September, the club consisted of Bailey, Hardy, Barrow, John Boyd, and John Tatham. The club went into hiatus in 1876, re-forming in November, 1880, with a membership of Bailey, Hardy, Barrow, Boyd, Tatham, and Stirrup. Hardy resigned shortly thereafter, and two new members joined, John Pettigrew and George Davis. Davis was the Editor of The Northern Microscopist and author of Practical Microscopy. William Blackburn replaced Davis in 1884, after the latter moved away from Manchester. The Club dissolved in March, 1891.
Its members helped form the larger Manchester Microscopical Society in 1880, with Tatham as the first President. Boyd, Blackburn, and Davies also served that role over the years.
Bailey was elected to be a Fellow of the Linnaean Society of London in 1878, and subsequent records frequently append his name with "F.L.S.". He was also a member of the Botanical Exchange Club, for which he served as Secretary from 1879 until 1902. In 1899, he helped form the Manchester Field Club. Bailey served as President of the Manchester Literary and Philosophical Society from 1901 through 1903.
His involvement in botany was such that he included "F.L.S." along with his name in the 1881 census, and described his occupation as "Buyer - Scientific Man - Botany". His botanical collection grew to over 300 000 specimens. It was so large that, when he moved to Blackpool in 1902, he bought two houses – one to live in and one for the collection.
Bailey retired from Ralli Brothers in 1908, after 55 years employment with that firm. He and Hannah (and Hannah's unmarried sister) moved to Cheltenham, Gloucestershire. Some time later, they moved to Torquay, Devon. Charles died on September 14, 1924 in Torquay, at the age of 87. His botanical collection was donated to the Manchester Museum. His collection of microscope slides appears to have been distributed among friends.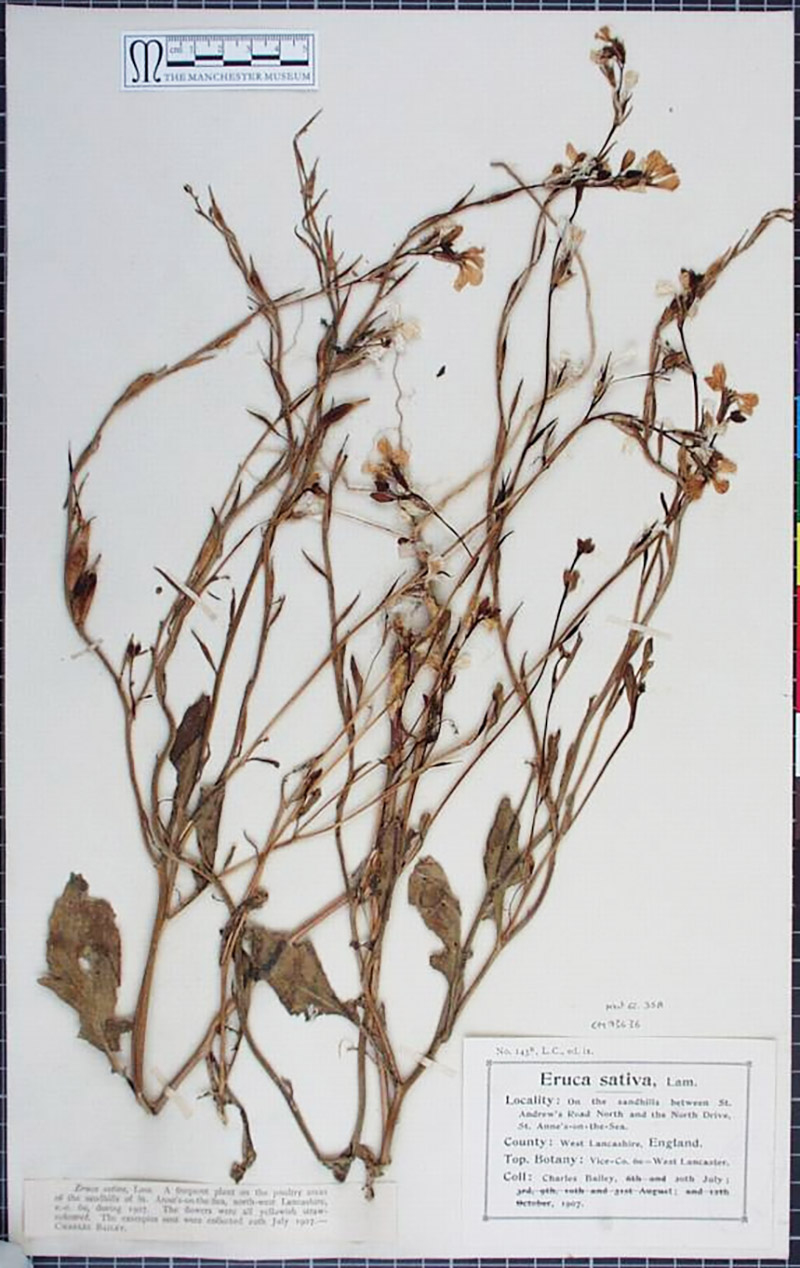 Figure 4. A specimen of Eruca sativa, collected by Charles Bailey in 1907. Adapted for nonprofit, educational purposes from the Herbarium of the Manchester Museum, https://herbologymanchester.wordpress.com/category/identification/.
&nbsp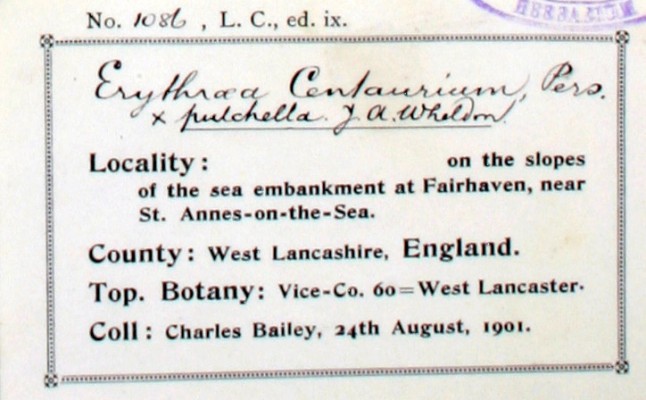 Figure 5. One of Charles Bailey's botanical specimen labels. Adapted for nonprofit, educational purposes from http://herbariaunited.org/wiki/Charles_Bailey.
&nbsp
Resources
Alger, John G. (1901) Bailey, John Eglington, Dictionary of National Biography (1901 supplement)
Baptism record of Charles Bailey (1838) Parish records of Saint John in the City, Coventry, Warwick, accessed through ancestry.co.uk
Davis, George E. (1882) Practical Microscopy, D. Bogue, London
England census, birth, marriage, and death records, accessed through ancestry.co.uk
Herbaria@home (accessed August, 2015) Botanical Society of the British Isles, http://herbariaunited.org/wiki/Charles_Bailey
Herbology Manchester (accessed August, 2015) https://herbologymanchester.wordpress.com/collectors-2/ and https://herbologymanchester.wordpress.com/category/identification/
Journal of Botany (1925) Obituary of Charles Bailey, Vol. 63, page 23
Manchester Microscopical & Natural History Society (accessed August, 2015) http://www.manchestermicroscopical.org.uk/
Report and Special Report from the Select Committee on the Trade Marks Bill (1905) "Mr. Charles Bailey … is one of the managers of Messrs. Ralli Brothers, merchants, who have houses at London, Manchester, Liverpool, Hull, Dundee, Antwerp, Marseilles, Calcutta, Bombay, Karachi, New York, and elsewhere (and) has been in their employment for fifty-one years, and during almost the whole of that time has had charge of their numerous trade marks, and has carefully followed all legislation, actual or proposed, affecting the use and registration of trade marks, and especially those employed in the Manchester trade", His Majesty's Stationery Office by order of the House of Commons, page 52
Probate of Charles Bailey (1924) "Bailey Charles of Sandhurst St Mary Church Torquay died 14 September 1924 Probate London 13 November to George Constantine Demetriadi merchant and Athanasius Constantine Demetriadi merchant. Effects £23216 10s 10d", accessed through ancestry.co.uk
Proceedings of the Linnaean Society of London (1878) Election of Charles Bailey, page xxxv
A Review of the Work of the Leeuwenhoek Microscopical Club, Manchester, From October, 1867, to March, 1891. in Pamphlets on Protozoology (Kofoid Collection), Vol. 298, on line at http://books.google.com/books?id=jmA0AAAAIAAJ