Charles Camp, 1862 - 1927
by Brian Stevenson
last updated July, 2018
The Manchester Microscopical Society has made significant impacts on all levels of microscopy. Numerous professional and amateurs of note have been members, including Abraham Flatters and Edward Ward. The Society's Mounting Section provided members with opportunities to enhance their slide-making skills, and the Extension Section coordinated opportunities for members to present to other groups throughout Britain.
Charles Camp was a member of the Mounting Section throughout his 9-year membership in the MMS. He served as Chairman in 1909, Vice Chairman in 1908, and on its Council for several other years. Those years of experience are evident in the quality of his slides, from preparation of specimens to precision finishing details (Figures 1 and 2).
He was also a member of the MMS Council from 1905 until 1908. Camp was a member of the Extension Section throughout his time in the MMS, and served on the Extension Section Council in 1904 and 1909-1910.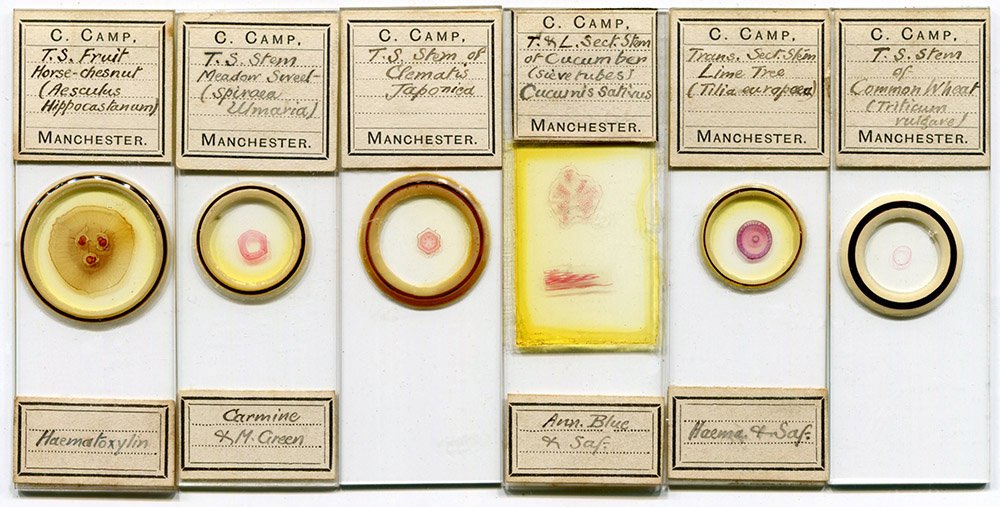 Figure 1. Examples of slides that were prepared by Charles Camp. All were obtained in a collection that included numerous slides by members of the Manchester Microscopical Society, and presumably date from Camp's involvement with that group, 1903 – 1912.
&nbsp
Charles Camp was a legal clerk. During the first decade of the twentieth century, he worked for the Mersey-Irwell Joint Committee. This organization was charged with enforcing antipollution laws in waterways between Manchester and the sea, including restrictions on sewage and industrial wastes.
He was born during early 1862 in Howden, Yorkshire. His father, James, was also a clerk, described in the 1871 census as "managing clerk to solicitor", and in the 1881 census as "county court clerk & estate agent". Charles was the second of four children, all boys.
Charles married Margaret Neill during the summer of 1888. They did not have any children.
The 1891 census located them in Huddersfield, Yorkshire, with Charles working as a "solicitors clerk". At a time during the following decade, they moved to Manchester and Charles took the position with the Mersey-Irwell Joint Committee. The 1901 census shows them living in Moss Side, Hulme. When Charles joined the MMS in 1903, they lived in Fallowfield. The next year, the Camps moved to West Didsbury, and remained there through at least 1912.
Camp's enthusiasm for microscopy is evident by his membership and service to the Manchester Microscopical Society and its committees. He regularly exhibited his slides at Society meetings and soirees, and presented demonstrations on preparation methods.
Charles Camp's involvement with the MMS ended in 1912 - he is not listed as member after that year. This abrupt break may have been due to a move from the area. Charles died in Kingsteignton, Devonshire on March 28, 1927. One would assume that he continued to prepare slides for himself and friends after 1912, although there is no direct evidence.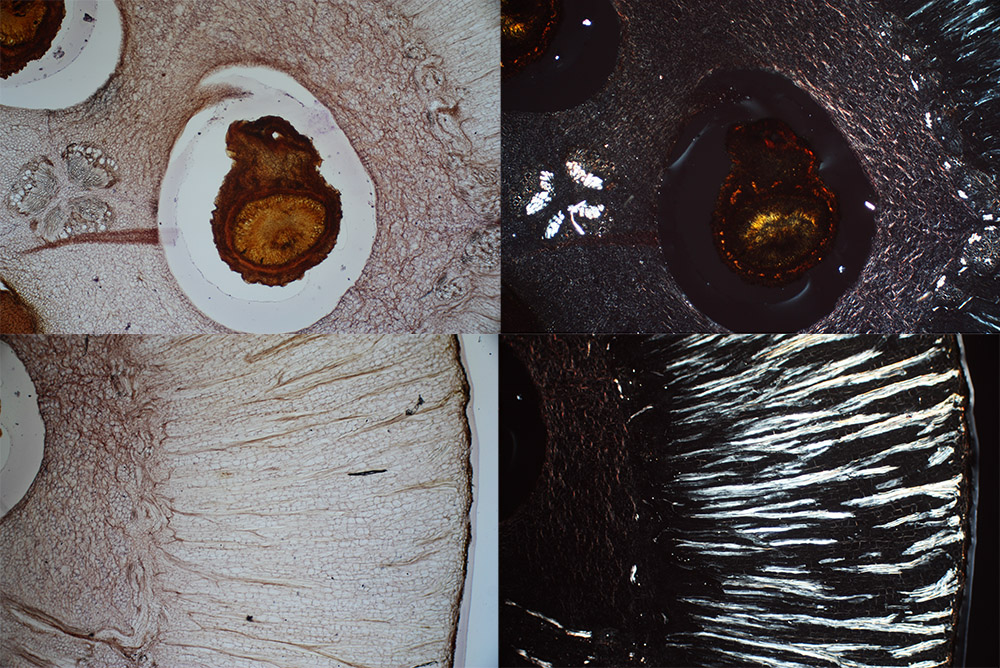 Figure 2. Details of Camp's preparation of horse chestnut fruit (see Figure 1). The left images were produced using brightfield illumination, and those on the right were photographed with crossed polarizing filters. All photographed with a C-mounted digital SLR camera and a 3.5x objective lens.
&nbsp
Resources
Annual Report and Transactions of the Manchester Microscopical Society (1903 - 1921)
England census and other records, accessed through ancestry.com
Probate of the Will of Charles Camp (1927) "Camp Charles of Elettra Kingsteignton Devonshire died 28 March 1927 Probate Manchester 29 April to Margaret Camp widow. Effects £1767 16s 4d"
Report of the Joint Committee and of the Consulting Engineer on the Subject of Sewage Disposal (1906) "English legislation regarding the pollution of streams is based on the Public Health Act of 1875 and the Rivers Pollution Prevention Act of 1876. Both of these are general acts which apply to Scotland and Ireland as well as to England and Wales. In 1892 a special act was passed establishing a Joint Committee for the Mersey and Irwell watersheds, and in 1894 a similar Act was passed creating a similar authority for the West Riding of Yorkshire. As these acts stand as the basis of the work which is now being done in England to protect the inland streams from sewage pollution, and as these acts are not well known in this country, the following quotations from the Mersey and Irwell Joint Committee Act of 1892 are here given …", the Joint Committee on Sewage Disposal, Paterson, New Jersey