Charles Collins, Jr., 1861 – after 1901
by Brian Stevenson
last updated November, 2013
Charles Collins was a professional slide maker, active in that business for about 3 or 4 years during the mid-1880s. He operated a shop from his home in the northwestern London suburb of Harlesden (Figures 1 and 2). Charles was a nephew of the famous Victorian-era microscope maker Charles Collins Sr., who also sold young Charles' slides through his own shop on Great Portland Street, London (Figure 3). Charles Jr. ceased his microscopy business by 1888, and turned to book publishing and selling. He was not the man reported in Brian Bracegirdle's Microscopical Mounts and Mounters as having lived in Birmingham during the 1890s. That man was actually named John Collins (a brief description of J. Collins is presented at the end of this essay).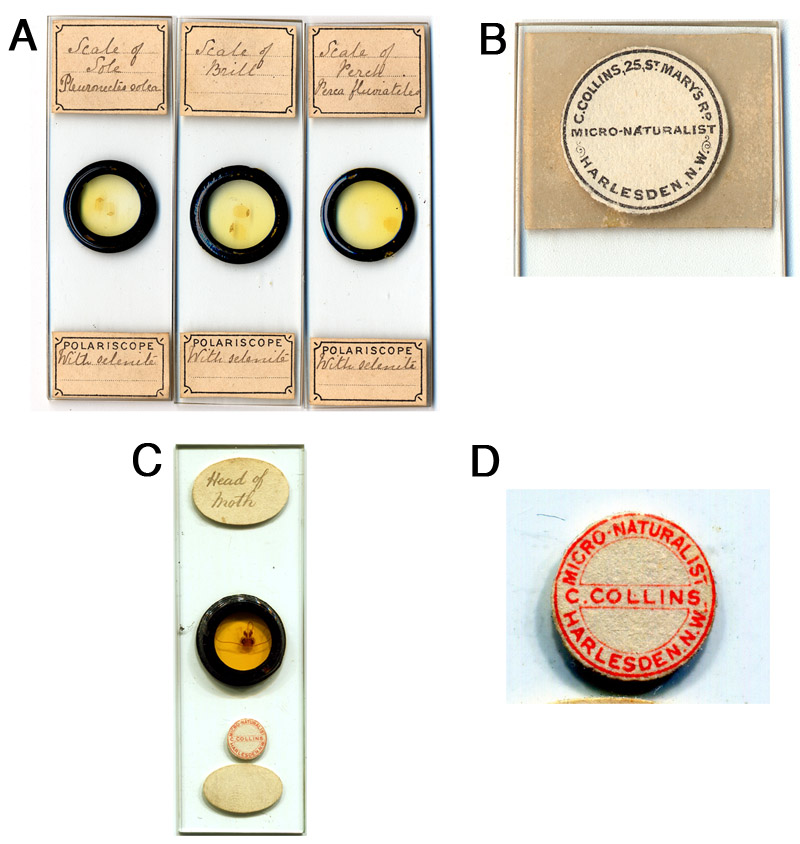 Figure 1. Examples of microscope slides prepared by Charles Collins, Jr., and bearing his labels. All probably date between 1884 and 1887. (A) Scales of fish, as described in advertisements for Series 1a in 1885 (Fig. 3B). (B) Rear view of one of the slides shown in panel C, identifying the maker. All of the slides in this figure have this same circular label on the reverse. (C) Head of a moth, prepared without pressure in balsam. . (D) Close-up of the label on slide C.
&nbsp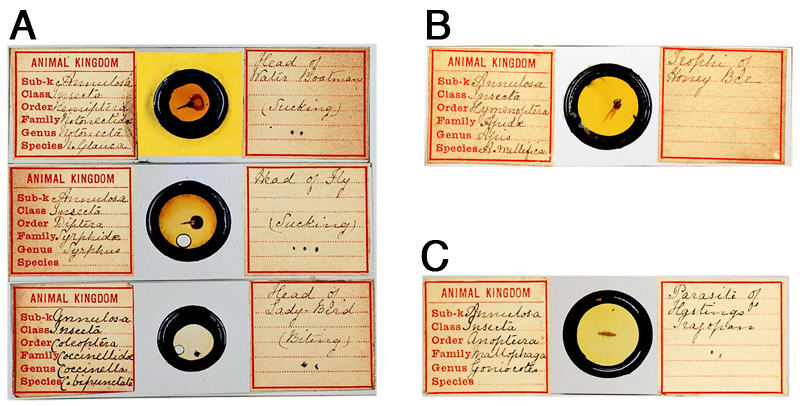 Figure 2. Additional examples of microscope slides that were probably prepared by Charles Collins, Jr. Collins' advertisements often stressed that he included a "full descriptive label",. All probably date between 1884 and 1887. (A) Heads of insects, prepared without pressure in balsam, as described in advertisements for Series 2 in 1884 (Fig. 3A and B). (B) Trophi (head) of honey bee, slide 1 of Series 5, as described in advertisements during 1885 (Fig. 3C). (C) Parasite of the Hastings tragopan (Tragopan melanocephalus, also known as the horned or Himalayan pheasant), genus Goniocotes (bird lice), species not identified.
&nbsp


Figure 3. Advertisements published by Charles Collins, Jr. in Hardwicke's Science-Gossip, 1884 to 1886. The advertisements shown in panels A, B and E were on the same page as advertisements for his uncles' businesses (included in panel A). Both the Charles Collins Sr. microscope manufacturing firm and the William P. Collins publishing/bookselling business operated from 157 Great Portland St., in downtown London. Note that Charles Jr.'s slides could be obtained either directly from his home in the suburb of Harlesden or in the City at his uncles' shop. All of the microscope slides illustrated in Figure 1 are mentioned in these advertisements. The ads describe additional services performed by Charles, including providing new and second-hand microscopes "on the most advantageous terms" (probably obtained from Uncle Charles), custom mounting of customers' specimens, and proxy bidding on microscopy supplies at City auctions.
&nbsp
Charles Collins, Jr., was a grandson of Henry George Collins, a noted London publisher of maps, atlases and globes during the mid-1800s. He also patented and marketed a process called "electro-block printing", by which enlarged or reduces copies could be made of existing prints. Henry G. Collins and his wife, Matilda (nee Papprill), had 3 children: William Papprill Collins (1831 - 1914), Henry Edward Collins (1835 - ?) and Charles Collins (1838 - after 1915). The father passed his publishing business on to sons William and Henry at some point before 1859, since only the two sons were listed as owners of the business when they filed for bankruptcy during that year. In addition, the father and son William owned of a "fibre" factory, which went bankrupt in 1862. The two elder sons, William and Henry, then worked as publishers and booksellers. The youngest son, Charles, became an optician and manufacturer of microscopes (a biography of this other Charles Collins is also available on this site).
Charles Collins, Jr., was born during the late summer of 1861, the third child (second son) of Henry Edward and Elizabeth Collins. The 1871 England census records 9 year-old Charles, his mother, elder sister and 4 younger siblings living in Isleworth, Middlesex, while his father was staying in the Green Dragon Hotel, Hereford, recorded as a "commercial traveler". The 1881 census recorded Charles Jr. as being an "apprentice (microscopist)". His Uncle Charles was recorded as being an "optician, master", employing 5 men and 1 boy. It is reasonable to assume that Charles Jr. apprenticed with his uncle, and that he was the "boy". The close business relationship between Charles Jr. and his uncle, 3 years later, supports this hypothesis.
Charles Jr. began his slide-making business in 1884. The April, 1884 issue of The Journal of Microscopy and Natural Science stated, "We are informed by Mr. Chas. Collins, 25, St. Mary's Road, Harlesden, N. W. (nephew of the well-known Mr. Chas. Collins, of Portland Road), that he has lately given considerable attention to the study of the Scales of Fishes, and that he has now prepared for sale a selection of over 50 varieties. Of these we have seen - Scale of Boar-Fish, mounted for the Polariscope; Scale of Sole, and Skin of Dog-Fish, both mounted opaque. The style of mounting leaves nothing to be desired".
Similarly, the April, 1884 issue of The Microscopical News and Northern Microscopist announced, "Fish Scales - Mr. Charles Collins, nephew of the well-known microscope maker of the same name, has just issued a series of these interesting objects, comprising 48 distinct species. As Opaque slides the scales are splendid objects for the Monocular as well as Binocular, and the skins, though from the same fishes, will be found, when examined, to warrant the repetition. The scales of the Eel and Perch under the Polariscope are pretty well-known, but for variety and beauty the number will bear adding to".
That same month's issue of Hardwicke's Science-Gossip reported, "Mr. Charles Collins (nephew of Mr. C. Collins, the well-known microscope manufacturer) is issuing a special set of excellently mounted slides illustrating the skins and scales of fishes. As the reader will see by referring to the earlier volumes of Science-Gossip (where the scales of many British fishes are illustrated) they are very beautiful objects" and "Mr. Charles Collins, jun., micro-naturalist, has sent us three admirably mounted slides. One of the head of the cockroach, another of the soldier beetle (these two illustrating the structure of biting mouths), and the last of the head of the water measurer (illustrating sucking-mouth). The names of the subkingdom, class, order, family, genus, and species are on each slide". Examples of these handwritten labels are shown above in Figure 1, and noted in Bracegirdle's Microscopical Mounts and Mounters.
Science-Gossip announced, in 1885, "Parasites of Birds, &c. - Mr. C. Collins has forwarded specimens of a new series of his 'special' micro-slides; a series of parasites chiefly of birds. Those sent are the parasites of heron, gull, and penguin, each slide being furnished with a label giving the classification, from sub-kingdom down to species", "Collins's 'Special' Micro-Slides - Mr. Charles Collins's Catalogue of his 'special' slides for the present season is to hand, and with it half-a-dozen sample slides, selected from different series, as follows: From series No. 4 (Heads of Insects) the head of the water boatman; series No. 6 (the Silk-worm and Moth of ditto), the trachea and spiracle (in situ) of the caterpillar; series No. 7 (Anatomy of Blow-fly), the buzzing organ; series No. 8 (Anatomy of Honey-Bee), the wings, showing hooklets; series No. 9 (Anatomy of the Great Water-Beetle), the trophi; and from series No. 10 (Anatomy of the Oil-Beetle), he sends the antennae. These slides ought to be of great service to those who cannot provide the objects for themselves", and "Of the Acarina, or mites, a wide and interesting field is open to the young microscopist. Found wherever there is decay and mouldiness, even in the cavities of the bones of skeletons, they may be regarded as ubiquitous. Many are extremely curious in shape and adornment, well exemplified in a beautiful specimen of a wood mite of the genus Oribata, procured from Mr. C. Collins, jun., of Harlesden".
Collins published numerous requests for specimens in Science-Gossip during 1884, such as, "Wanted, good material for mounting, more especially insects (in spirit); will give well-mounted slides in exchange.- C Collins, 25 St. Mary's Road, Harlesden, N.W." and "Gentlemen having for disposal a quantity of any one insect (providing that it is not common) will do well to send their requirements in micro slides at once to - C. Collins, 25 St. Mary's Road, Harlesden, N.W." During 1885, his requests included, "Wanted, a quantity of insects (in spirit), foraminifera, botanical specimens, and specimens of horn and hoof for section cutting, parasites, eggs of insects, &c.; good exchange given in well-mounted micro slides. - C. Collins, Bristol House, Harlesden, N.W." and "Wanted, British wild bees (fresh specimens only), must be correctly named. Good exchange given in micro slides. - C. Collins, Bristol House, Harlesden, N.W.", and, in 1886, "Wanted, first-class botanical and anatomical slides, also diatom slides (selected), and good unmounted material of all kinds, in exchange for entomological preparations, mounted - C Collins, Bristol House, Harlesden, N.W."
Collins was elected to the Quekett Microscopical Club on October 23, 1885. He exhibited a number of specimens for the microscope over the next few years. Some of those slides may have been his commercial preparations, but many do not appear on his advertised lists and may have been one-of-a-kinds from his personal collection. These slides included "Chelifer muscorum" (1885), "section of Eozoon canadense", "skin of Synapta digitata", "anther and pollen of Lavatera trimestus", "diatoms, Arachnoidiscus oratus", "flea of wild rabbit", and "larva of Tettigonia, spring frog hopper" (all 1886). Collins also donated 6 slides to the Quekett Club in 1886 (specimens not described).
I was not able to locate any advertisements or exchange requests from Charles Collins Jr. published in 1887 or later. He renewed his membership in the Quekett Microscopical Club for 1887 (presumably paid for at the end of 1886 or very early 1887). He did not renew his membership for 1888 or afterwards. On September 1, 1888, Charles married Annie Elston, in Wandsworth, Surrey. He listed his occupation as "publisher's assistant". I could not determine whether he was working with his other uncle, William, or for another publisher. All later records of Charles Collins Jr. described him as either "publisher's assistant" (son Frank's 1889 christening record and the 1891 census) or "commercial traveler" (1901 census). This information suggests that Collins ended his microscopy business during 1887.
&nbsp
Notes on John Collins, of 147 Muntz Street, Birmingham
The section on Charles Collins in Brian Bracegirdle's Microscopical Mounts and Mounters suggests that Charles Jr. advertised for microscopy exchanges during 1890-1895 from 147 Muntz Street, Birmingham. The person who advertised from that address was actually named John Collins (Fig. 3). J. Collins was born approximately 1859 in Ireland. According to the 1891 census, he worked as a "school attendance officer". In 1887, he was elected Vice President of the Birmingham Microscopists' and Naturalists' Union (coincidentally, James Neville, who is celebrated for his ornately decorated slides, was elected to be the Union's sub-editor that same day). Published descriptions of talks given by John Collins, and exchange requests from him, indicate he had a strong interest in algae. One would assume that he made slides, but it is not known whether any still exist, or if they are identifiable as J. Collins' productions.


Figure 4. Exchange requests from John Collins that appeared in Hardwicke's Science-Gossip during 1889 (A) and 1890 (B).
&nbsp
Acknowledgements
Many thanks to Brian Davidson and Howard Lynk for freely sharing images and for helpful discussions.
&nbsp
Resources
The Bookseller (1859) Bankrupts, Feb 24
Bracegirdle, Brian (1998) Microscopical Mounts and Mounters, Quekett Microscopical Club, London
Collins, Henry G. (1861) Electro-block printing, The Civil Engineer and Architect's Journal, Vol. 24, page 27
Dyos, H.J., David Cannadine, and David Reeder (1982) Exploring the Urban Past: Essays in Urban History, Cambridge University Press, pages 193-195
England census, birth, marriage and death records, accessed through ancestry.co.uk
Hardwicke's Science Gossip (1884) Vol. 20, pages 87, 157, 284 and cxiv
Hardwicke's Science Gossip (1885) Vol. 21, pages 24, 48, 72, 140, 192, 259, 263, 265, x, lxvii and cxi
Hardwicke's Science Gossip (1886) Vol. 22, pages 24, 72 and 96
Hardwicke's Science Gossip (1889) Exchanges, Vol. 25, page 192
Hardwicke's Science Gossip (1890) Exchanges, Vol. 26, page 216
Hardwicke's Science Gossip (1892) Exchanges, Vol. 28, page 20
Journal of Microscopy and Natural Science (1884) Vol. 3, page 130
Journal of Microscopy and Natural Science (1885) Advertisements on the inside of covers, Vol. 4, January (part 13), July (part 15) and October (part 16)
Journal of the Quekett Microscopical Club (1885) Series 2, Vol. 2, pages 243, 246 and 248
Journal of the Quekett Microscopical Club (1886) Series 2, Vol. 2, pages 280, 284, 287. 288, 296, 335, 336 and 340
Journal of the Quekett Microscopical Club (1887) List of Members, Series 2, Vol. 3
Journal of the Society of Arts (1860) Catalogue of the Twelfth Annual Exhibition of Inventions, being a collection of articles recently invented, patented, or registered. Exhibited at the Society of Arts, Adelphi, during the spring of 186, 145 Collins's Patent Electro-Block Printing; Exhibited by the Electro-Block Company (Limited), 27, New Bridge-street, Blackfriars, E.C., Vol. 8, page 357
The Jurist (1860) William Papprill Collins and Henry Edward Collins, Paternoster-row, City, mapsellers…, page 250
The London Gazette (1860) In the Matter of William Papprill Collins and Henry Edward Collins, of 22, Paternoster-row, in the city of London, Mapsellers and Publishers, against whom a Petition for adjudication of Bankruptcy bearing date the 9th day of February, 1859…, Edition of March 20, page 1159
The London Gazette (1862) Henry George Collins and William Papprill Collins, of Hale-Mills, Staines, in the county of Middlesex, Fibre Manufacturers and Copartners, having been adjudged bankrupts under Petitions for adjudications of bankruptcy, filed in Her Majesty's Court of Bankruptcy, in London, on the 11th day of June, 1862…, Edition of July 4, page 3409
Marriage and christening records, accessed through familysearch.org
Microscopical News and Northern Microscopist (1884) Fish scales, Vol. 4, page 109
The Midland Naturalist (1887) Reports of societies, Vol. 10, page 316
The Year-book of the Scientific and Learned Societies of Great Britain and Ireland (1890) Birmingham Microscopists' and Naturalists' Union, Charles Griffin & Co., London, page 105