Jacob Mendes DaCosta, 1833 - 1900
by Brian Stevenson
last updated November, 2017
J.M. DaCosta was a noted pathologist, diagnostician, teacher, and lecturer. He authored a considerable number of journal articles and books. His Medical Diagnosis with Special Reference to Practical Medicine became a classic, and was reprinted numerous times in many different languages. His medical service in the U.S. Civil War (1861-1865) led to his description of "irritable heart", also known as "DaCosta's syndrome", a manifestation of anxiety and stress. While DaCosta undoubtedly used microscopes and prepared slides throughout his career, he is included in this series because of one particular compound microscope.
DaCosta provided the 1888 Middleton Goldsmith Lecture to the New York Pathological Society. He used the offered honorarium to provide gifts for the Society, as described in their Proceedings:
"Dr. G.C. Freeborn stated that Dr. J.M. DaCosta, the Middleton Goldsmith lecturer for the present year, had declined to receive any compensation for his lecture and had requested the Society to apply the amount ($100) to any purpose which might seem desirable. The matter had been referred to the trustees, and they had decided that the most fitting tribute to Dr. DaCosta's generosity would be to purchase some microscopes for the use of the Society, and had requested the speaker to procure them. He had done so, and now exhibited them. He had succeeded in getting two microscopes, one having an Abbe condenser a 1/2 and a 1/5 objective, the other having no condenser and being of a low power. The microscopes would be engraved with an inscription to the effect that they were the gift of Dr. DaCosta".
The Bausch & Lomb "Harvard" microscope shown in Figures 1-4 has a 3/4 inch objective lens, and lacks a substage. If those features are original, then it is the second of those donated instruments.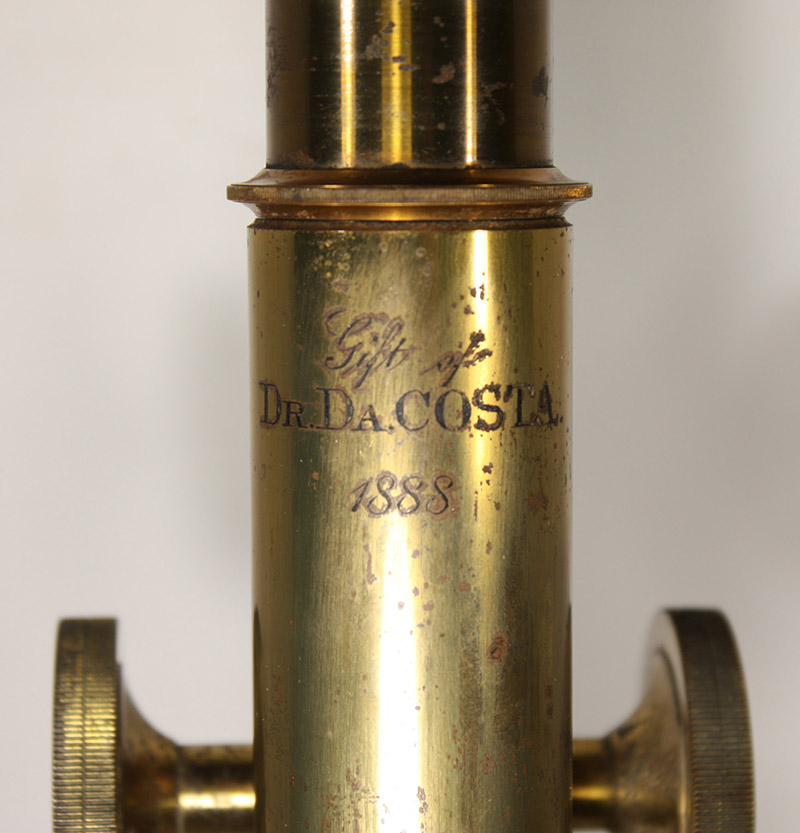 Figure 1. Inscription on the front of the microscope, "Gift of Dr. Da Costa 1888".
&nbsp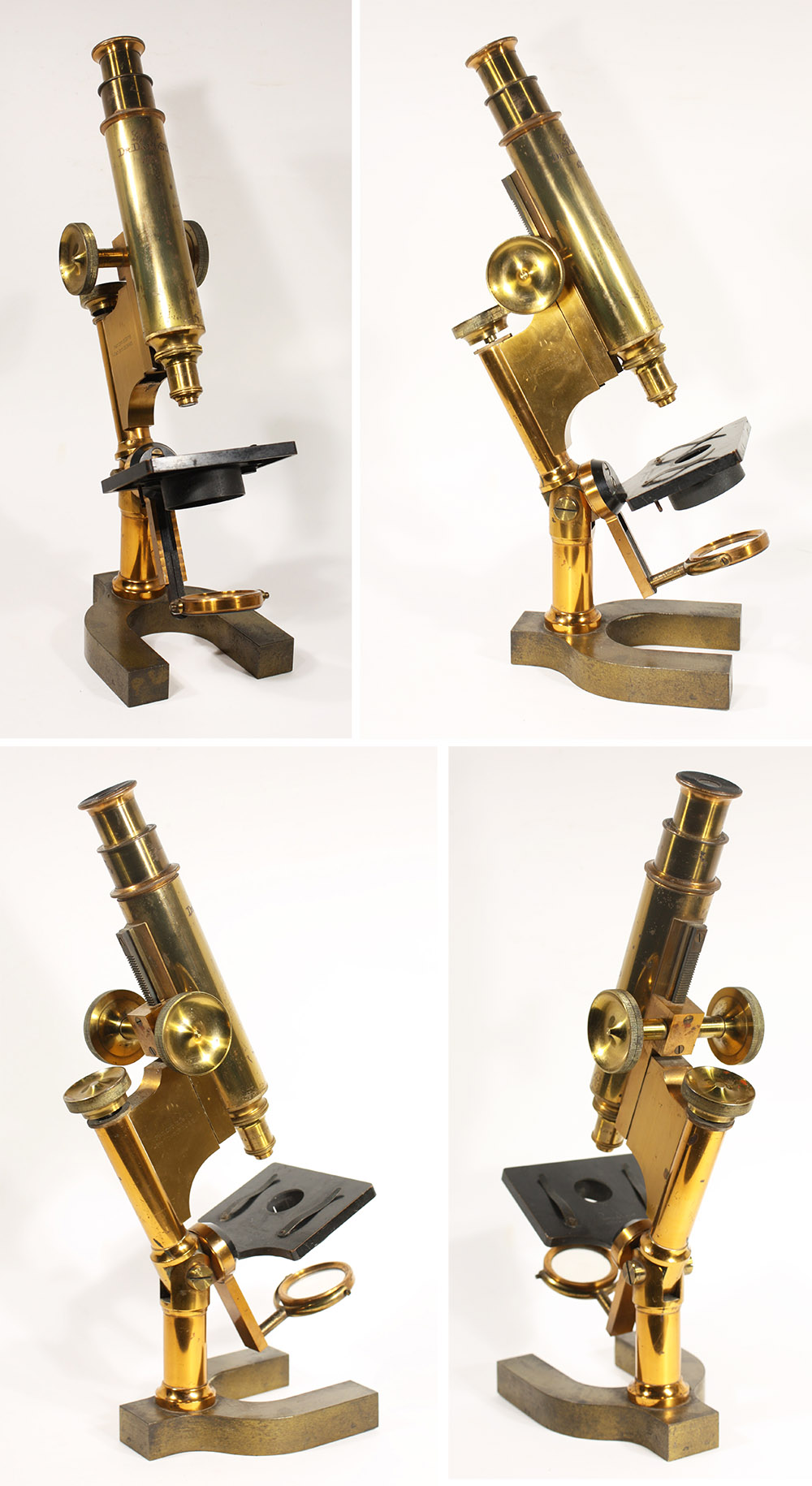 Figure 2. One of the two microscopes that were donated by J.M. DaCosta to the New York Pathological Society in 1888. It is a Bausch and Lomb "Harvard" model, with an inclining limb and rack-and-pinion coarse focus. Additional examples of the "Harvard" model can be seen at http://www.antique-microscopes.com/photos/Bausch-Lomb_Havard_model_microscope_3720.htm and http://www.antique-microscopes.com/photos/Bausch-Lomb_Harvard_microscope.htm.
&nbsp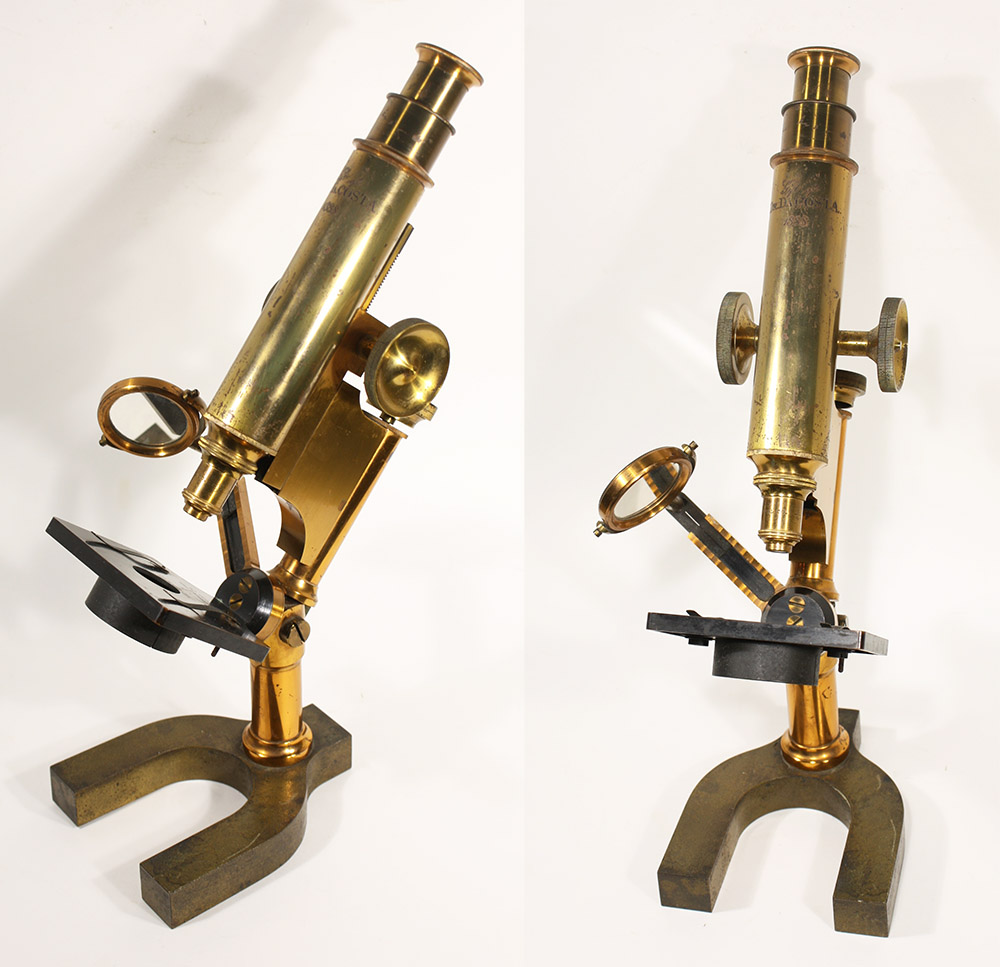 Figure 3. The "Harvard" model's mirror-arm rotates on an axis, so that the mirror can be placed above the stage and used to reflect light onto the top of specimens. This would be very useful for opaque objects, such as whole pathological specimens.
&nbsp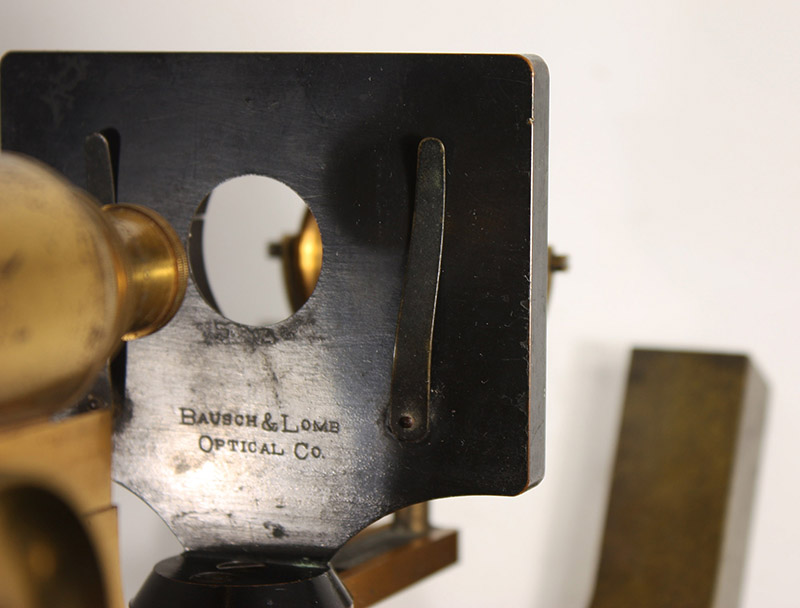 Figure 4. The stage is engraved with the manufacturer's name, Bausch & Lomb Optical Co.
&nbsp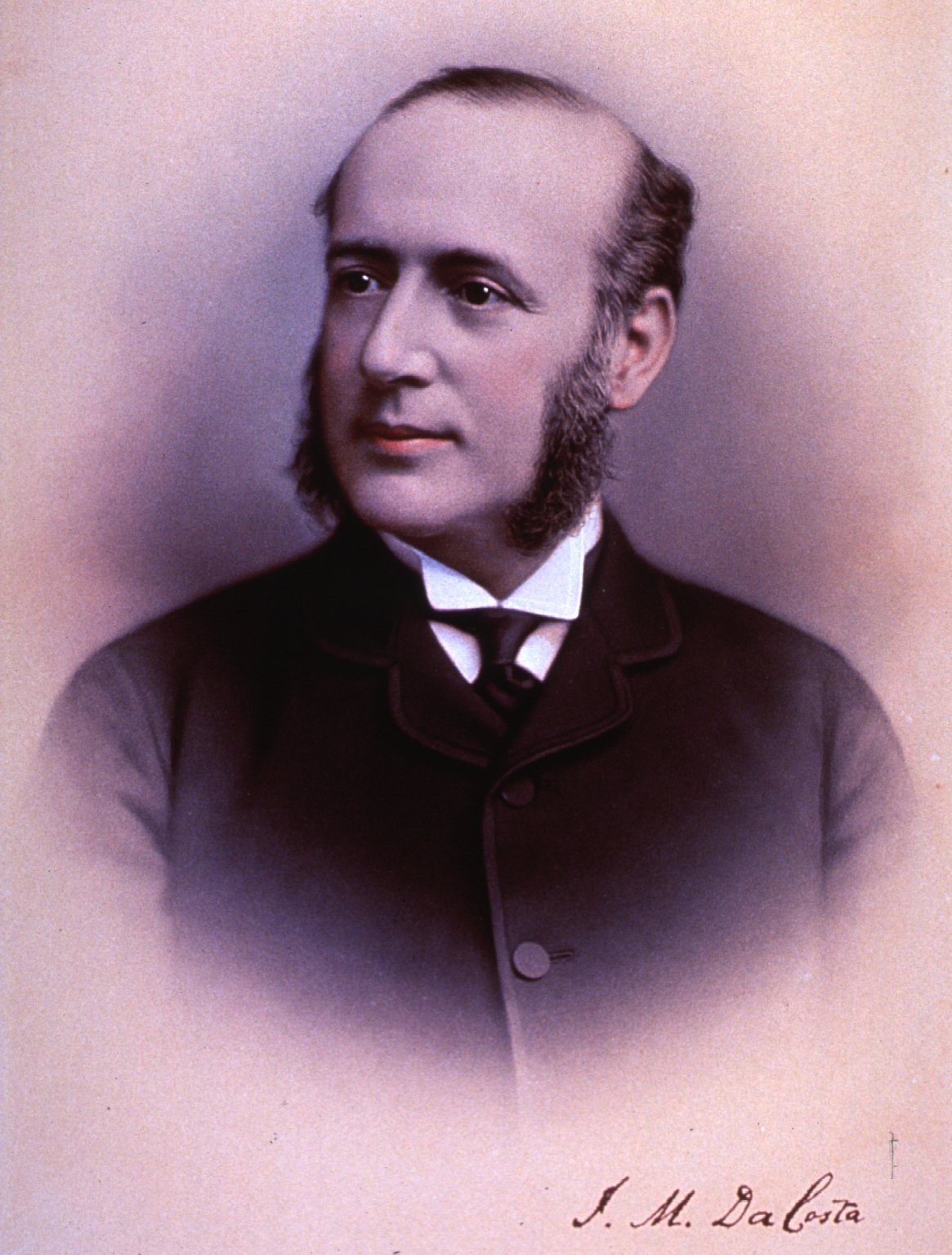 Figure 5. Dr. Jacob M. DaCosta.
&nbsp
Jacob DaCosta was born on February 7, 1833, on the island of Saint Thomas, in the Caribbean Sea. His father was a wealthy gentleman, from the English line of an old Spanish / Portuguese family. When Jacob was four, the family moved to Europe. Jacob was educated in Dresden. There, "he worked very hard, and had no time to engage in sports such as are now in vogue among students. Except for lessons in fencing, dancing, and music, he knew little of recreation".
According to Mary Clarke, his private secretary and author of a 1903 memoriam, "During his youth financial reverses fell on the family, and on reaching manhood he had his way to make as many other young men. Dr. DaCosta maintained, in after life, that he had no special talent for medicine. He thought that a man who succeeded in one career would have succeeded equally well in any other, hard work being the main factor, with something due to natural bent and favoring circumstances. In youth his tastes inclined him to politics or diplomacy; but friends dissuaded him, and he turned to the study of medicine". DaCosta moved to Philadelphia in 1849, where his mother was living, and entered Jefferson Medical College (now the Sidney Kimmel Medical College of Thomas Jefferson University). He graduated M.D. in 1852. He then spend 18 months in Europe, studying in Paris and Vienna. Among his teachers was the anatomist Josef Hyrtl, who gave DaCosta a collection of his striking three-dimensional microscopic castings, and which were subsequently presented to the Biological Department of Columbia University, New York.
DaCosta returned to Philadelphia in 1853, and practiced in several settings. During the Civil War, he attended at military hospitals in the city, including the U.S. Army Hospital for Injuries and Diseases of the Nervous System. It was there that he extensively studied "irritable heart". He also published his textbook on Clinical Diagnosis.
Clarke further wrote, "In March, 1866, Dr. Da Costa became a lecturer on clinical medicine at the Jefferson Medical College, and in October, 1872, was elected Professor of the Theory and Practice of Medicine. ... Here the most important work of his life was done, and his name must ever be inseparably connected with that of the institution. His fame as teacher, lecturer, and author travelled to distant countries and attracted pupils from everywhere to study under his guidance. … In March, 1884, Jefferson conferred upon him the degree of Doctor of Laws. … The resignation of his professorship, in the spring of 1891, came as a surprise to many, and occasioned profound regret to his colleagues, and, in fact, to the whole profession. It was almost immediately after the delivery of a touching and powerful valedictory, which only one colleague knew was his farewell. The college, as soon as his resignation had been accepted, elected him Emeritus Professor, which position he held until his death. … He always took pride in his connection with the College of Physicians of Philadelphia, one of the oldest and most influential medical societies in America, of which he became a member in 1858, and of which he was twice President, serving from 1884 to 1886, and again from 1895 to 1898. … He had been a member of the American Medical Association and also of the Pathological Society of Philadelphia, of which he was once the President. He had also been President of the Association of American Physicians, an honorary member of the Medical Society of the State of New York, a corresponding member of the Pathological Society of New York, and a member of the Medical Society of London". Clarke listed several dozen published articles and books written by DaCosta.
In 1860, Da Costa married Sarah Frederica Brinton. She was the sister of John H. Brinton, a medical colleague and friend. Sarah died in 1889, after a lingering illness. The couple had one child, Charles Frederick DaCosta.
DaCosta contracted a severe case of influenza in 1890, and another serious infection in 1894, both of which weakened him significantly. He suffered from angina pectoralis, and passed away from heart failure on September 11, 1900.
&nbsp
Resources
Clarke, Mary A. (1903) Memoir of J.M. DaCosta, M.D., The American Journal of the Medical Sciences, Vol. 125, pages 318-329
DaCosta, Jacob Mendes (1864) Medical Diagnosis, with Special Reference to Practical Medicine: A Guide to the Knowledge and Discrimination of Diseases, J.B. Lippincott, Philadelphia
DaCosta, Jacob Mendes (1888) The Middleton Goldsmith Lecture: The relations of diseases of the kidneys, especially the Bright's diseases, to diseases of the heart, Proceedings of the New York Pathological Society
Proceedings of the New York Pathological Society (1888) Minutes of Stated Meeting, June 13, 1888, page 82
Wooley, Charles F. (1982) Jacob Mendez DaCosta: medical teacher, clinician, and clinical investigator, The American Journal of Cardiology, Vol. 50, pages 1145-1148