Josiah Dancer, 1779 - 1835
by Brian Stevenson
last updated July, 2023
Although his memory has been eclipsed by the impacts of his son, John Benjamin Dancer (1812-1887), Josiah Dancer was a notable maker of optical, scientific, and engineering apparatus. He was also well educated, and regularly spoke at public educational meetings. J.B. Dancer learned the trade from his father, "grinding lenses for microscope objectives … at an early age", going "through the mechanical training required in the manufacture of optical and philosophical instruments", and "at the age of 10 years (assisting) in the preparation of the experiments for his father's lectures".
Josiah Dancer was born in London, and took over his father's optical and engineering business after the latter's death. In 1818, he moved his family and business to Liverpool.
A small number of microscopes are known that can be attributed to Josiah Dancer (Figures 1-4). One is signed "J. Dancer, Liverpool", one is unsigned but is an exact duplicate of a signed instrument, another is signed "Dancer, Liverpool", and the fourth possesses elements that strongly suggest manufacture by the same person as the other three. The designs are unique, consistent with production by a skilled, imaginative person who operated during the early 1800s when new forms of microscope bodies were being tested. Living in the provincial city of Liverpool, away from the scientific center of London, may have isolated Dancer from London trends and led him to create unusual microscopes. J.B. Dancer described his father a "manufacturer … to the trade", which is to say that he produced items for the wholesale market, which were then retailed by other dealers, which likely explains why some microscopes attributed to Josiah Dancer were not signed.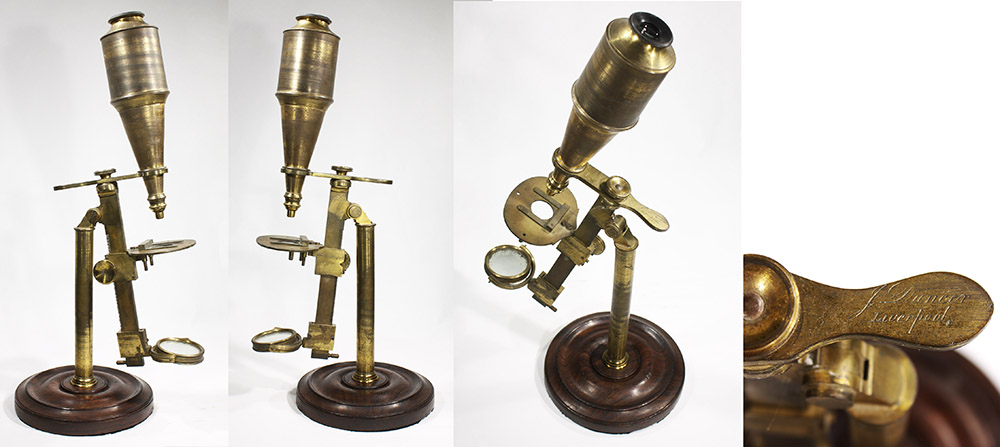 Figure 1. A circa 1820s compound microscope, signed "J. Dancer, Liverpool". As are Josiah Dancer's other known microscopes, it is large, standing 18 inches (45 cm) tall, with a turned hardwood base that is 7 inches (17.7 cm) in diameter. Images adapted by permission from a private collection.
&nbsp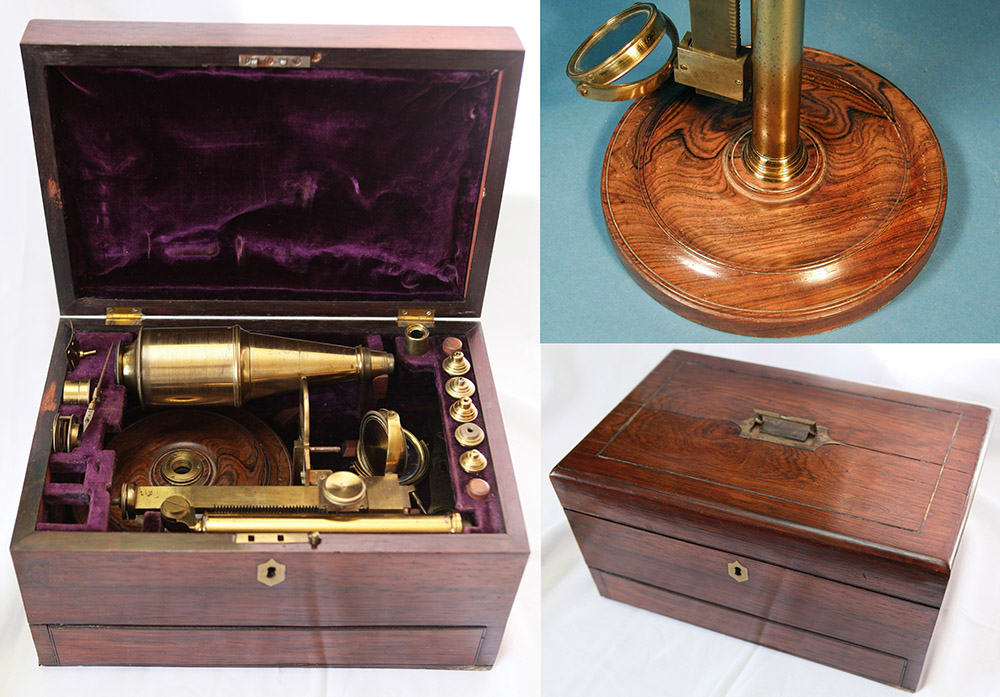 Figure 2. The cabinet and foot of an unsigned microscope that is identical to the signed instrument shown in Figure 1. The cabinet is lined with velvet, and includes a large number of objective lenses and accessories. It has a bottom drawer that holds slides and other items. The maker used a lovely piece of burl wood for the turned base of this microscope. Images adapted by permission from a private collection.
&nbsp


Figure 3. Signed "Dancer, Liverpool", this microscope shares many features with the Josiah Dancer microscope shown in Figure 1, including the size and shape of the body. It includes a unique arm and focusing mechanism. Images adapted by permission from a private collection.
&nbsp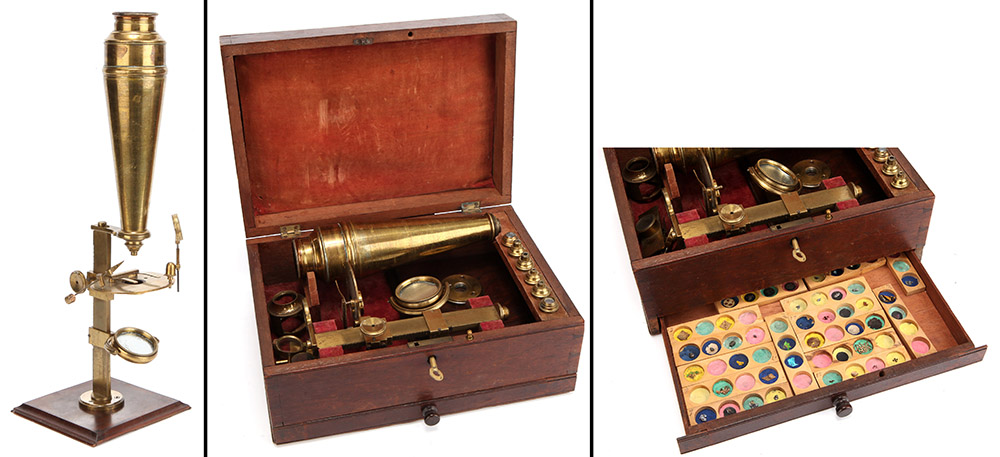 Figure 4. An unsigned microscope that bears similarities to the signed Josiah Dancer instrument. The cabinet, which is presumed to be original, shares many features with that shown in Figure 2. The way the components fit imply that the square wooden platform is the original base of this microscope. Images adapted by permission from a private collection.
&nbsp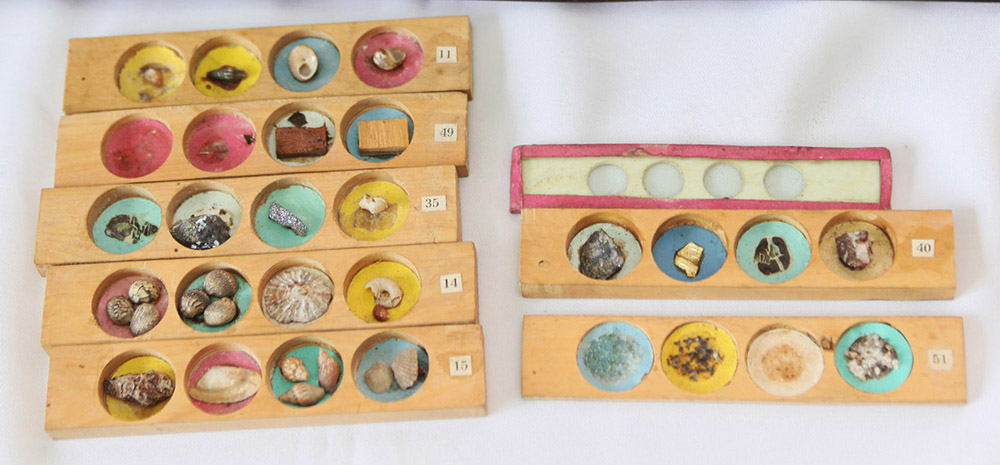 Figure 5. Mounts of minerals and other three-dimensional objects that accompanied the microscopes shown in Figures 2 and 4. J.B. Dancer recalled that "Josiah Dancer had a collection of many rare minerals. The forming of these into small cabinets, and mounting specimens for microscopic objects fell to J.B. Dancer", suggesting that young John B. probably prepared these slides.
&nbsp
Shortly before he died in 1887, John B. Dancer narrated his autobiography to a granddaughter, Elizabeth Dancer (1871-1959). It is from him that we know most of the details about Josiah Dancer's life. The autobiography is quoted extensively below, with my notes interjected in bracketed plain text.
"The family are descended from the brother of Daniel Dancer the noted miser who died in 1794 at Harrowgate in Middlesex, he bequeathed the family estates and a large sum on money to Lady Tempest."
[Daniel Dancer (1716-1794) owned a profitable farming estate in rural Middlesex. His wealth and miserly habits became widely known after his death. I have not verified the claim of relationship between the family of Josiah Dancer and the famous miser.]
"Mr. Michael Dancer (1751-1816), … after serving for two years as Midshipman on board one of the Honourable East India Co. Canton tea ships, became an apprentice to Mr. Sangate, a favourite pupil of Jesse Ramsden, a celebrated London optician, son-in-law to Dollond, and Inventor of the Dividing Engine; by means of its astronomical circles, sextants and quadrants were graduated with an accuracy which was previously unattainable."
[Robert Sangate was a member of the Company of Joiners, to whom Michael Dancer was apprenticed in 1766 (Figure 6). Jesse Ramsden (1735-1800) was, indeed, son-in-law to John Dollond, and the inventor of precise scientific and engineering instruments. Ramsden began his business during the early 1760s, so it is questionable whether he could have trained Sangate.]
"Mr. Josiah Dancer, the father of Mr. J.B. Dancer, was born 1779. [Josiah was christened on March 7, 1779, at St. Andrew Holborn, London. The record states, "Josiah, son of Michael & Sarah Dancer, Bangor Court".]
"He served his apprenticeship to his father, Mr. Michael Dancer, and at the end of his apprenticeship he became principal assistant to Mr. Edward Troughton (1753-1835), then an eminent optician in London, manufacturer and inventor of many new forms of astronomical instruments. Mr. Josiah Dancer was principally engaged in the construction of Mr. Troughton's new inventions.
"After a time, Mr. Dancer had to resign his situation, much to Mr. Troughton's regret, and return home to take the management of his own father's business, in consequence of the declining health of the latter. The late Mr. Simms took Mr. Josiah Dancer's position and became Troughton's partner."
[The shop of "Michael Dancer, mathematical instrument maker" was located at 52 Great Sutton Street, Clerkenwell. Josiah helped with that business until his father died in 1816. He may have also managed "Dancer and Son, mathematical instrument maker", which was located at 53 Red Lion street, Clerkenwell in 1811.]
[Josiah Dancer married Anna Maria Tolkien (1779-1815) on September 27, 1800. Anna Maria's half-brother, George Tolkien, was the grandfather of author J.R.R. Tolkien. Josiah and Anna Maria's first child, named Josiah, was born on July 30, 1801, but did not live to adulthood. John Benjamin Dancer, named after Anna Maria's father, was born on October 8, 1812. Anna Maria Dancer died in 1815 at the age of 37 – her age suggests that her death may have been associated with pregnancy or childbirth. Josiah remarried, to Martha Lewis, on December 20, 1819, in Liverpool.]
"The grandfather, Mr. Michael Dancer, died in (1816). In the year 1818, the family moved from London to Liverpool, and Mr. Josiah Dancer continued to carry on a similar business to that which he had been engaged in London, to which he added that of Public Lecturer on Natural History and various other subjects."
"He was an ardent student of physical science, including astronomy, optics, chemistry, electricity, and magnetism. By extraordinary industry he acquired a creditable proficiency in Latin, Greek, Hebrew, and Arabic. Egyptian antiquities were amongst his favourite studies. In the midst of these varied pursuits he found leisure to cultivate music as a relaxation, the organ, the pianoforte, and the violin were his favourite instruments."
"In conjunction with Richard Vaughan Yates Esq. of the Dingle, Toxteth Park, Liverpool, Mr. Josiah Dancer with others founded the Liverpool Mechanics Institution."
"He greatly assisted the Institution in its early days by the gratuitous delivery of many courses of lectures on scientific and literary subjects, and with the assistance of a few literary friends the Lit and Phil Society of Liverpool was formed, the meetings were held in rooms in Houghton Street, Williamson Square. At these rooms, lectures were delivered more frequently by Mr. Dancer than by any other of the members. (Figure 7)".
"Mr. Dancer's family at this time consisted of four daughters and one son, John Benjamin Dancer. The other sons had died in infancy."
"Mr. Josiah Dancer had constructed for his own use a large solar microscope, the condensing lens of which was twelve inches in diameter. In favourable weather in the summer time he gave public exhibitions with this instrument. Some idea of its magnifying power may be formed by stating that by its means the human hair was magnified to 6 feet in diameter and cheese mites were magnified from four to five feet in length."
"The management of this instrument was deputed to his son J.B. Dancer and, as live objects were the most popular, he fished all the ponds for several miles distance around Liverpool to obtain the greatest variety of pond life. These he kept in numerous glass tanks for the purpose of observing their habits and changes. By this means he acquired a considerable amount of information which he afterwards found very useful."
"Mr. Josiah Dancer had a collection of many rare minerals. The forming of these into small cabinets, and mounting specimens for microscopic objects, fell to the share of John B. Dancer."
"In the year 1835, Mr. Josiah Dancer died. Whilst making some astronomical observations, he was seized with a fit from which he never recovered."
[John B. Dancer continued his father's business until 1841, then entered into a partnership with optical and scientific instrument-maker Abraham Abraham (ca. 1799 - 1863).]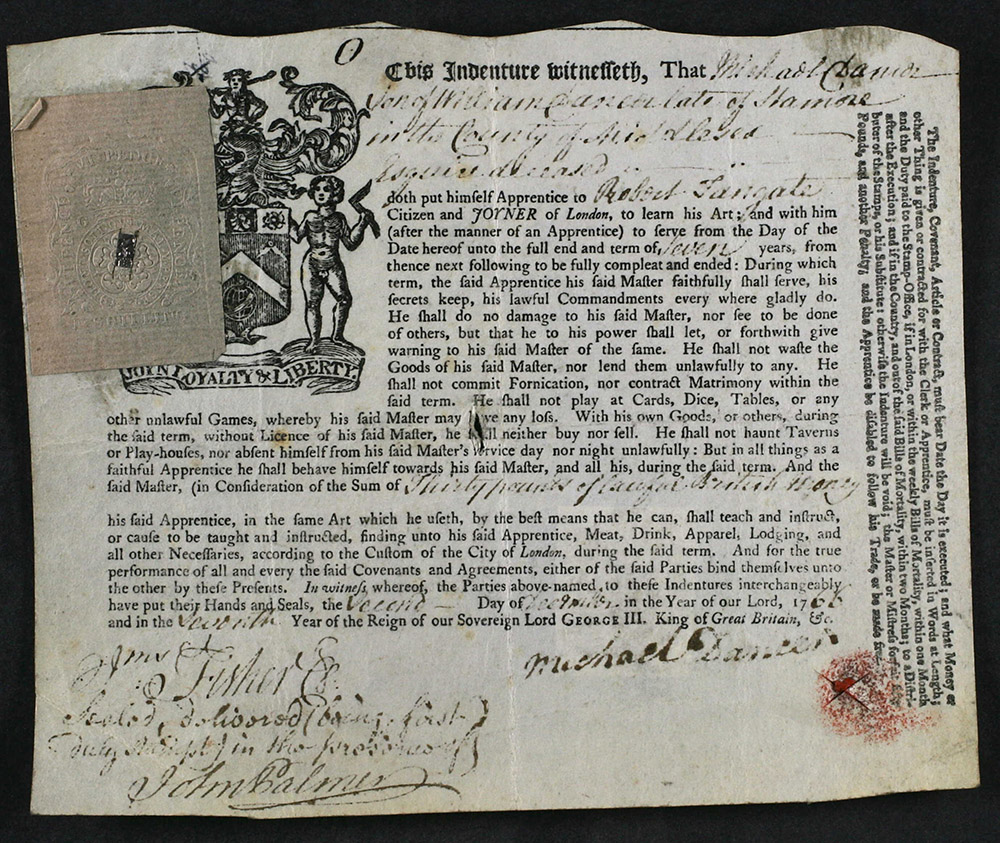 Figure 6. The 1766 contract of indenture between Michael Dancer and Robert Sangate.
&nbsp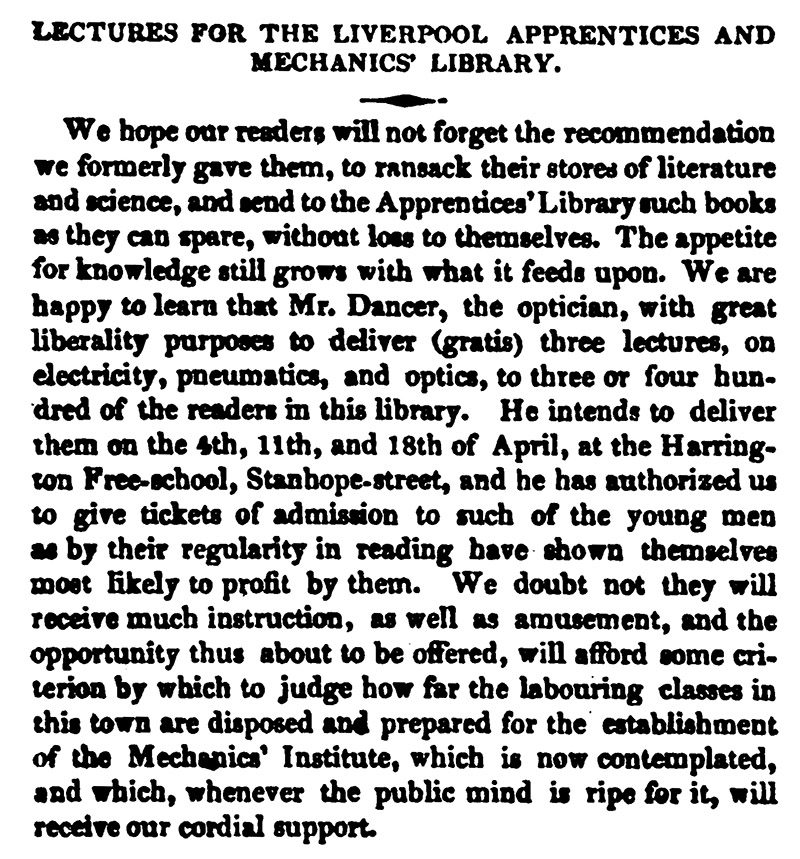 Figure 7. An 1825 announcement of public lectures on "electricity, pneumatics, and optics" by Josiah Dancer. From "The Kaleidoscope".
&nbsp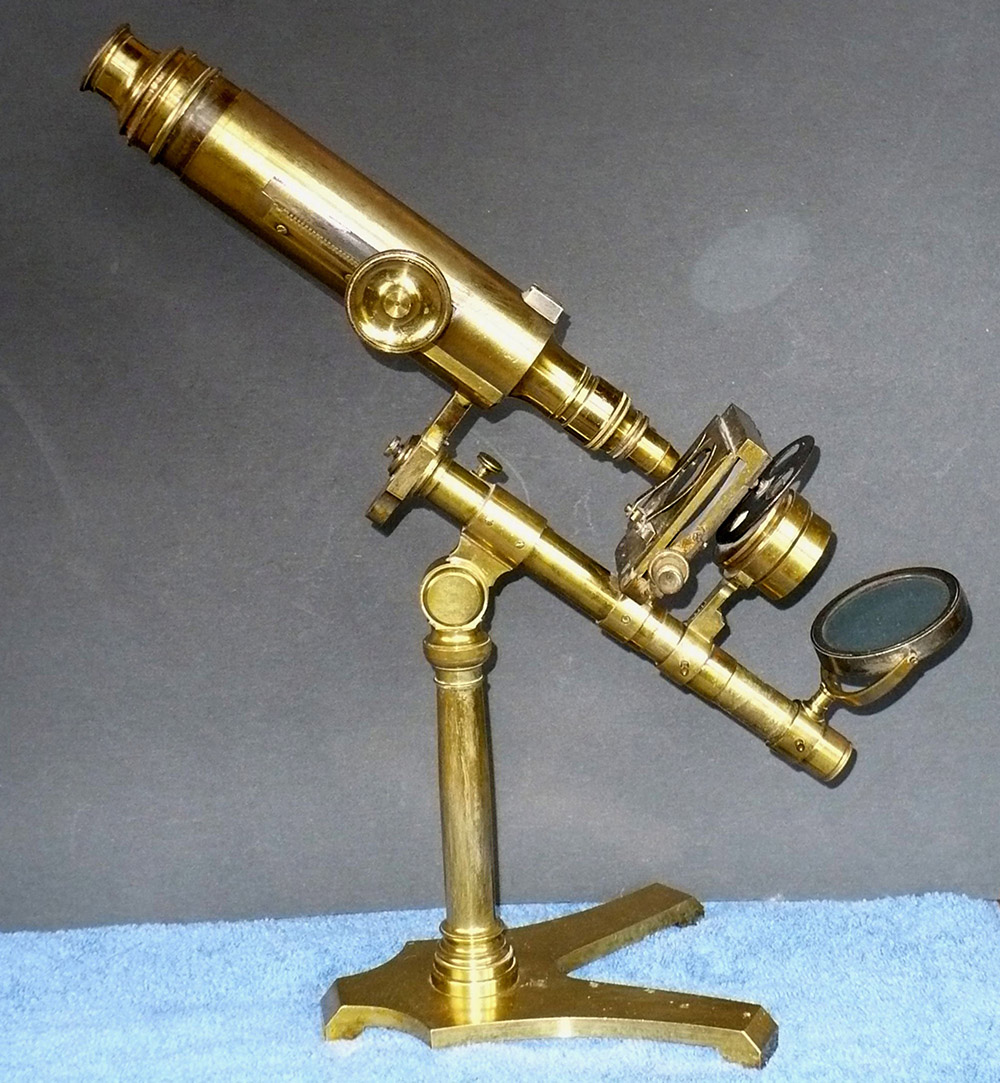 Figure 8. A ca. 1830s microscope that is signed "J. Dancer, Liverpool", but attributed to James Smith (1800-1873). Josiah Dancer presumably acquired the microscope body through the wholesale trade from Smith or one of the manufacturers/distributors for whom Smith worked. Smith did not produce his own lenses until 1839, so the optics of this microscope might have been produced by Josiah Dancer. The foot and the tailpiece are not original. Adapted for nonprofit, educational purposes from East Carolina University Digital Collections, https://digital.lib.ecu.edu/22090
&nbsp
Acknowledgements
Many thanks to the collectors who generously shared images of their microscopes.
&nbsp
References
Baines' Directory of Liverpool (1824) "Dancer Josiah, optician, 14, New quay; h. 20, Grafton st.", page 235
Bracegirdle, Brian, and James McCormick (1993) The Microscopic Photographs of J.B. Dancer, Science Heritage Ltd., Chicago
Burial record of Anna Dancer (1815) Home: "Great Sutton Street", Records of Bunhill Fields Burial Ground, City Road, accessed through ancestry.com
Christening record of Josiah Dancer (1779) Parish records of St. Andrew Holborn, accessed through ancestry.com
Christening record of Josiah Dancer "son of Josiah and Anna Maria Dancer" (1801) Parish records of St. James Clerkenwell, accessed through ancestry.com
Christening record of John Benjamin Dancer (1812) Parish records of St. James Clerkenwell, accessed through ancestry.com
Clifton, Gloria (1995) Directory of British Scientific Instrument Makers 1550-1854, Zwemmer, London, page 76
Dictionary of National Biography (accessed July, 2023) "Dancer, Daniel (1716-1794), miser, left all his wealth to the widow of Sir Henry Tempest, who nursed him in his last illness, 1794", page 317
England census and other records, accessed through ancestry.com
Garnett, Henry (1927) John Benjamin Dancer, instrument maker and inventor, Memoirs and Proceedings of the Manchester Literary and Philosophical Society, pages 7-20
Gore's Directory of Liverpool (1827) "Opticians: Dancer Josiah, 20, Grafton st", page 332
Holden's Triennial Directory (1805) "Dancer Mich. mathematical instrument-maker, 52, Great Sutton st. Goswell-st."
The Kaleidoscope (1825) Lectures for the Liverpool Apprentices and Mechanics' Library, page 332
London Directory (1811) "Dancer and Son, mathematical instrument maker, 53, Red Lion street, Clerkenwell … Dancer Michael, mathematical instrument-maker, 55, Great Sutton street, Clerkenwell … Dancer Joseph, jun. mathematical instrument maker, 5, Corporation lane, Clerkenwell"
Marriage record of Josiah Dancer and Anna Marie Tolkein (1800) Parish records of St. James Clerkenwell, accessed through ancestry.com
Marriage record of Josiah Dancer and Martha Lewis (1819) Parish records of St. Nicholas, Liverpool, accessed through ancestry.com
Memoirs and Proceedings of the Manchester Literary and Philosophical Society (1964) John Benjamin Dancer, F.R.A.S., 1812-1887, an autobiographical sketch, with some letters, forward by W. Browning, pages 115-142
Post Office Directory (1814) "Dancer Michael, Mathematical Instrument-maker, 52, Great Sutton-street, Clerkenwell", page 86
Sporting Magazine (1794) Anecdotes of the late Daniel Dancer, Esq., Vol. 5, pages 24-27