Robert Field, ca. 1787 - 1851
Robert Benjamin Field, 1828 - 1883
John Anderton, 1843 - 1905
R. Field
Robert Field and Son
R. Field and Son
R. Field and Co.
by Brian Stevenson
last updated February, 2021
This Birmingham, England, business is primarily known for the prize they won from the Society of Arts in 1855, when the business was known as R. Field and Son. A variation on the bar-limb design of the period, their "Society of the Arts" pattern proved to be very popular, and was copied by many other manufacturers (Figure 1).
The Society of Arts requested applications for two different microscope types in 1855, and Field was awarded the top prize for each. The well-known compound microscope filled the bill for the requested "student" microscope, to be provided for 3 Guineas or less. The other award was for a "school" microscope, to be mechanically and optically simple, and sell for 10 shillings, 6 pence, or less (Figure 2). R. Field and Son also sold a compound version of the "school" microscope, which presumably sold for a higher price (Figure 3).
In addition, the Field businesses produced more complex, expensive microscopes, and a wide variety of other scientific and mathematical instruments (Figures 4-9, 15-17, and 20).
I am not aware of any microscope slides that are marked as having been sold by Field. However, there is evidence that they probably sold papers for making microscope slides. Slide-cover papers with a printed "F" are occasionally seen (Figure 10). Covering methods on such slides vary widely, implying production by many different people. The Birmingham slide-maker Henry Webb (1816-1866), a professional, frequently covered his productions with green papers that have a pattern identical to that of the "F" papers, supporting a Birmingham origin for those slide covers.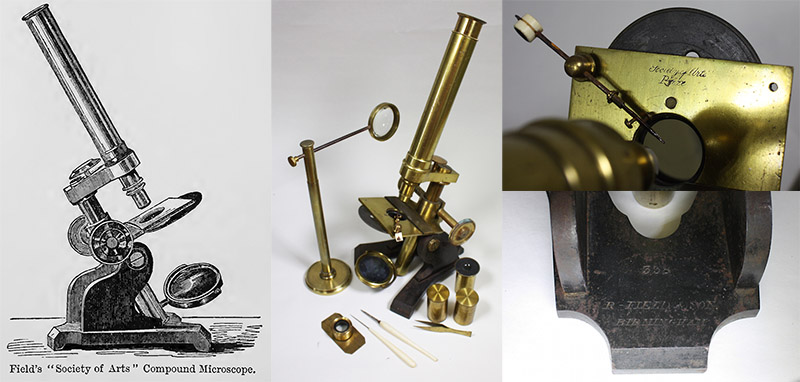 Figure 1. An R. Field & Son Society of Arts Prize "Student" microscope. The Prize required Field to supply this microscope and specific accompaniments for no more than 3 Guineas. Cost-cutting measures were employed to maximize profit. For examples, the canisters for the objective lenses are made of very thin brass tubing, with unfinished edges, the live box is also made of extremely thin brass, and the case (not shown) is simply built from low-grade wood and is joined with nails and staples rather than dovetails. At the left is an engraving of this microscope, from W.B. Carpenter's 1868 edition of "The Microscope and Its Revelations".
&nbsp


Figure 2. An R. Field & Son Society of Arts Prize "School" microscope. At the left is an engraving of this microscope, from W.B. Carpenter's 1868 edition of "The Microscope and Its Revelations".
&nbsp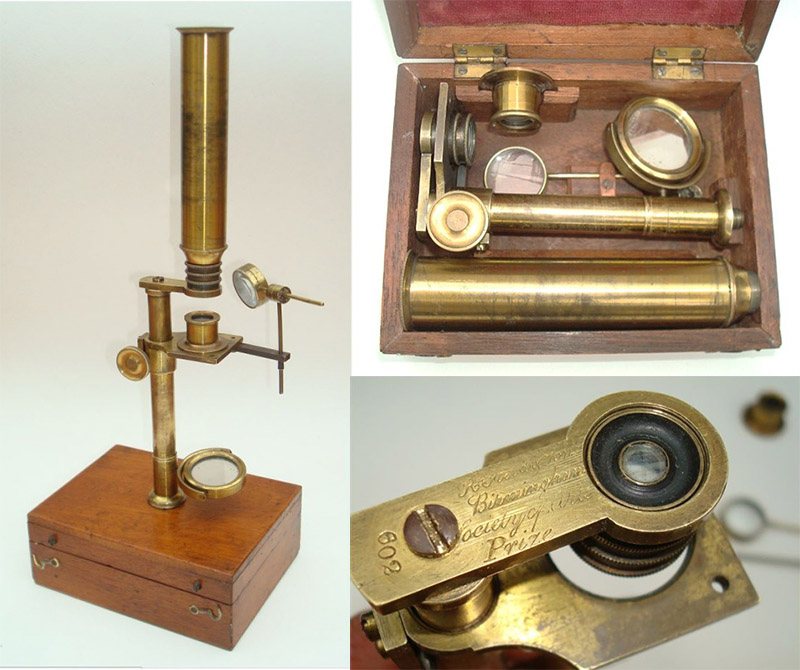 Figure 3. A compound version of the R. Field & Son Society of Arts Prize "School" microscope. Adapted for nonprofit, educational purposes from an internet auction site.
&nbsp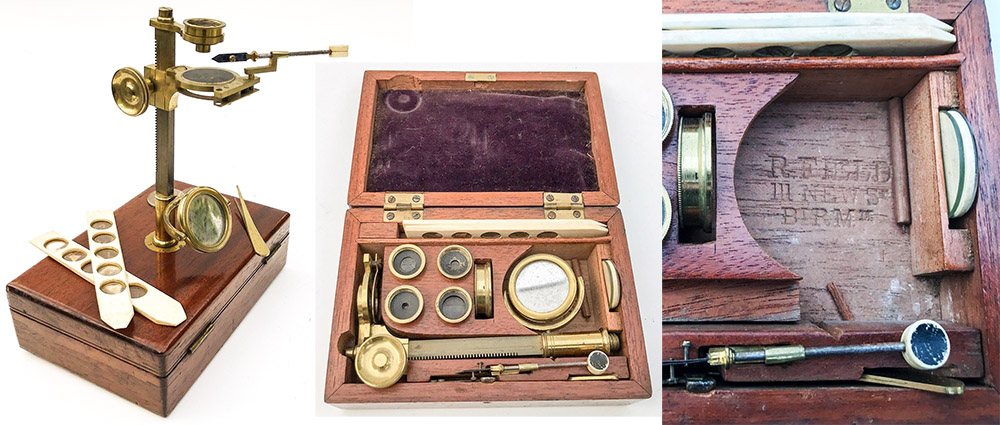 Figure 4. A simple, case-mounted microscope from Field. The stamp inside the case dates this to between 1837 and 1845, after Field acquired Carpenter's business but before the sons joined the firm. Adapted for nonprofit, educational purposes from an internet auction site.
&nbsp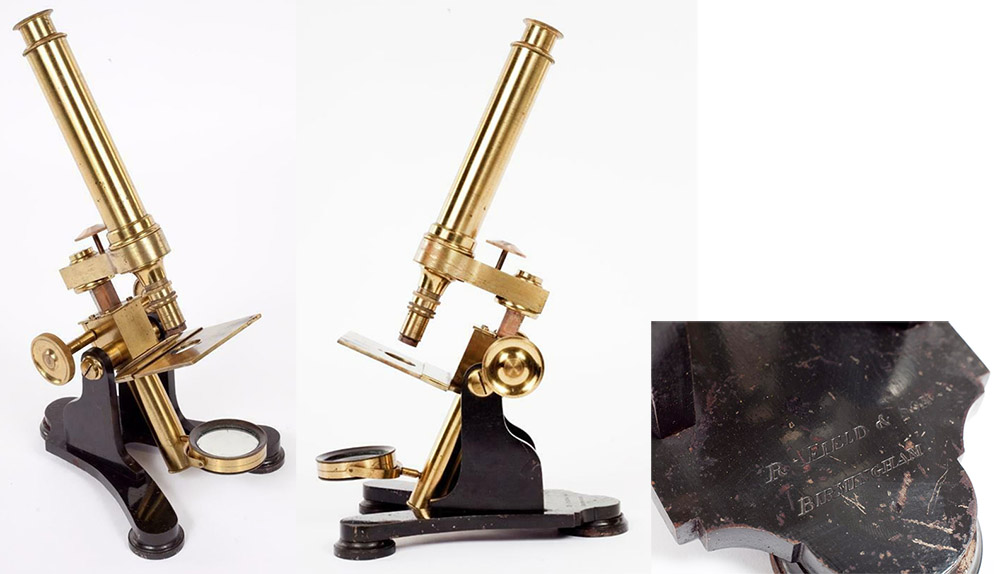 Figure 5. A bar-limb compound microscope, by R. Field & Son. Circa 1860s. Adapted for nonprofit, educational purposes from an internet auction site.
&nbsp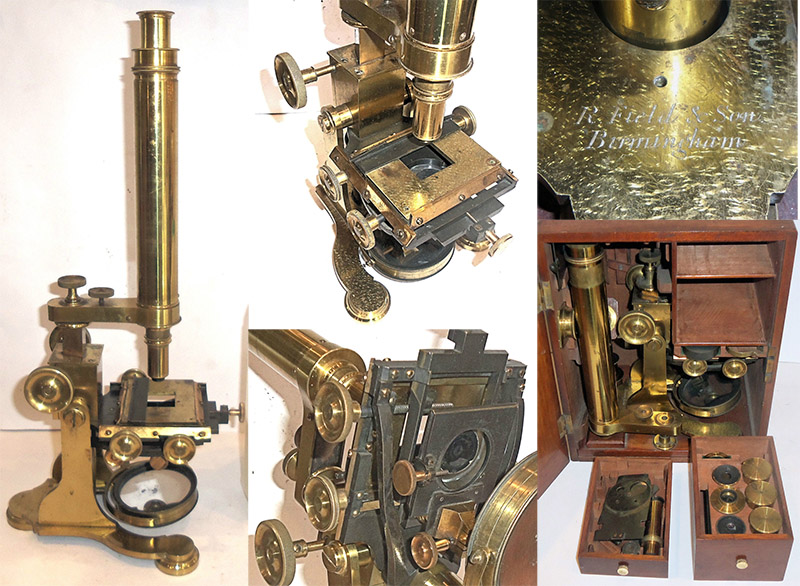 Figure 6. A more complex version of Field & Son's bar-limb compound microscope. Circa 1860s. Adapted for nonprofit, educational purposes from an internet auction site.
&nbsp

Figure 7. Two versions of "Universal Mounting and Dissecting Microscope", designed in 1869 by W.P. Marshall of the Birmingham Natural History and Microscopical Society and manufactured by R. Field & Son. Marshall wrote that the microscope "has been ably worked out and improved from my designs by Messrs. Field, of Birmingham, and can now be obtained from them at the cost of two guineas complete, including all the materials and implements, except the compound body and inclined movement of the stand, which is one guinea extra". He further wrote, "This instrument consists of a convenient arrangement of dissecting microscope, combined with a complete set of apparatus for mounting microscopic objects, and a compound body is added, forming a student's microscope for general use; the whole being contained in a compact case, which when set open exposes all the contents conveniently for access. The object in the design has been to supply a want that has been felt, of a mounting apparatus containing in a single small case everything that is ordinarily required both in the examination and the preparation for mounting of microscopic objects; and thus affording the means of readily and conveniently securing upon the spot any objects found in the country or at the seaside, that would be deteriorated in microscopic value or lost altogether if their mounting had to be deferred until returning home. The whole apparatus is also very convenient and complete for mounting work at home. The microscope has three simple lenses magnifying separately or in combination from 6 to 20 diameters, and a dividing objective of 45 and 90 diameters, with the means of adding any higher objectives from another microscope, the nose being made with the standard screw, and space allowed in the case for packing other objectives. The mounting apparatus includes a turn-table, hot-plate with spirit-lamp and dissecting-trough, with forceps, dissecting-knife, needles, dipping-tubes, &c., and a stock of mounting materials in fifteen bottles, with glass-slides and cover-glasses, &c. The whole is fitted into a compact case about seven inches cube, and arranged, so that all the contents are at once accessible for use, and quickly repacked". Adapted for eductional, nonprofit purposes from http://www.microscope-antiques.com/fielddissecting.html and http://www.mhs.ox.ac.uk/collections/imu-search-page/record-details/?thumbnails=on&irn=10684&TitInventoryNo=34961.
&nbsp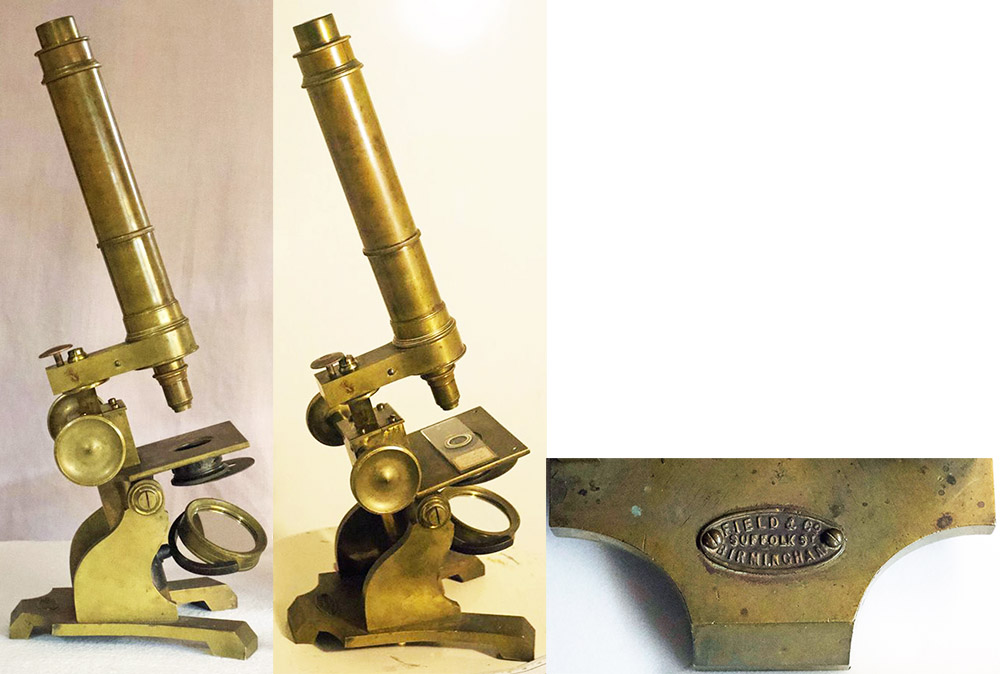 Figure 8. A ca. 1875 Society of the Arts Prize microscope by R. Field and Company, the name of the business from the mid-1870s onward, after it was acquired by John Anderton. Images generously provided by John Goodman.
&nbsp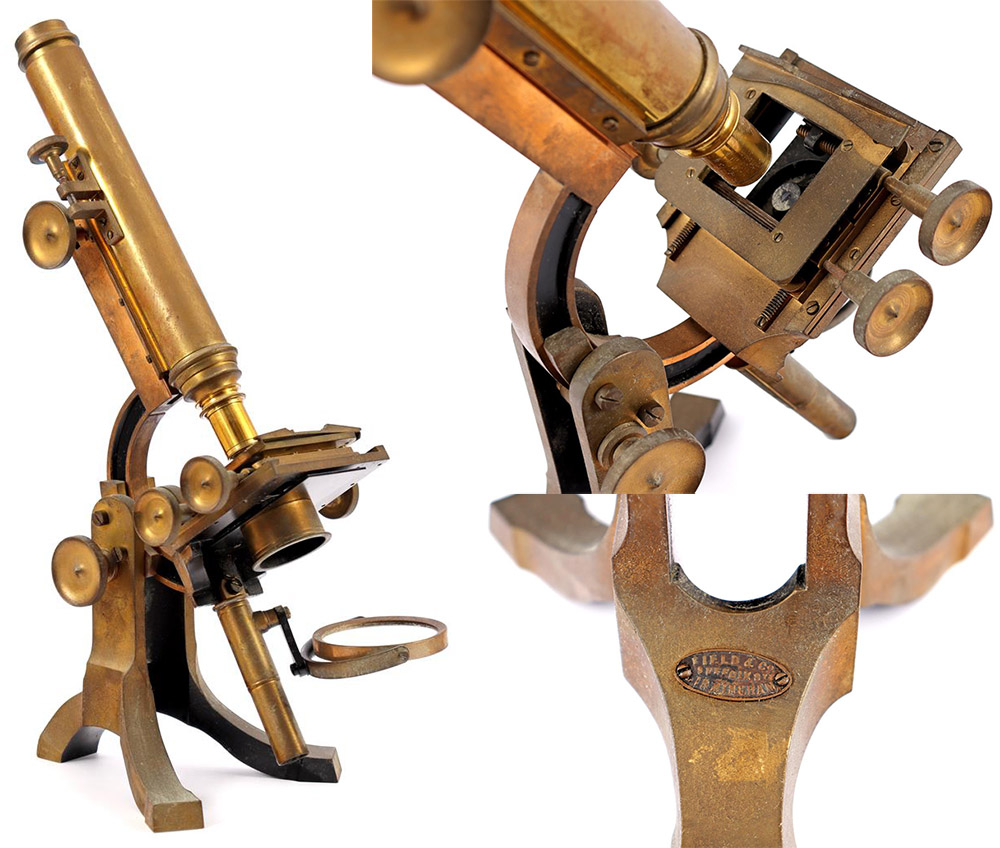 Figure 9. Circa 1880 Field and Co. microscope with a "Wale" limb. George Wale developed this form of stand in 1879. Adapted for nonprofit, educational purposes from an internet auction site.
&nbsp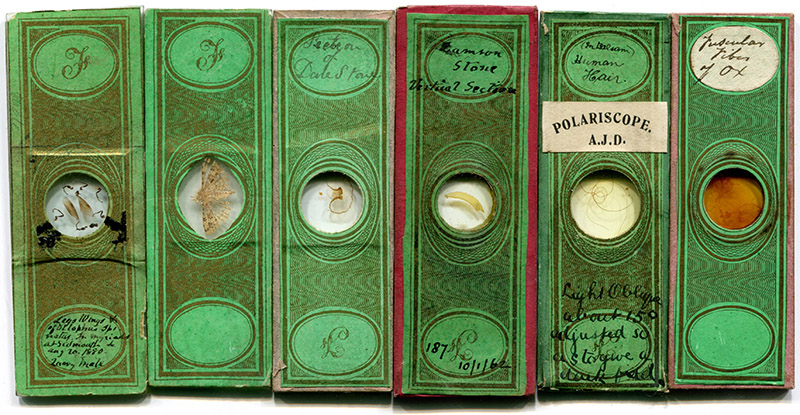 Figure 10. Microscope slides with "F" paper covers. These examples show a wide variety of techniques - the two on the left do not have back or side papers, the others are wrapped using several different methods - suggesting that they were made by many different people. The slide on the right was made by Birmingham slide-maker Henry Webb. It is likely that the papers, but not the slides, were sold by one of the Field businesses.
&nbsp
Robert Field, Senior, was born about 1787, in Birmingham, England. No further information has been uncovered regarding his youth. Judging from his profession, it is likely that Robert apprenticed with an optician.
He married Elizabeth Sandbrook on May 17, 1818, at St. Philip's, Birmingham. They had at least four children: Thomas Sandbrook (born 1819), Matilda Elizabeth (born 1825), Robert Benjamin (born 1828), and Charles William (born 1835). The spacing of the births suggest that there probably additional children for whom records have not been found, and who likely died in their youths.
Robert, Sr., was recorded as being an "optician" on all of his children's christening records. The family's addresses were Essex Road (1819), Tonks Street (1825), and Navigation Street (1828 and 1835), all in Birmingham. An 1830 directory listed "Field Robert, spectacle maker and optician, 33, Navigation-st."
Philip Carpenter (1776-1833) opened an optical and scientific instrument shop in about 1808, at 111 New Street, Birmingham. He moved to London in 1826, but retained the Birmingham branch. His heirs sold it to Robert Field, Sr., in 1837. Morrison-Low (2007) states that Field had been foreman of Carpenter's Birmingham operation. Noting that [1] Field was not included in Pigot's 1828 National Commercial Directory listing of Birmingham opticians (but Carpenter was), [2] Field was listed in an 1830 directory as an optician working from 33 Navigation Street, and [3] an 1837 advertisement from Field gave his business addresses as both 111 New Street and 33 Navigation Street (Figure 11), it may be that Field worked for Carpenter until circa 1830, opened his own shop from the family home, then bought the Carpenter business in 1837.
At the time of the first national census of England, in 1841, the Fields had moved to Bishops Gate Street, Birmingham. They appear to have lived in relative comfort, with a domestic servant. Eldest son Thomas lived at the New Street shop, with occupation recorded as "optician". The 1841 census shows that an Emily Field also lived there, presumably Thomas' wife.
The business became "Robert Field and Son" in 1845.
The 1851 census found the whole family at the New Street location. They employed two house servants, so finances were in good shape. Thomas was back with the family, listed on the census as "unmarried", with no mention of Emily. Thomas and Robert were both "opticians", and youngest son Charles William listed as "apprentice". Charles was later reported to be a "cabinet-maker", and he does not seem to have further connection to the optical business.
Field and Son exhibited at the 1851 London Exhibition. Their entries were: "Large and small achromatic microscopes, with moveable stage. Dissecting microscope, with Wollaston's doublets. Compound achromatic lenses for photographic purposes. Calotype pictures; scene: Forest of Arden, Warwickshire; staircase, Haddon Hall, Derbyshire; and Wych Elm, Packington churchyard, Warwickshire".
Robert Field, Sr., died on September 14, 1851. The eldest son, Thomas, disappeared from records after the 1851 census, and probably died. The business was thereafter operated by Robert Field, Junior, as "R. Field and Son".
The microscope was increasingly recognized as a valuable tool for education, and less as a mere recreation for the wealthy dilettante. As William B. Carpenter wrote, "If there be one class more than another, which especially needs to have its attention thus awakened to such objects of interest, as, by drawing its better nature into exercise, shall keep it free from the groveling sensuality in which it too frequently loses itself, it is our Labouring population; the elevation of which is one of the great social problems of the day. On those who are actively concerned in promoting and conducting its education, the claims and advantages of the Study of Nature can scarcely be too strongly urged; since experience has fully proved, - what might have been a priori anticipated, - that where the taste for this pursuit has been early fostered by judicious training, it becomes so completely a part of the mind, that it rarely leaves the individual, however unfavourable his circumstances may be to its exercise, but continues to exert a refining and elevating influence through his whole subsequent course of life".
To that end, in 1855, the Society of Arts proposed two medals, one "for a 'School' Microscope, to be sold to the public at a price not exceeding 10s. 6d", and one "for a Teacher's or Student's Microscope, to be sold to the public at a price not exceeding £3 3s". The Society also proposed to buy purchase "100 of the smaller, and 50 of the larger instruments for which the medals should be awarded". The awards committee was composed of "Mr. Busk, F.R.S.; Dr. Carpenter, F.R.S.; Mr. Jackson; Dr. Lankester, F.R.S.; Mr. Quekett; and Mr. W.W. Saunders, F.R.S".
Although a medal and the associated prestige might seem appealing, the stipulation that the winners must continually provide the instruments at low prices was an impediment. Only nine entries were submitted for the larger microscope - from Field, W.J. Solomon, J.J. Solomon, W. Ladd, M.A. Cooper, W. & F. Newton, S. Highley, Bland & Long, and J. Parkes & Son - and three simple microscopes were submitted - from Field, Parkes, and W. & F. Newton.
R. Field and Son won both Society of Arts prizes. These microscopes were shown at the 1855 Paris Universal Exhibition. Both instruments featured in Field's advertisements for several decades (Figures 12-14). The requirements to keep the prices low, despite increased costs, led to substantial corner cutting. For example, many of the accessories accompanying the compound microscope shown in Figure 1 are very flimsy and poorly finished.
The pattern of Field's prize-winning compound microscope became immensely popular, and was widely known as the "Society of Arts" pattern, regardless of the manufacturer:
Louisa Lane Clarke, in her first edition of The Microscope, wrote, "Assuming the student to be desirous of obtaining an efficient instrument at a moderate cost, he cannot do better than procure one of those called 'The Society of Arts Microscopes'. They are made by Mr. Baker, 244, High Holborn, and only cost £3 3s., complete in a neat mahogany cabinet. They are excellent working instruments, and, for their utility and cheapness combined, were awarded a prize medal by the Society from which they derive their name". Probably not a coincidence, a catalogue of Charles Baker's microscopes is included in the 1858, first edition of Lane's book.
A critic from the Microscopical Society of London complained, "Now we think most people would gather from this that Mr. Baker gained the prize of the Society of Arts for his microscopes, and they will perhaps be astonished when we tell them he did not do so. The microscope to which the Society of Arts gave their prize medal was one manufactured by Mr. Field, of Birmingham, to whom the public is indebted for this cheap and efficient instrument. We know that Mr. Baker may reply that his microscopes are of the same pattern as the one which obtained the Society of Arts' prize, but we hardly think that this justifies him and his friends in speaking of any instrument he makes as the 'Society of Arts Microscope', much less in claiming for him the award of a medal which was given to another microscope-maker. We do not say this to depreciate Mr. Baker's microscopes, - for aught we know they may be better than Mr. Field's, - but we think that the public ought, in fairness, to know who is really the inventor and original maker of the 'Society of Arts Microscopes'." Nonetheless, Clarke's book enjoyed a wider, and more prolonged, readership than did the Transactions of the Microscopical Society of London, and can only have hurt Field's sales.
The 1861 census records Robert, Jr., and his mother living at New Street, with two domestic servants. The census noted that Robert employed "10 men and 3 boys".
Field displayed an assortment of "microscopes, telescopes, and surveying instruments" at the 1862 London Exhibition. At the 1866 British Pharmaceutical Conference, Field showed "a display of microscopes, exhibiting a variety of physiological preparations".
Along that time, Robert seems to have lost interest in his microscopy business. This may have been due to poor business, an interest to do something else with his life, ill health, or a combination of factors. The 1871 census located Robert and his mother at a farm on Bull's Lane, Sutton Coldfield, Warwickshire. Robert's occupation was listed as "Optician, Landowner, Employing 15 men, 6 boys, 2 women, 5 girls", indicating that he still possessed the Birmingham optical business. The 1881 census showed Robert, his mother, and two servants at the Bull's Lane farm, with Robert described as "farmer of 30 acres, employing 1 man & 1 boy". Robert died on January 4, 1883, at the age of only 54 years old.
Robert probably sold the business in the early 1870s. Notices were appearing by 1874 about "R. Field & Co." Ownership of this company was clarified by the 1877 court transcripts of a case against Simon Sandman and Daniel Stern for "unlawfully obtaining microscopes of John Anderton by false pretences, and other counts" (Sandman and Stern ordered several microscopes, received them but refused to pay, then pawned the instruments for money). John Anderton testified to the court, "I am a wholesale optician, trading as Field and Co., at 99, Suffolk Street, Birmingham".
John Anderton (Figure 18) was born in Birmingham, during early 1843. His father, also named John, worked as an "organ builder", but died in about 1850. For the first ten years or so of John's life, the family lived on Suffolk Street, Birmingham, not far from where John would later relocate R. Field and Co. His mother, Mary Ann, worked as a draper, probably operating out of the family home. John evidently apprenticed as an optical worker: the 1861 census recorded the 16 year-old as being an "optician". The 1871 census listed him as a "master optician", living in the Kings Norton area of Birmingham with his mother and an unmarried sister. It is not known for whom Anderton worked, but his acquisition of the Field business makes it an obvious suspect.
The 1881 census listed Anderton as a lodger at 64 Wellington Road, Edgbaston, Birmingham, working as a "Optician Master, Employing 6 men & 1 boy". John finally married at the age of 40, to 22 year-old Edith Short, in 1889.
Anderton appears to have directed the Field line of microscopes to a better level of quality. At the 1880 Exposition of the Pharmaceutical Association, he showed, "Polarimeter, with Polariser and Analyser of Zellett's and Nicol's prism respectively, and tube of 100 - 200 millimetres for holding essential oils, etc., when under examination. Achromatic Microscopes, suitable for Pharmacists' use, with A and B eye pieces, 1/4 in. objective, dividing to 1/2 in., and 3/4 in. dividing to 1 1/2 in., plane and concave mirror, wheel of diaphragms, stand condenser, draw tube, and triangular rack bar, with accessories, in cabinet". He also expanded production to include lantern projectors, photographic equipment, and a rear-view mirror for bicycles (Figures 19-22).
He rolled out a stereoscopic projection lantern in 1894. This projected two images onto a special screen, which gave a three-dimensional appearance to viewers who wore his polarizing glasses.
John Anderton died on December 21, 1905.
As a conclusion to this essay, a piece of doggerel from James Lidstone's 1868 Londoniad:
"Nigh three quarters of a century doth yield,
Science triumphs to the great house of Field,
And few in Europe now may hope to cope,
Or even in the world in all its parts,
With Robert Field, whose Student's Microscope,
Gained th' Prize of the Society of Arts".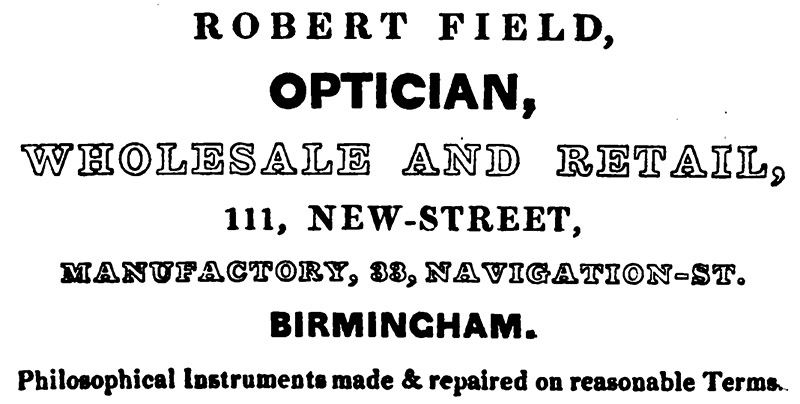 Figure 11. An 1837 advertisement, published shortly after Robert Field acquired Philip Carpenter's Birmingham business.
&nbsp


Figure 12. Advertisement from 'The Lancet', 1855. Note that Field offered more expensive versions of microscopes.
&nbsp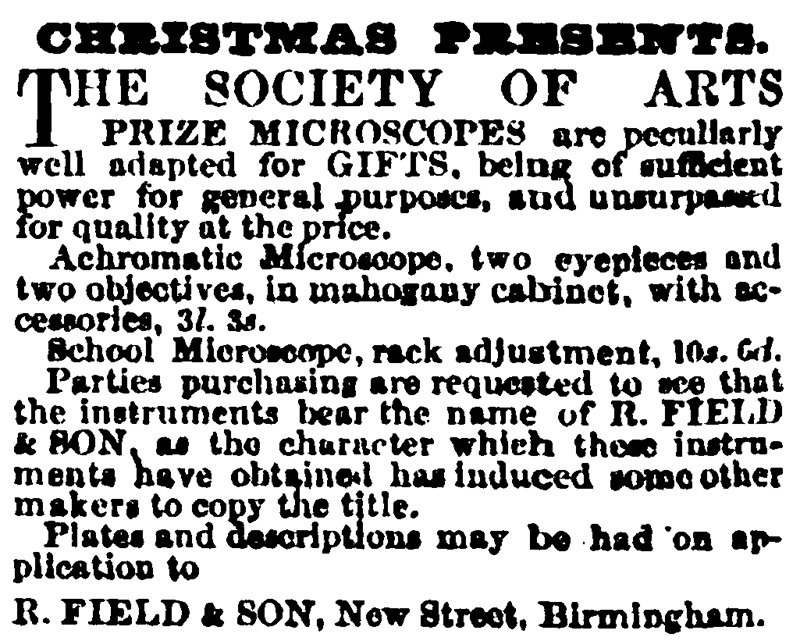 Figure 13. An 1858 advertisement, cautioning customers to look for the Field name on "Society of Arts" microscopes.
&nbsp


Figure 14. An 1868 advertisement. It highlights the Society of Arts instruments, but also describes other instruments made by Field.
&nbsp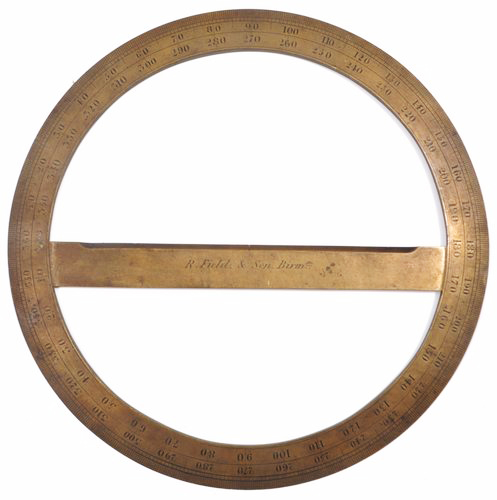 Figure 15. A protractor by R. Field and Son. Adapted for nonprofit, educational purposes from an internet auction site.
&nbsp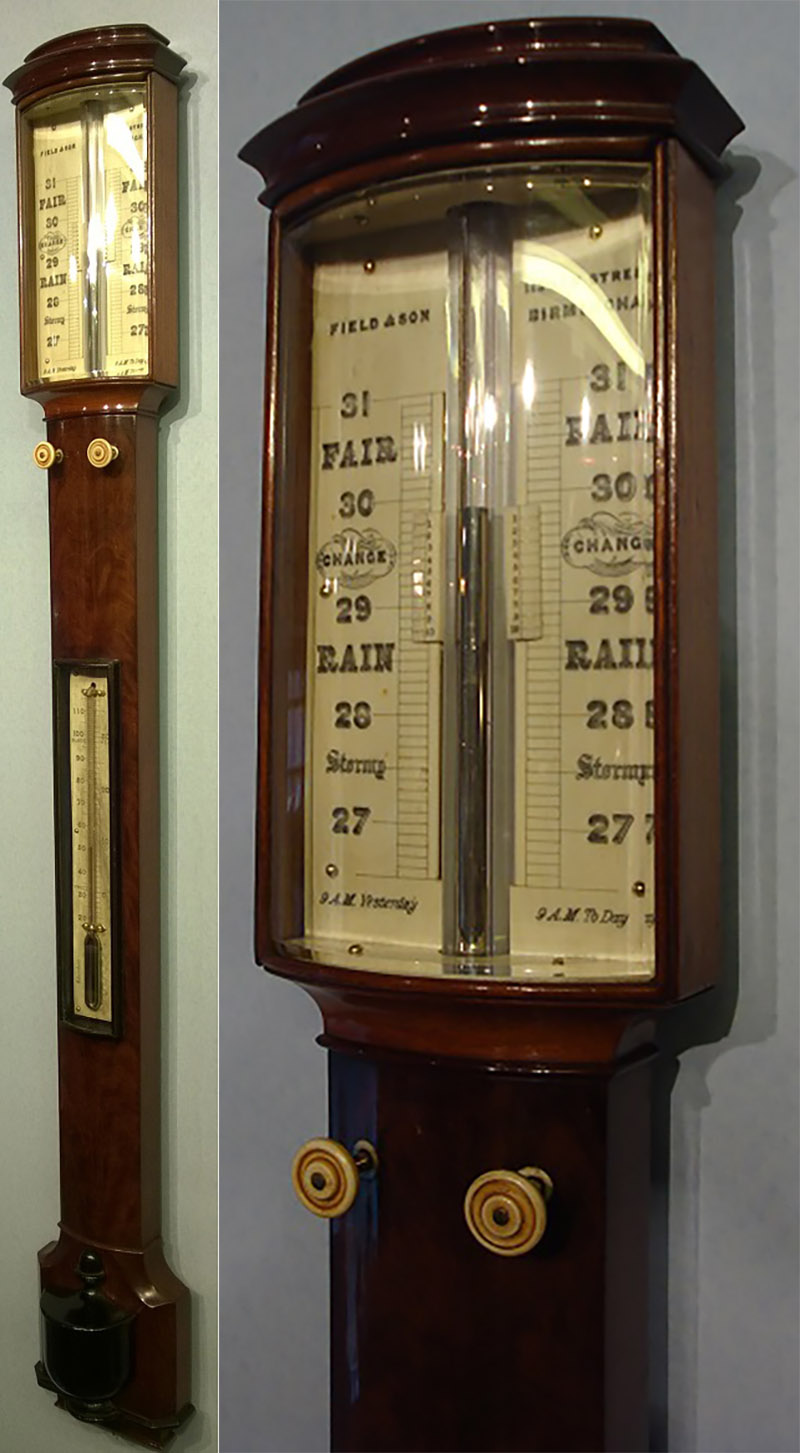 Figure 16. An R. Field and Son barometer. Adapted for nonprofit, educational purposes from an internet auction site.
&nbsp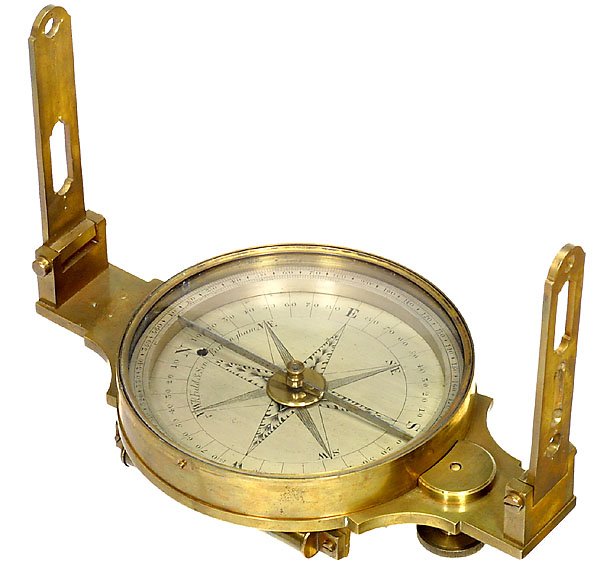 Figure 17. A compass by R. Field and Son. Adapted for nonprofit, educational purposes from an internet auction site.
&nbsp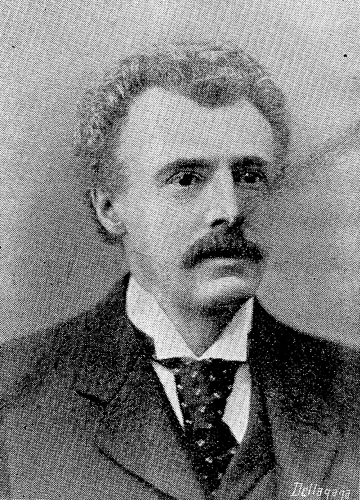 Figure 18. John Anderton, circa 1894. Adapted from http://www.slides.uni-trier.de/person/index.php?id=6003042
&nbsp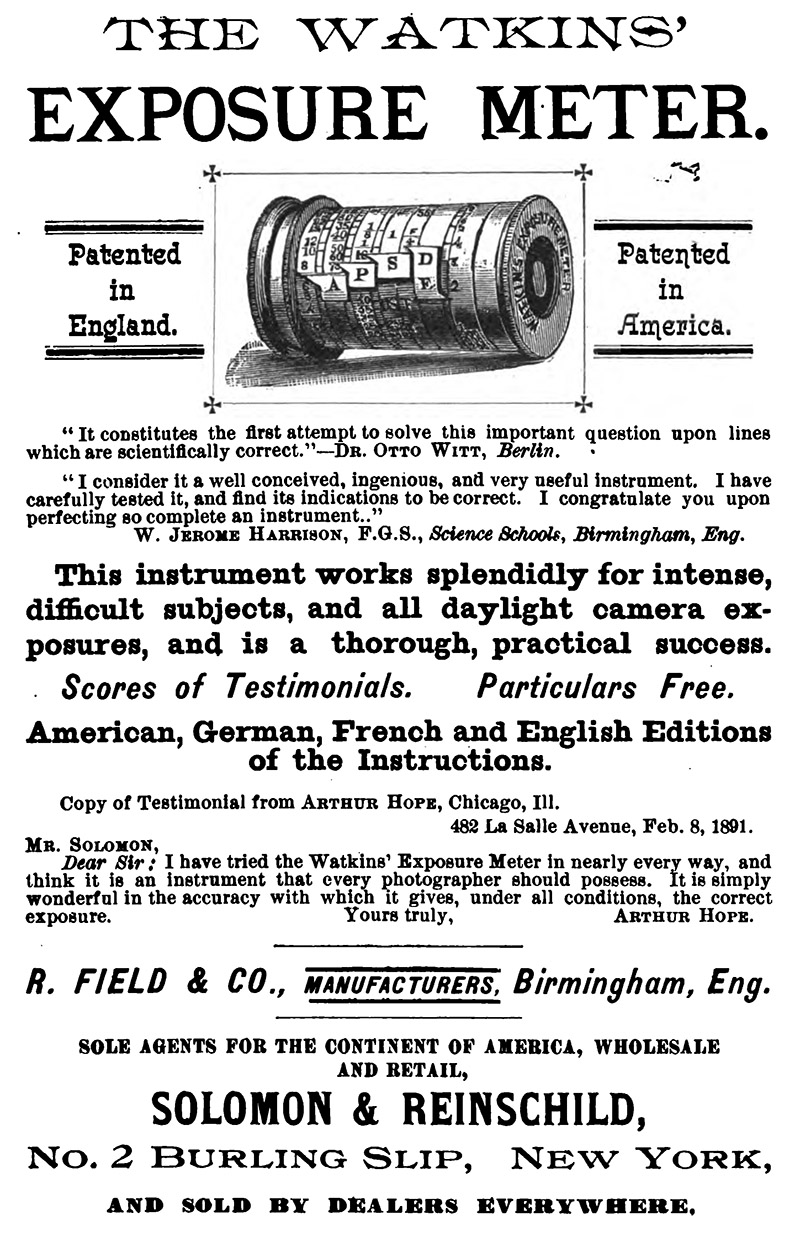 Figure 19. An 1894 advertisement for R. Field and Co.'s "Watkins' exposure meter". Note that Anderton had secured a North American distributor for the company's products.
&nbsp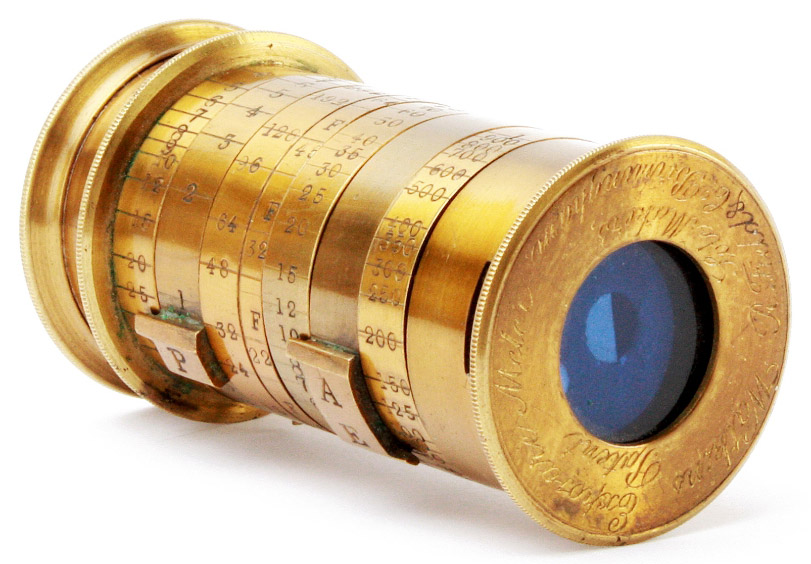 Figure 20. A Watkins exposure meter, engraved "Sole Maker R. Field & Co. Birmingham". Adapted for nonprofit, educational purposes from an internet auction site.
&nbsp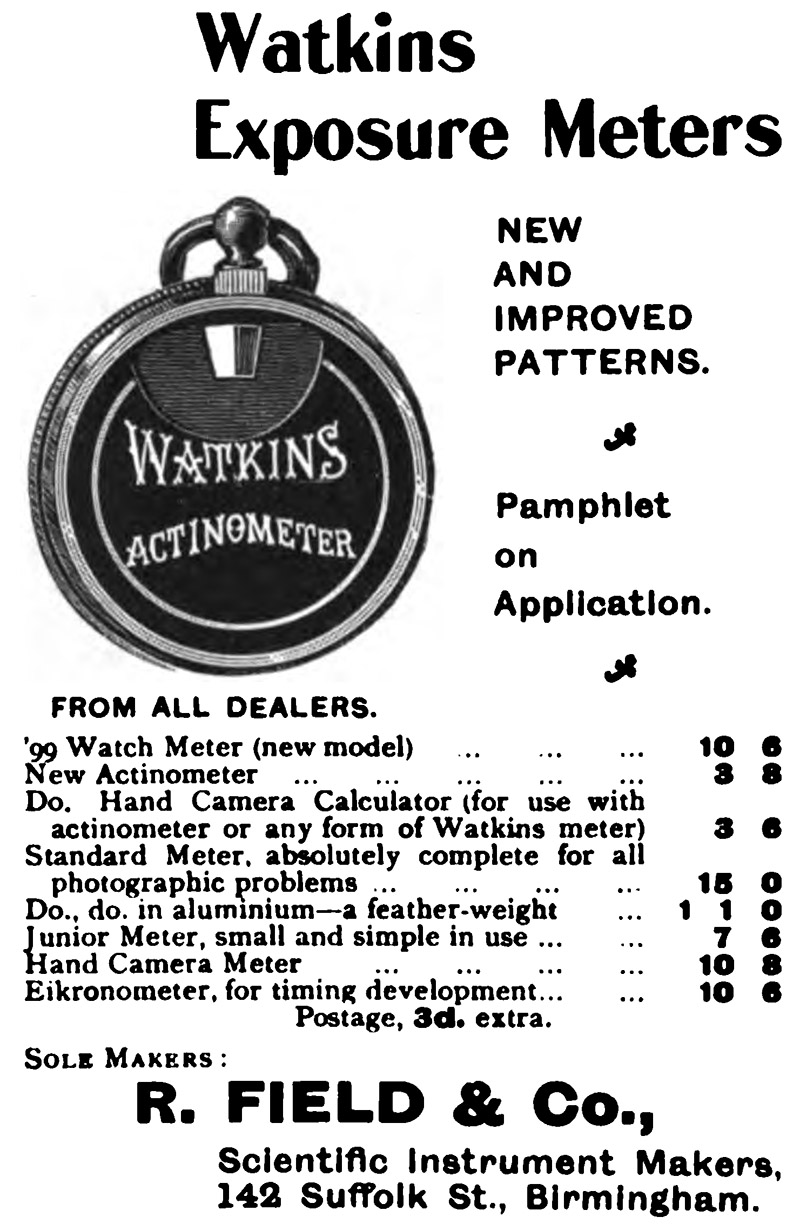 Figure 21. An 1899 advertisement.
&nbsp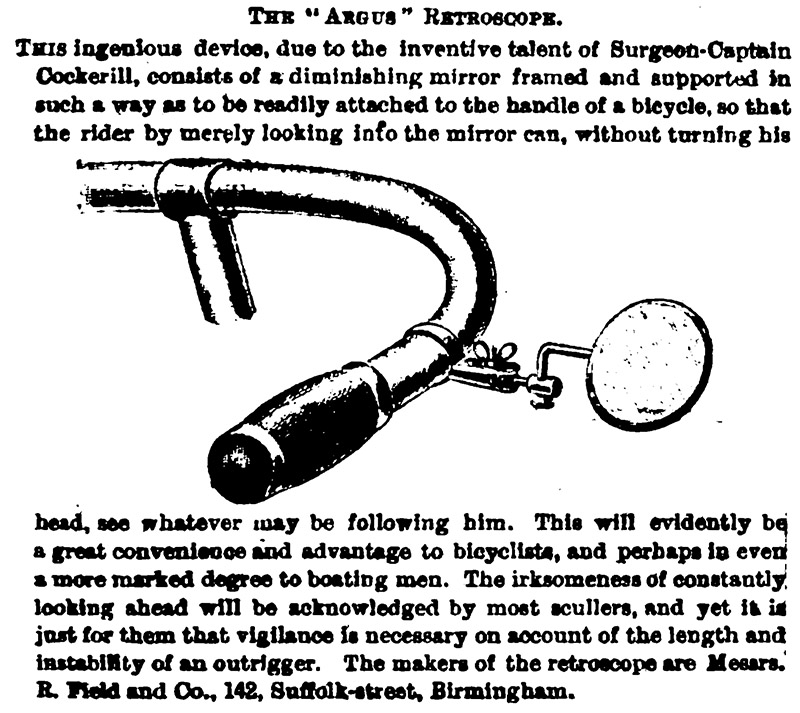 Figure 22. An 1897 advertisement for a bicycle rear-view mirror, made by R. Field and Co.

&nbsp

Acknowledgement

Thank you to John Goodman for sharing images of his Field and Co. microscope.

&nbsp

Resources

Anderton, John (1894) Stereoscopic lantern pictures, The Photographic Journal of America, Vol. 31, pages 118-121

The Art Journal (1856) Advertisement from R. Field and Son, Vol. 5, February advertiser, page 2

Birmingham: History and General Directory of the Borough of Birmingham (1849) "Field Robert & Son, opticians and philosophical instrument makers, 113, New st.", White, Francis, & Co, Sheffield, page 153

Carpenter, William B. (1856) The Microscope and its Revelations, J. Churchill, London, pages 75-76 and 80-82

Carpenter, William B. (1868) The Microscope and its Revelations, Fourth edition, J. Churchill, London, pages 50-51 and 58-59

Christening of Thomas Sandbrook Field (1819) St. Martin's parish records, accessed through ancestry.co.uk

Christening of Matilda Elizabeth Field (1825 St. Martin's parish records, accessed through ancestry.co.uk

Christening of Robert Benjamin Field (1828) St. Martin's parish records, accessed through ancestry.co.uk

Christening of Charles William Field (1835) St. Martin's parish records, accessed through ancestry.co.uk

Christening of John George Field (1850) St. Thomas' parish records, accessed through ancestry.co.uk

Clarke, L. Lane (1858) The Microscope: Being a Popular Description of the Most Instructive and Beautiful Objects for Exhibition, G. Routledge and Co., London, pages 1-2

Drake's Road-Book of the Grand Junction Railway, from Birmingham to Liverpool & Manchester (1837) Advertisement from R. Field, James Drake, Birmingham, page 137

England census, birth, marriage, and death records, accessed through ancestry.co.uk

Hardwicke's Science-Gossip (1868) Advertisement from R. Field and Son, Vol. 4, January issue advertisements

Hogg, Jabez (1856) Advertisement from R. Field and Son at rear of the book, Herbert Ingram & Co., London

International Exhibition: Official Catalogue of the Industrial Department (1862) page 49

The International Annual of Anthony's Photographic Bulletin (1891) Advertisement from R. Field & Co., Vol. 4

Journal of the Society of Arts (1855) Vol. 3, pages 538-539

Kelly's Directory of the Watch and Clock Trades (1880) "Field Robert & Co. 99 Suffolk st. Birmingham", page 241

The Lancet (1855) Advertisement from R. Field and Son, Vol. 2, July advertiser

The Lancet (1897) Advertisement for the Argus Retroscope by R. Field and Son, page 289

Lidstone, James T.S. (1868) The New Fourteenth Londoniad, Etc., J.T.S. Lidstone, Birmingham, pages 33-34

Lucerna, the Magic Lantern Web Resource (accessed February, 2016) Anderton, John, http://www.slides.uni-trier.de/person/index.php?id=6003042

Marriage of Charles William Field and Louisa Beresford (1857) All Saints' parish records, accessed through ancestry.co.uk

Marriage of John Anderton and Edith Short (1889) St. Bartholomew's parish records, accessed through ancestry.co.uk

Marshall, W.P. (1869) A new universal mounting and dissecting microscope, The Monthly Microscopical Journal, Vol. 1, pages 347-348

Morrison-Low, A.D. (2007) Making Scientific Instruments in the Industrial Revolution, Ashgate, Aldershot, Hampshire, pages 230-248

Nocutt, W.L. (1859) Handbook of the Microscope and Microscopic Objects, E. Lumley, London, pages 2-7

Notes and Queries (1858) Advertisement from R. Field and Son, January 9 issue, page 40

Official Descriptive and Illustrated Catalogue: Great Exhibition of the Works of Industry of All Nations (1851) page 435

Old Bailey On-line (accessed February, 2016) "Simon Sandman (53) and Daniel Stern (29) , Unlawfully obtaining microscopes of John Anderton by false pretences, and other counts", http://www.oldbaileyonline.org/browse.jsp?div=t18771210-100

Pharmaceutical Journal (1866) British Pharmaceutical Conference Conversazione, Vol. 7, page 233

The Pharmaceutical Journal and Transactions (1880) Third series, Vol. 10, page 933

The Photogram (1894) Lantern accessories, Vol. 1, page 115

Photograms of the Year (1899) Advertisement from R. Field and Co., page lxxi

The Photographic Dealer (1899) "R. Field & Co., 142 Suffolk Street, Birmingham, send a list giving prices of Watkins' exposure meters, the merits of which are known to every photographer; the list, besides giving prices, gives also the full working instructions of the meters", Vol. 6, page 88

The Picture of Birmingham (1837) "Opticians (Working), and manufacturers of spectacles, optical and mathematical instruments: Field Robert, 111, New Street, and 33, Navigation street", Third edition, James Drake, Birmingham, page 133

Pigot and Co.'s National Commercial Directory (1828) Opticians: Birmingham (Field not listed), page 800

Probate record of Robert Benjamin Field (1883) accessed through ancestry.co.uk

Probate record of John Anderton (1905) accessed through ancestry.co.uk

Timmins, Samuel (1866) "About 1808, Mr. Philip Carpenter, the founder of the firm of Carpenter and Westley, commenced business in Birmingham in a more systematic manner than had been known before. Achromatic lenses had raised telescopes from mere toys to philosophical instruments, and Mr. Carpenter soon established a large trade, and supplied even Dollond himself with large numbers of telescopes bearing his famous name. In 1818, Sir David Brewster invented the kaleidoscope, and Mr. Carpenter, being the sole maker, sent out large quantities for several years, till the cheap Nuremberg kaleidoscopes were introduced. In 1826, Mr. Carpenter made the first solar microscope, which he took to London, and exhibited as the "Great Microcosm" and excited a great furore by its novelty and power. Sir David Brewster's stereoscope was first made for sale in Birmingham, by Mr. Robert Field, who succeeded to the business when Mr. Carpenter removed to London. The prize of the Society of Arts awarded to the present Mr. Field, some few years ago, in an open competition, is another example that for excellence as well as cheapness, a high class of instruments can still be produced in our town". The Resources, Products and Industrial History of Birmingham and the Midland Hardware District, Robert Hardwicke, London, page 534

181 Strand contained household head Henry Gould,

Transactions of the Microscopical Society of London (1859) Review of 'A Descriptive Catalogue of the Most Instructive and Beautiful Objects for the Microscope. By L. Lane Clarke. London: Routledge', Vol. 7, pages 107-108

Turner, Gerard L (1989) The Great Age of the Microscope, IOP, Bristol, pages 272-273

West, William (1830) "Field Robert, spectacle maker and optician, 33, Navigation-st.", The History, Topography and Directory of Warwickshire, R. Wrightson, Birmingham, page 333

Woodward, C.J. (1874) On an improved form of oxyhydrogen lantern for the use of lecturers, "The lantern was made for the author by Messrs. R. Field & Co, of Birmingham", Report of the Forty-third Meeting of the British Association for the Advancement of Science, page 52

The Year Book of Photography (1900) Advertisement from R. Field and Co., page 610