Thomas Gregory, ca. 1792 - ca. 1865
by Brian Stevenson
last updated October, 2021
Thomas Gregory was recently mis-identified as the maker of an auctioned microscope. He likely did not manufacture microscopes or other scientific apparatus, as he seems to have specialized in making eyeglasses. However, opticians of his time often sold microscopes, telescopes, and other apparatus from wholesale manufacturers, so it is possible that some instruments exist with Thomas Gregory's name attached.
Gregory was born in Westminster, England, and was probably trained there. He is listed in Gloria Clifton's Directory of British Scientific Instrument Makers 1550-1851 as "Gregory, Thomas III", who operated in Birmingham during the mid-1800s. Having been born, and probably trained, in the London area, he may also have been the man listed in Clifton's book as the "Gregory, Thomas I" who worked in London 1826-1834.


Figure 1. The probable record of our Thomas Gregory being assigned to apprenticeship with William Severn, "Optician", dated April 5, 1806.
&nbsp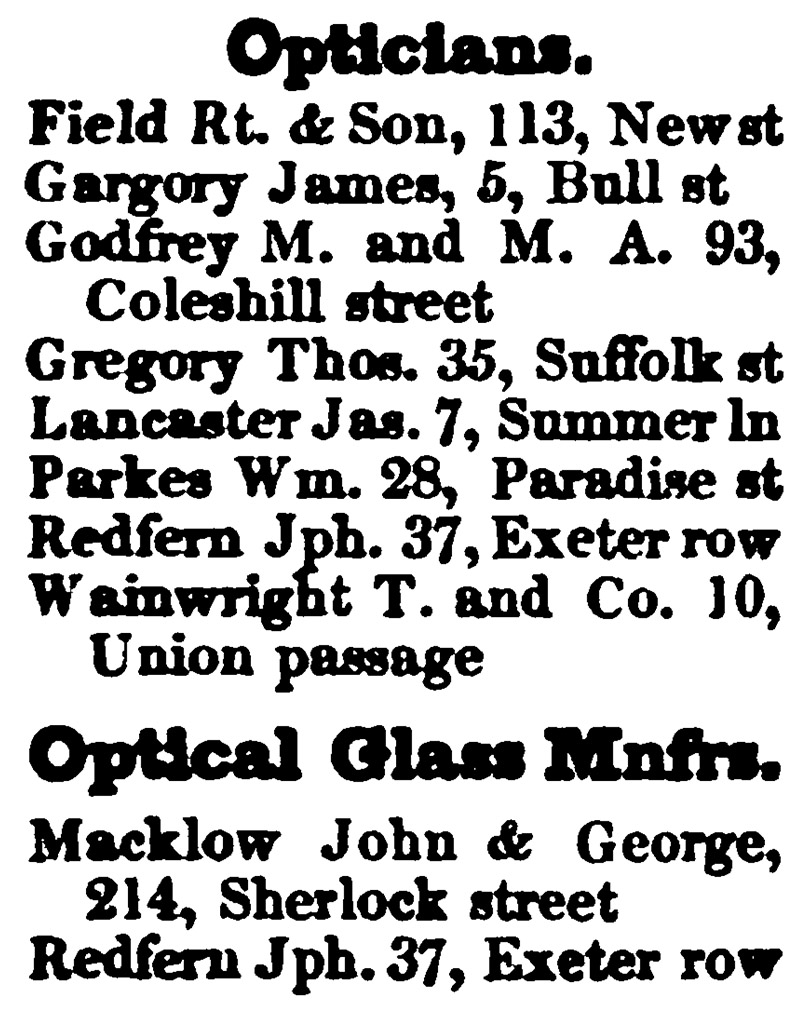 Figure 2. 1850 list of Birmingham optical business. At that time, "opticians" often made and/or sold microscopes and other scientific/engineering instruments, in addition to eyeglasses. This list included the major microscope manufacturer Robert Field & Son.
&nbsp
Census records place Thomas Gregory's birth as having occurred in Westminster, Middlesex, around 1792-1793. He may have been the boy born on November 8, 1792, and christened on February 17, 1793, to Isaac and Mary Gregory, of the parish of Saint Martin in the Fields, Westminster.
Thomas Gregory was probably the young man who was apprenticed to William Severn, "optician", on April 5, 1806 (Figure 2). He would than have then have been 14 years old, a usual age for beginning an apprenticeship.
If our optical worker was the same person as Clifton's "Thomas Gregory I", then he operated from 27 Castle Street, Long Acre, and 17 Riders Court, Leicester Square, both in London, between 1826 and 1834.
Our Thomas Gregory was probably the man who married Sarah Ashmore at St. Martin's parish church, Birmingham, on July 8, 1835.
Gregory was definitely working in Birmingham by 1839. That year's Wrightson's and Robson's Directories listed him as a "spectacle manufacturer", working from 22 Severn Street. The 1841 census of England likewise recorded Thomas ("spectacle maker") and Sarah as living on Severn Street.
By 1845, Gregory had moved to 35 Suffolk Street, Birmingham. The 1845 Post Office Directory listed the address as "35 Suffolk st. Smallbrook st", as is also recorded by Clifton.
The 1852 Slater's Directory of Birmingham listed Thomas Gregory at 35 Suffolk Street, while Dix's 1858 Directory of Birmingham recorded that he had moved to 104 Barr Street. The 1861 national census provided the same address.
Thomas Gregory is not identifiable in government records after 1861. He likely died within a few years after that date, when he would have been in his 70s.
&nbsp
Resources
Apprenticeship record of Thomas Gregory to William Severn (1806) accessed through ancestry.com
Christening record of Thomas Gregory (1873) parish records of St. Martin in the Fields, accessed through ancestry.com
Clifton, Gloria (1995) Directory of British Scientific Instrument Makers 1550-1851, Zwemmer, London, pages 119 and 248
England census and other records, accessed through ancestry.com
General & Commercial Directory of Birmingham (1858) "Gregory Thos., spectacle maker, 104, Barr st", page 144
History, Gazetteer, and Directory, of Warwickshire (1850) "Gregory Thomas, optician, 35, Suffolk st", pages 165 and 365
Post Office Directory (1845) "Gregory Thomas, optician, 35 Suffolk st. Smallbrook st", page 137
Robson's London and Birmingham Directory (1839) "Gregory Thomas, Spectacle manu, 22 Severn st", page 234
Slater's Directory of Birmingham (1852) "Gregory Thomas, optician, 35 Suffolk st", page 141
Wrightson's Triennial Directory of Birmingham (1839) "Spectacle makers … Gregory Thomas, Severn st", page 217