James Thomas Hinton, 1847 - 1891
by Brian Stevenson
last updated May, 2020
James Hinton appears to have picked up an interest in microscopy during his medical training, in the mid-1870s. The histological slide shown in Figure 1 dates from his second year of training at Guy's Hospital, London, in autumn of 1874, and may have been prepared for a class. But, even then, Hinton showed broad scientific interests: Brian Bracegirdle's Microscopical Mounts and Mounters shows a James Hinton-prepared slide of "spicules of fresh water sponge", dated November, 1875 (slide Q-20). Hinton's microscopy pursuits continued through the rest of his short life, joining the Croydon Microscopical & Natural History Club in 1880. I did not find any records of Hinton advertising to exchange slides; presumably, all of his surviving preparations came from his personal collection.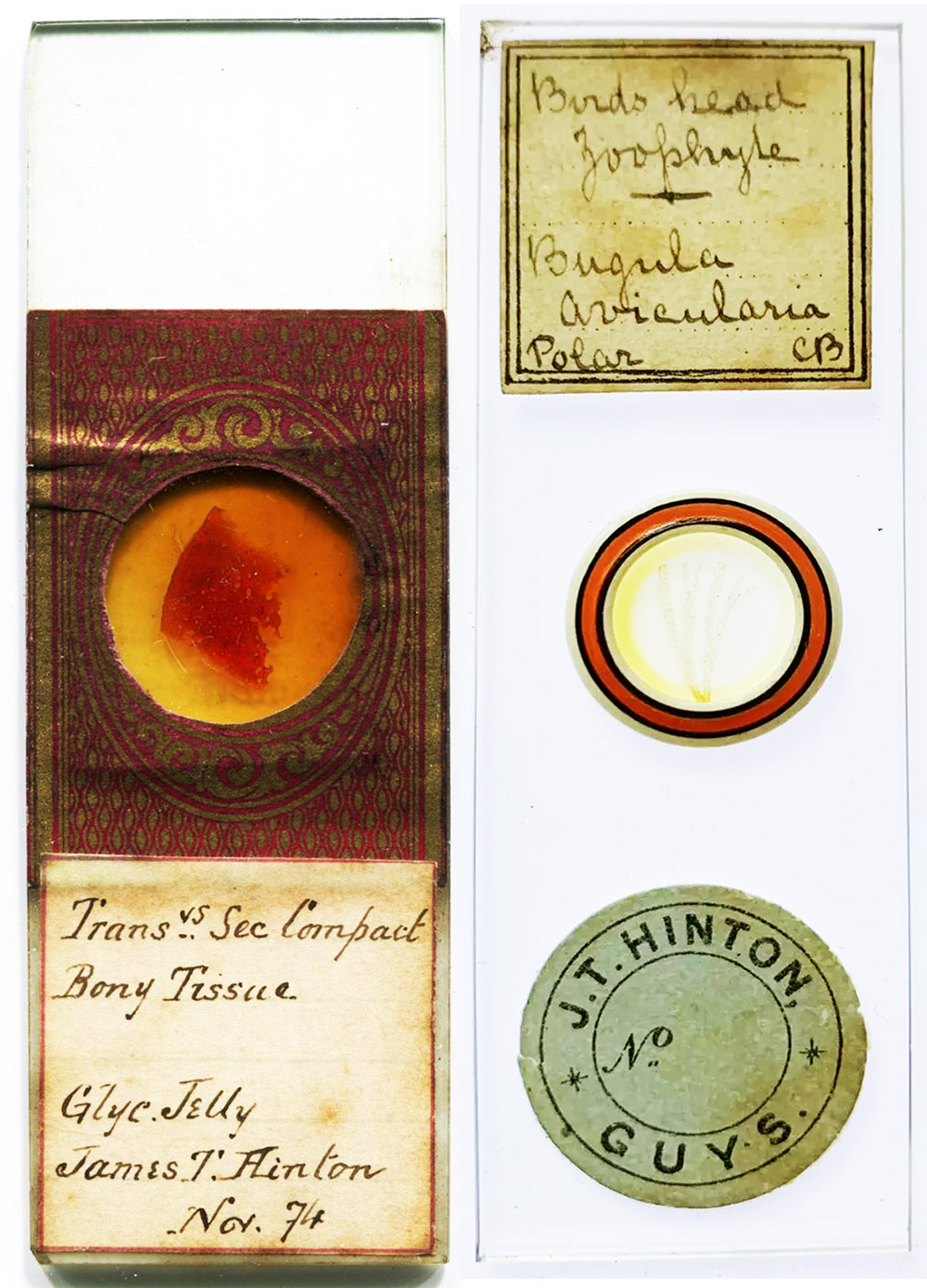 Figure 1. A microscope slide by James T. Hinton, of "transverse section (of) compact bony tissue". It is dated November, 1874, the autumn of his second year of medical training at Guy's Hospital. The half cover of decorated paper helps to hold down the cover slip of this glycerin jelly mount. Bracegirdle's "Microscopical Mounts and Mounters" shows another Hinton slide, dated November, 1875, that used Canada balsam mountant and has precise, colorful ringing, indicating that Hinton was skilled in making microscope slides at this time.
&nbsp
James Thomas Hinton was born during the spring of 1847 in Whitechapel, London. Named after his father, he was the first son of James Thomas and Amelia Hinton. The father operated a wholesale cheese business, evidently profitable enough to employ domestic servants and to send son James to medical school.
Our James worked for his father until well into his twenties: the 1871 census listed him as "Clerk (Cheesemonger)".
Hinton began his medical training in 1873, at Guy's Hospital, London. He earned a Certificate in July, 1874, for his scores as a first year student. Hinton was admitted to the Royal College of Surgeons of England in 1877. In March of the following year, he completed his M.D. training at the University of Ingolstadt, in Landshut-Munich, with a dissertation on "Über die vershiedenen methoden der behandlung von fracturen" ("On the different methods of treating fractures"). Later in 1878, he was admitted to the Obstetrical Society of London.
James Hinton set up a practice in Croydon, Surrey, a southern suburb of London.
He became a member of the Croydon Microscopical & Natural History Club at their January, 1880, meeting. Membership rolls indicate that he remained a member through the decade.
On August 15, 1883, James married Sarah Cherry, in Bedford, Bedfordshire. Her father was Lord Mayor of Bedford. The couple did not have any children.
He joined The Sanitary Institute of Great Britain in 1883. Toward the end of the 1880s, Hinton formed a medical partnership with John Morrison Hobson, operating as "Hinton & Hobson, Surgeons".
James Hinton died on November 16, 1891, at his home in Croydon. He was only 44 years old.
&nbsp
Resources
Bracegirdle, Brian (1898) Microscopical Mounts and Mounters, Quekett Microscopical Club, London, pages 52 and 144, and plate 20-Q
British Medical Journal (1891) "Deaths, On November 16th at his residence, Wellesley Court, Croydon, James Thomas Hinton, M.D., M.B.C.S.. aged 44 years", page 1183
Calendar of the Royal College of Surgeons of England (1888) Members, "1877. Hinton, J. Thomas, Croydon", page 158
England census and other records, accessed through ancestry.com
Guy's Hospital Reports (1874) page 579
Kelly's Directory of Kent, Surrey, and Sussex (1891) "Hinton James Thomas M.D. surgeon, see Hinton & Hobson", "Hinton & Hobson, surgeons, Lower Addiscombe road & 10 Wellesley road", and "Hobson John Morrison M.D. surgeon, see Hinton & Hobson", page 1235
The Lancet (1883) Marriages "Hinton-Cherry - On the 15th inst., at Zion Chapel, Bedford, James Thomas Hinton, M.D., M.R.C.S., of High-street, Croydon, eldest son of J.T. Hinton, Esq., of Haling-park, Croydon, to Sarah, youngest daughter of Luke Cherry, Esq., Mayor of Bedford", August 25 issue, page 354
Probate of the will of James Hinton (1891) "The Will of James Thomas Hinton late of Wellesley Court Wellesley-road Croydon in the County of Surrey MD and Surgeon who died 16 November 1891 at Wellesley Court was proved at the Principal Registry by Sarah Hinton of Welleslsy Court Widow the Relict and Robert Josiah Hinton of Dereham Bramley-hill Croydon Merchant the Brother the Executors. Personal Estate £5512 8s 4d", accessed through ancestry.com
Proceedings and Transactions of the Croydon Microscopical & Natural History Club (1880) Annual Meeting, page 309
Proceedings and Transactions of the Croydon Microscopical & Natural History Club (1880) List of Members "Hinton James T., M.D., High Street"
Proceedings and Transactions of the Croydon Microscopical & Natural History Club (1883) List of Members "Hinton James T., M.D., High Street"
Proceedings and Transactions of the Croydon Microscopical & Natural History Club (1885) List of Members "Hinton James T., M.D., High Street"
Proceedings and Transactions of the Croydon Microscopical & Natural History Club (1887) List of Members "Hinton, James T., M.D., Wellesley-court, Wellesley-road"
Transactions of the Obstetrical Society of London (1878) Vol. 20, page 321
Transactions of the Sanitary Institute of Great Britain (1883) List of Members "1883 Nov. Hinton, James Thomas, M.D. Munich, 38, High Street, Croydon"
Verzeichens der Doktoren und Dissertationen der Universität Ingolstadt - Landshut - München (1976) Hinton, James T., Vol. 2, page 171