George Edward Quick, 1831 - 1908
by Brian Stevenson
last updated June, 2022
G.E. Quick was an amateur English microscopist, known to have been active between the mid-1860s and the late 1880s. He was a member of the Quekett Microscopical Club, and undoubtedly mounted a number of the slides that bear his labels. His collection also included a good number of prepared slides that he acquired from professional slide-makers.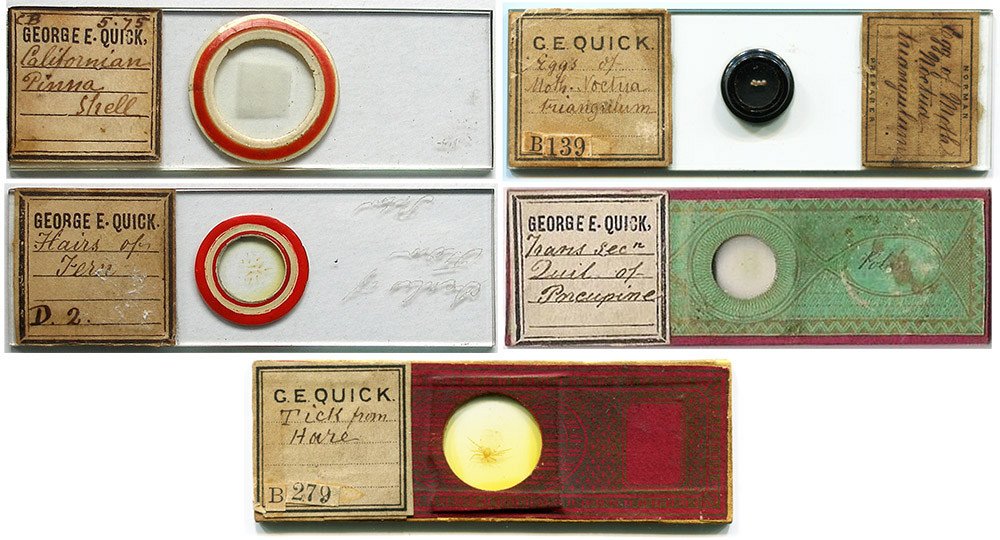 Figure 1. Microscope slides from George E. Quick's collection, ca. 1860s – 1880s. The slides on the left, with the red and white ringing may have been prepared by Quick, or, at least, finished by him: the lower, left slide has "hairs of fern, pol" engraved into the glass slide, suggesting that it may have been made by another person, then labeled and ringed by Quick. The slides on the right were prepared by professional mounters (top by John T. Norman, bottom by an as-yet unknown maker).
&nbsp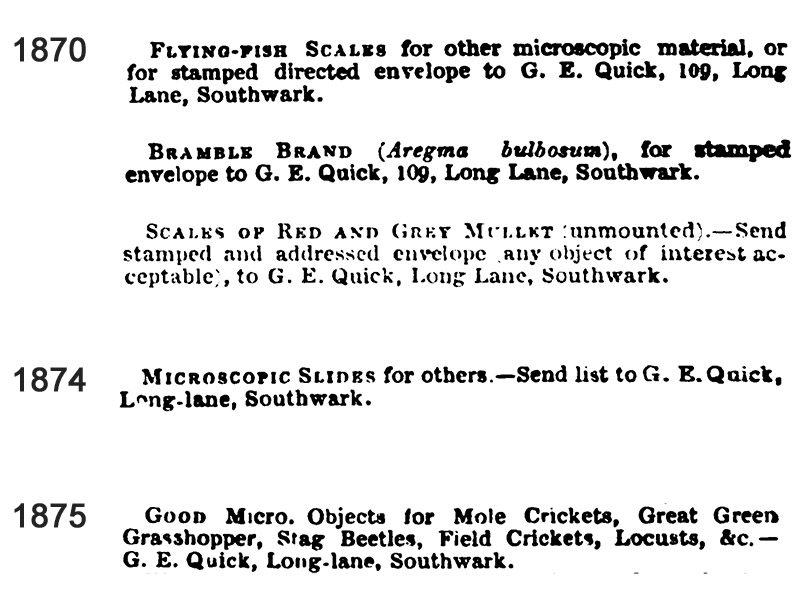 Figure 2. Exchange advertisements that G.E. Quick published in "Hardwicke's Science-Gossip". Quick's requests for objects suitable for microscopic viewing implies that he was preparing his own slides. I have not located any exchange offers from before 1870 or after 1875. Quick joined the Quekett Microscopical Club in 1866, and resigned during 1888.
&nbsp
George Edward Quick was baptised on September 18, 1831, in Norton, Somerset, and was probably born a few days or weeks previously. He was a child of George Quick (described as a "builder" and a "stone mason") and Prudence Garratt Quick.
Our microscopist initially followed in his father's occupational footsteps, albeit with a move to Marylebone, Middlesex (now London). The September 30, 1855 record of his marriage to Jane Anne Phillips stated that his profession was "stone mason". Jane had been working as a domestic servant in London. George and Jane did not have any children.
By 1861, George had changed professions, with that year's census giving his occupation as "oil and colourman". That denoted sales of paints, oils, brushes, cleaning supplies, etc. Later censuses indicated that Quick operated his own business, and remained in that occupation throughout the remainder of his life.
George E. Quick was elected to membership in the Quekett Microscopical Club on February 23, 1866. Presumably, he had been an active microscopist for some time before then. He donated 24 slides to the QMC during 1866, including four in January, 1886. Quick donated or exhibited numerous slides during his time as a member, some of which were named in QMC minutes: "one slide of Aventurine" in 1868, and "foot of Dytiscus, toe of mouse, and head of gnat" in 1871.
Quick began offering to exchange microscopical objects in 1870 (Figure 2). Such offers were published occasionally through 1875. I have not found any exchange offers after late 1875.
Jane Quick died in August, 1872. George married a second time on July 23, 1873, to Henrietta Andrews. Until her marriage, Henrietta worked as a "task mistress" at the Brighton Workhouse. George was 42, and Henrietta was 39 at the time of their marriage. They did not have any children.
George Quick was listed in the membership rolls of the QMC through 1888. He was not listed in 1889, or afterward. It is not known whether he continued to prepare or collect microscope slides after 1888.
George Edward Quick died during the late spring of 1909.
&nbsp
Resources
Baptism record of George Edward Quick (1831) Parish records of St. Philip, Norton-Under-Hamdon, Somerset, accessed through ancestry.com
Bracegirdle, Brian (1998) Microscopical Mounts and Mounters, Quekett Microscopical Club, London, pages 78 and 164, plate 30-L
Death record of Jane A. Quick (1831) Parish records of St Olave, Southwark, London, accessed through ancestry.com
Death record of George Edward Quick (1909) Accessed through ancestry.com
England census and other records, accessed through ancestry.com
Hardwicke's Science-Gossip (1870) Exchange offers from G.E. Quick, Vol. 6, pages 96. 264, and 284
Hardwicke's Science-Gossip (1871) Exchange offer from G.E. Quick, Vol. 7, page 48
Hardwicke's Science-Gossip (1874) Exchange offer from G.E. Quick, Vol. 6, page 168
Hardwicke's Science-Gossip (1875) Exchange offer from G.E. Quick, Vol. 6, page 192
Journal of the Quekett Microscopical Club (1868) Donations by G.E. Quick, pages 277-278
Journal of the Quekett Microscopical Club (1869) Donations by G.E. Quick, page 250
Journal of the Quekett Microscopical Club (1872) List of Members
Journal of the Quekett Microscopical Club (1888) List of Members
Journal of the Quekett Microscopical Club (1889) List of Members
Marriage record of George Quick and Jane Anne Phillips (1855) Parish records of Trinity Church, St. Marylebone, Middlesex, accessed through ancestry.com
Marriage record of George Quick and Henrietta Maria Andrews (1873) Parish records of St. Peter's Church, Brighton, Sussex, accessed through ancestry.com
Monthly Microscopical Journal (1871) Report on the annual soiree of the Croydon Microscopical Club, pages 284-287