John Thomas Norman, 1807 – 1893,
and his microscopist family
by Brian Stevenson
last updated September, 2019
The John T. Norman microscopy business operated for 90 years, first by John, then by his sons Alfred and Edwin. John Norman stated that his business was established in 1846. Alfred Norman continued production of microscope slides until his own death, in 1936. It is no wonder that so many slide collections contain numerous slides bearing the J.T. Norman name. Brian Bracegirdle wrote an admirable paper on John and Alfred Norman for the Quekett Journal of Microcopy in 1996. Additional articles in the QJM by Stanley Warren, Brian Darnton, Steven Gill, Brian Bracegirdle, Peter Paisley and me have added further information to our knowledge of John Norman and company. One point that this research brought out is that, contrary to Brian Bracegirdle's statement in Microscopical Mounts and Mounters, the output of the J.T. Norman slide-making enterprise was not largely made by only two men. This was truly a cottage industry, in that the slide-making and selling business was operated in the family home. Five of John Norman's sons are known to have worked in the J.T. Norman business, most of them for several decades. The known contributions of the Norman children are described at the end of this essay.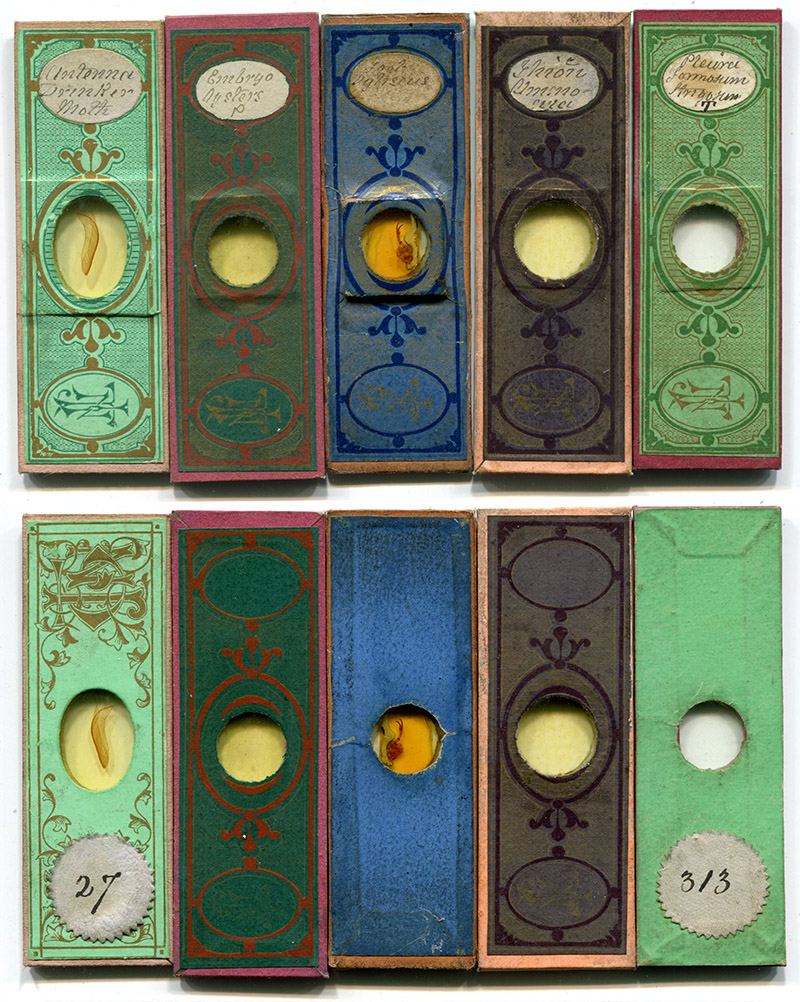 Figure 1A. Examples of early, papered microscope slides from J.T. Norman, showing the fronts (above) and backs (below). These ornate patterns on the left are probably among his earliest works.
&nbsp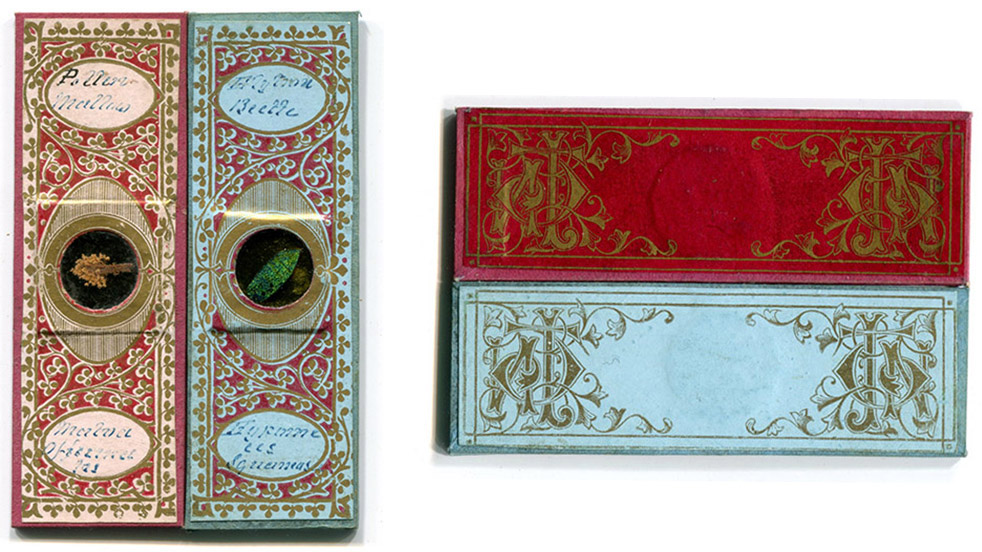 Figure 1B. Other papers used on Norman's early microscope slides, showing the fronts (above) and backs (below). The pale green backing-paper on the righthand slides was frequently used by Norman for his papered slides.
&nbsp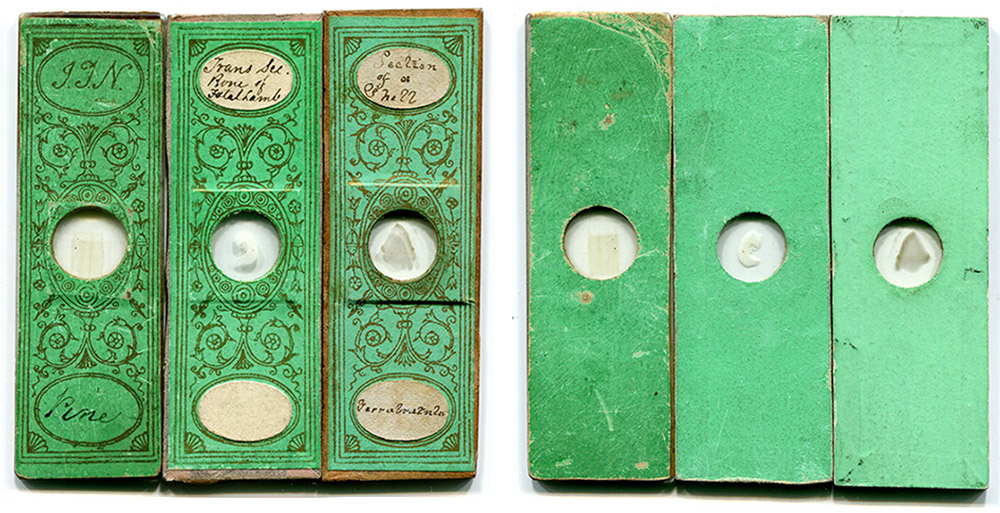 Figure 1C. Later papers used by Norman. The two on the left include the words "Norman" and "London" printed above and below the specimen, respectively. The slides on the right an off-the-shelf design, upon which the left slide-papers were based. This paper pattern was also used by other professional and amateur slide-makers. The Norman family's works are distinguishable by their handwriting.
&nbsp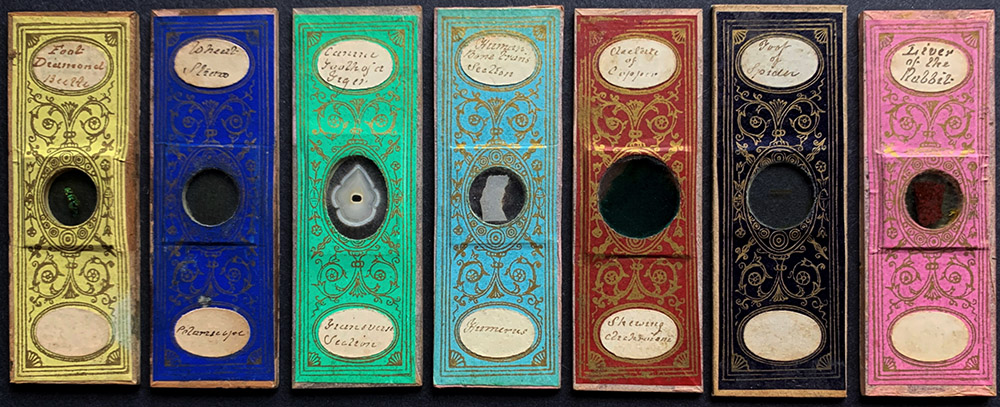 Figure 1D. J.T. Norman's hidden monogram papers. The maker's initials are tucked into a tiny space above and below the specimen.
&nbsp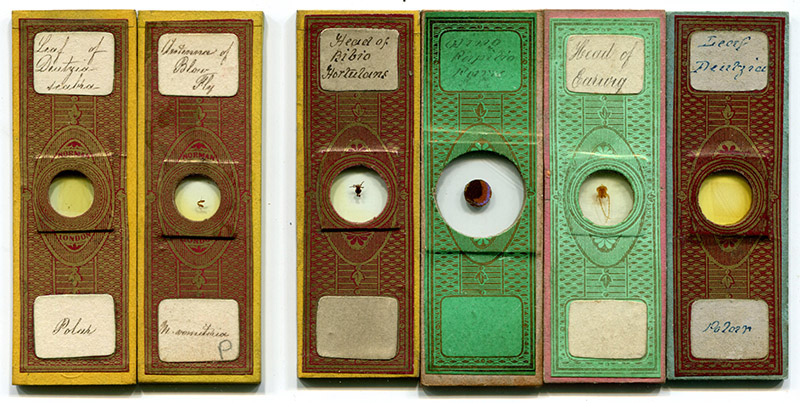 Figure 1E. Examples of unpapered slides that were made by J.T. Norman or his children. Their unsigned slides are frequently encountered, as they regularly sold their slides through other microscope shops. Additional examples of the Norman family's handwriting on such slides are shown below in Figure 14 and later.
&nbsp
John Thomas Norman was probably born during January, 1807. He was christened February 8, 1807 at St. Mary Whitechapel, Tower Hamlets, Middlesex (now within London city). His parents, Thomas and Sarah Cook Norman, had married the previous spring, on April 6, 1806. According to John's 1838 marriage record, his father worked as a bookbinder. At the time of John's christening, the family lived in Queen Ann Street.
John T. Norman married Ann Bowell on February 13, 1838, at the Parish Church of St. Mary Aldermary. The couple lived at 8 Addle Hill, Whitechapel. On the parish marriage record, John described his occupation as "brush maker". The types of brushes he made are unknown, but he continued with that line of work until at least 1850. Norman's brush- and slide-making businesses evidently overlapped for several years.
The Normans' first son, also name John Thomas, was born August 20, 1838. The short time between John and Ann's marriage and their son's birth was not unusual for those times. Contrary to modern perceptions, cohabitation before marriage was quite common. Also, through the 1800s, marriage in Britain was frequently conducted by "banns", in which the plans of a couple to marry were announced from the parish church pulpit on three consecutive Sundays. If no-one presented a reason why the couple should not be united, they were then considered married without any further ado. A relic of this tradition is found in many modern western marriage ceremonies, in which spectators are asked if anyone has any objections - "speak now, or forever hold your peace." The City of London birth record for John Jr. described John Sr. as being a "brush maker".
A second son, William Joseph, was born January 14, 1840. Both John Jr. and William were christened on July 28, 1847, at St. John the Baptist, Shoreditch. John Sr. described his occupation as "microscope maker" on their christening records. Signed microscopes and objective lenses, as well as business cards and advertisements, confirm that Norman manufactured microscopes and other scientific equipment, not just slides (Figures 3 and 5-9).
The 1841 census found John Sr., Ann and William living on Pearson St., Shoreditch, along with Ann's unmarried sister Eliza. John's occupation was again described as "brush maker".
Ann Norman died later that year, and was buried September 1, 1841 at St. John the Baptist, Hoxton, Hackney.
John Sr. remarried on January 14, 1850, to Mary Ann Boroff. Both John and Mary Ann lived at 3 Walbrooke Place, Shoreditch at the time of their marriage. John once again described his occupation as "brush maker". A daughter, named Harriet, was born September 17, 1847, and presumably John and Mary Ann were the parents. A second daughter, Mary Ann, was born May 31, 1850. John announced himself to be a "brush maker" on her parish christening record.
By the following March, the Norman family had moved to 10 Fountain Place. It was from this location that J.T. Norman issued his earliest known advertisements (e.g. Figure 2).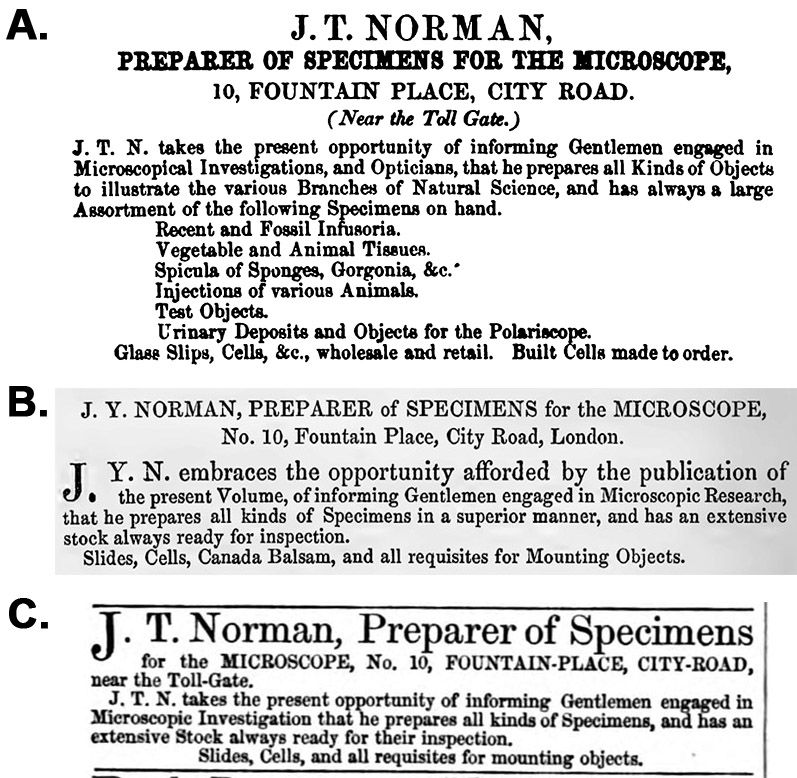 Figure 2. Early advertisements from 10 Fountain Place. (A) From Quekett's 1852 "Practical Treatise on the Use of the Microscope" (second edition). (B) From Hannover's 1853 "The Construction and Use of the Microscope". (C) From The Lancet, 1854. In addition, Norman was recommended as a supplier of microscopic objects in the 1852 edition of John Quekett's "A Practical Treatise on the Use of the Microscope".
&nbsp
The earliest records of John Norman as a scientist and microscopist come from the mid-1800s. The Royal College of Surgeons Descriptive Catalogue of the Fossil Organic Remains of Plants chapter on the fossil desmids known as Xanthidia states that "in 1845 they were .. detected in the mud of the Thames, at Greenhithe, in Kent, by Mr. J.T. Norman". That catalog and others describe several dozen microscope slides donated by John T. Norman to the Museum of the Royal College of Surgeons.
John Quekett's second edition (1852) of A Practical Treatise on the Use of the Microscope included Norman in his list of esteemed slide makers: "For the advantage of those who are resident in the country, as well as for those who may be desirous of investigating any of the various branches of natural history, whether for amusement or otherwise, it has been deemed advisable to divide vegetable and animal structures into different classes. Mr. Topping, of No. 4, New Winchester Street, Pentonville Hill, one of our most ingenious preparers of microscopic objects – Mr. Darker, of No. 9, Paradise Street, Lambeth – Mr. J.T. Norman, of No. 10, Fountain Place, City Road – Mr. J.W. Bond, of No. 1. Emma Street, Ann's Place, Hackney Road – and Mr. C.H. Poulton, of Southern Hill, Reading – have obligingly furnished the author with lists of the most important specimens of the various classes which they are in the habit of supplying to their customers; from these as well as from one which has been derived from a variety of other sources, including the author's own experience, the following collection of the most interesting subjects for examination has been drawn up". The third, 1855 edition again mentioned J.T. Norman.
Other sources recommended John Norman as a preparer of assorted specimens. Dr. Boon Hayes, writing in the 1853 Medical Times & Gazette wrote "The following list of … specimen preparers may be useful to gentlemen interested in the study of histological anatomy: … Norman, 10, Fountain-place, City-road". Jabez Hogg's 1856, second edition of The Microscope: Its History, Construction, and Applications wrote "Mr. J.T. Norman, preparer of specimens for the microscope, 10 Fountain Place, City Road, furnished the author with a … list for publication". Instructions to Young Sportsmen in All that Relates to Guns and Shooting, 11th ed., (1859) gave a "List of the London Preservers of Birds" that included Charles M. Topping and "Norman, John Thomas (microscopic), 14 [sic] Fountain Place, City Road, EC".
The Zoologist reported that The British Entomological Society met "at the Society's rooms, 10, Fountain place, City-road" on May 5, 1851. At that meeting, "Mr. Norman read the following account of the habits of a species of spider, from Dickens's 'Household Words' of April 5". The report was signed by the Society's secretary, J. Norman. The next month, "Mr. Norman presented to the Society a specimen of Vanessa Antiopa, taken in Lordship Lane, Stoke Newington, in 1847". On May 4, 1852, "The President announced a donation of 276 Lepidopterous insects to the Society's Cabinet, from Mr. J.T. Norman". It is not clear whether these were microscope slides or whole, dried insects. Norman was probably a member of this society, variously named the Practical Entomological Society, the British Entomological Society and the Society of British Entomologists, from its beginning in 1836. He continued to be actively involved with entomological studies until at least 1859, when The Entomologist's Annual noted among its "List of British Entomologists", "Norman, J.T., 10, Fountain Place, City Road, EC".
At some point after that, Fountain Place was renamed and the Norman home was renumbered, becoming 178 City Road. John apparently remained at that home until just before his death, in 1893. This location served as the family home, workshop and retail store for most of that time. Numerous advertisements of microscope slides and apparatus were issued from this address in the intervening years (Figures 3 and 4).


Figure 3. A business card from J.T. Norman, 178 City Road. Courtesy of Leon Chambers.
&nbsp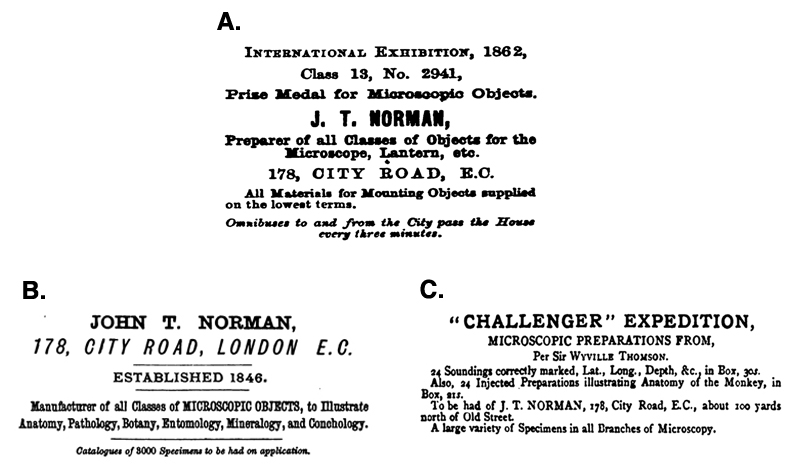 Figure 4. Examples of John Norman's advertisements from 178 City Road. A. An 1863 advertisement announcing the prize medal from the 1862 London International Exhibition. From The Intellectual Observer. B. 1874 Yearbook of Pharmacy C. Nature, December 2, 1880.
&nbsp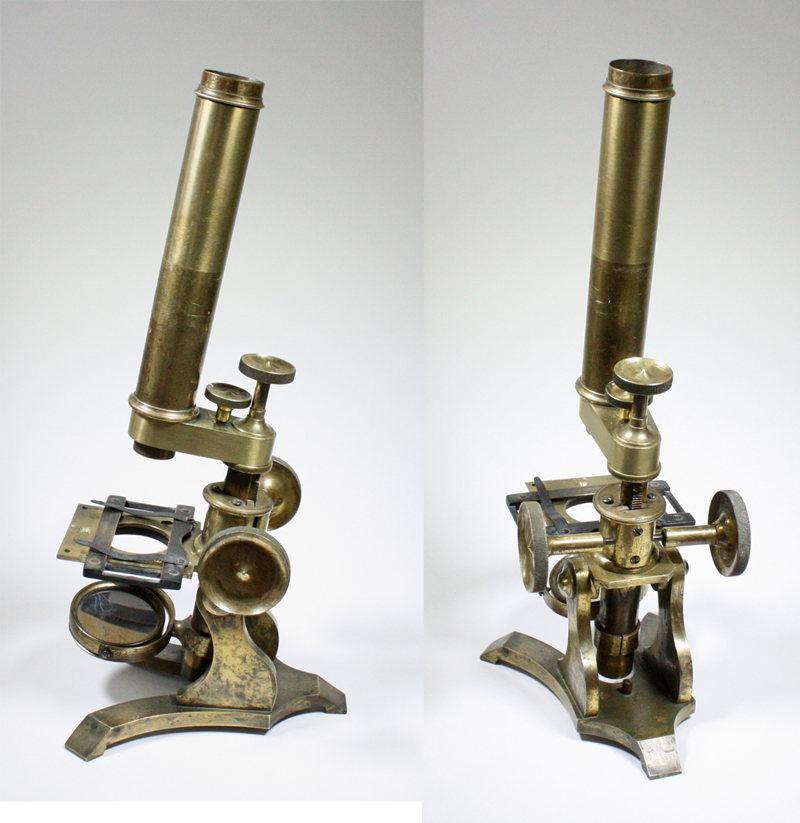 Figure 5. As noted on John Norman's business card (Figure 3), he produced microscopes, telescopes and other equipment. This is a rare example of a Norman "Universal Educational Microscope". The instrument lacks its original lenses, and the "revolving wheel of diaphragms" was long-ago removed, but it is otherwise functionally intact. The "large sliding-piece" fits a bevel on each side of the stage, allowing the microscopist to easily move an object forward-and-back. There is no left-to-right movement. The large vertical knurled knob screws the arm onto the racked bar. The smaller knob is the fine focus, a screw that presses against an internal lever which raises and lowers the objective lens within the body tube. The mirror is one-sided. The instrument"s height adjusts from 12 to 14 inches / 30.5 to 35.5 cm. It is threaded for a standard, RMS-threaded objective lens. The original ocular lens would have been 27 mm in diameter. It remains to be determined if Norman constructed microscopes in their entireties, or just some of the components. Noting that he produced thinly-ground sections of minerals, including highly friable coal specimens, it is not unreasonable to hypothesize that John Norman was capable of grinding glass lenses.
&nbsp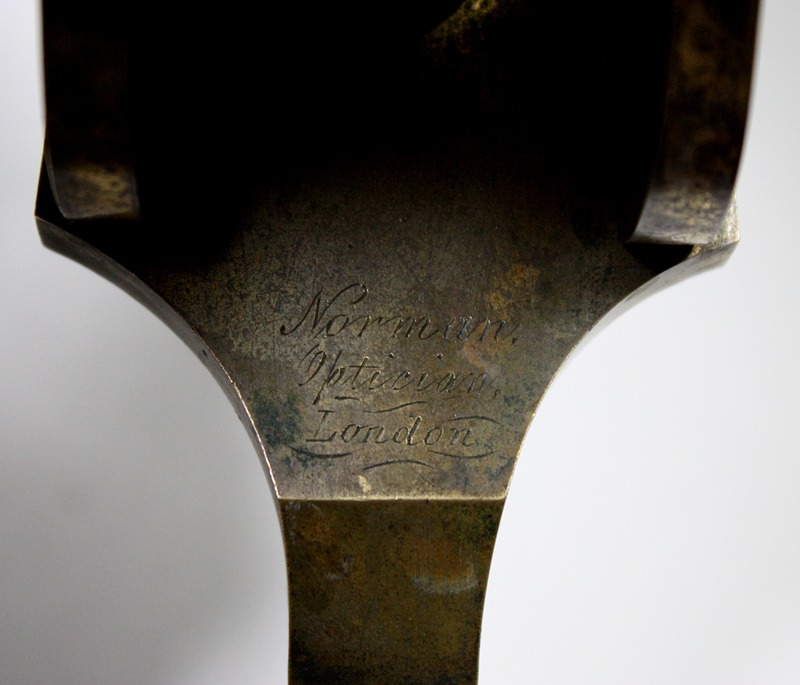 Figure 6. Engraving on the foot of the Norman Universal Educational Microscope.
&nbsp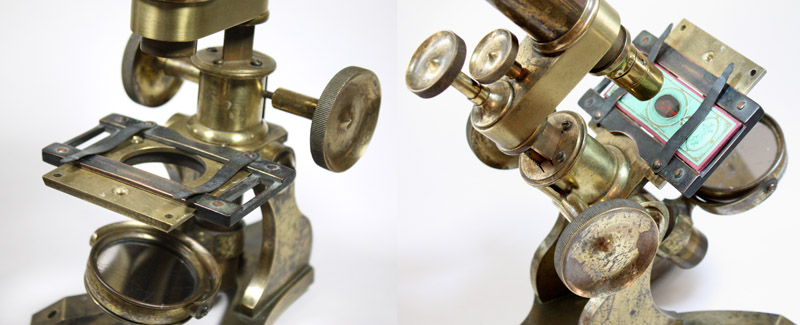 Figure 7. Details of the stage and "large sliding-piece" of the Norman Universal Educational Microscope. A previous owner(s) modified the microscope by drilling a countersunk hole in the center-front of the stage and a hole in the foot. The right image illustrates the microscope fitted with a standard (RMS)-threaded objective lens.
&nbsp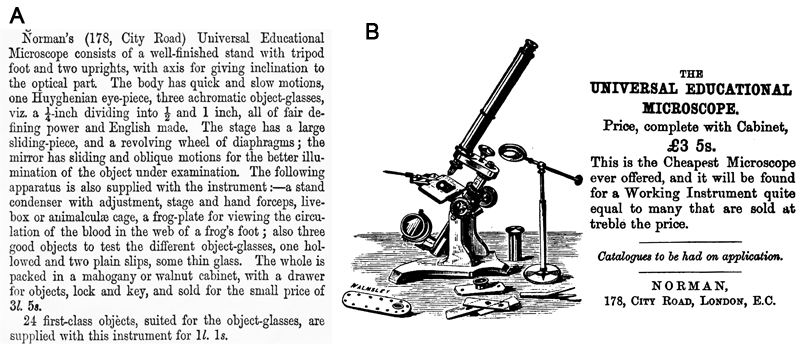 Figure 8. (A) Description of the Norman Universal Educational Microscope, from Jabez Hogg's 1867, sixth edition, of "The Microscope". The previous edition, from 1861, did not mention Norman as a supplier of microscopes, although Hogg did note Norman's slides. (B) Advertisement for the Norman Universal Educational Microscope, from the 1868 London Student. The original advertisement had the microscope picture printed on its side, to conserve page space.
&nbsp

Figure 9. Five microscope objective lenses marked as having been made by Norman. The 2-inch lens shown in the top row includes handwritten details that were written on a piece of paper and stuck inside the canister lid, in handwriting that appears to be that of John T. Norman, Sr. (images courtesy of Leon Chambers). The lower row shows four full canisters. Note the different engraving styles on the canisters, suggestive of production over an extended period of time.
&nbsp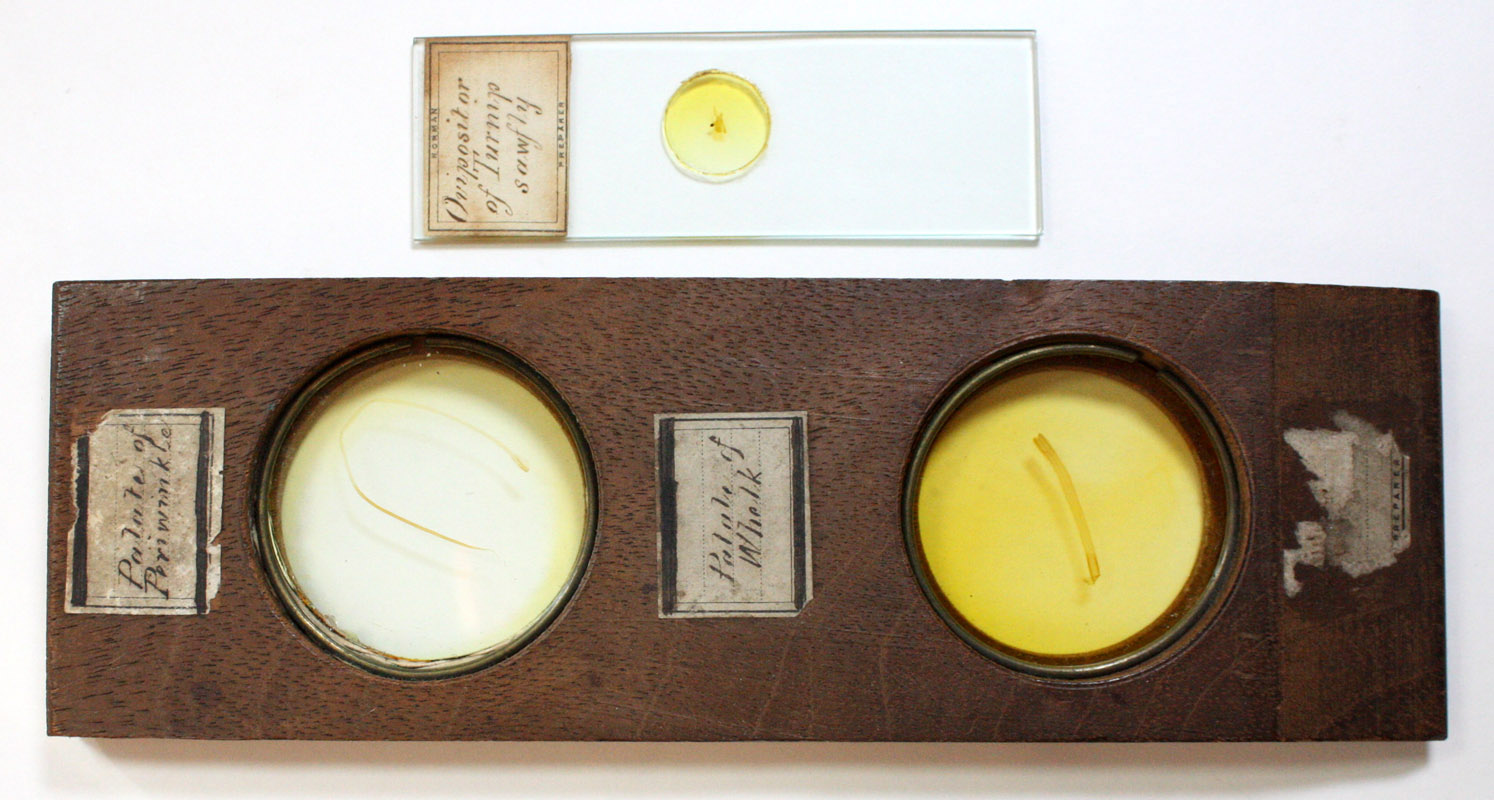 Figure 10. A magic lantern slide, alongside a standard 1x3 inch microscope slide, both by John T. Norman and bearing his handwriting. An earlier owner blacked out Norman's name from the labels on the lantern slide.
&nbsp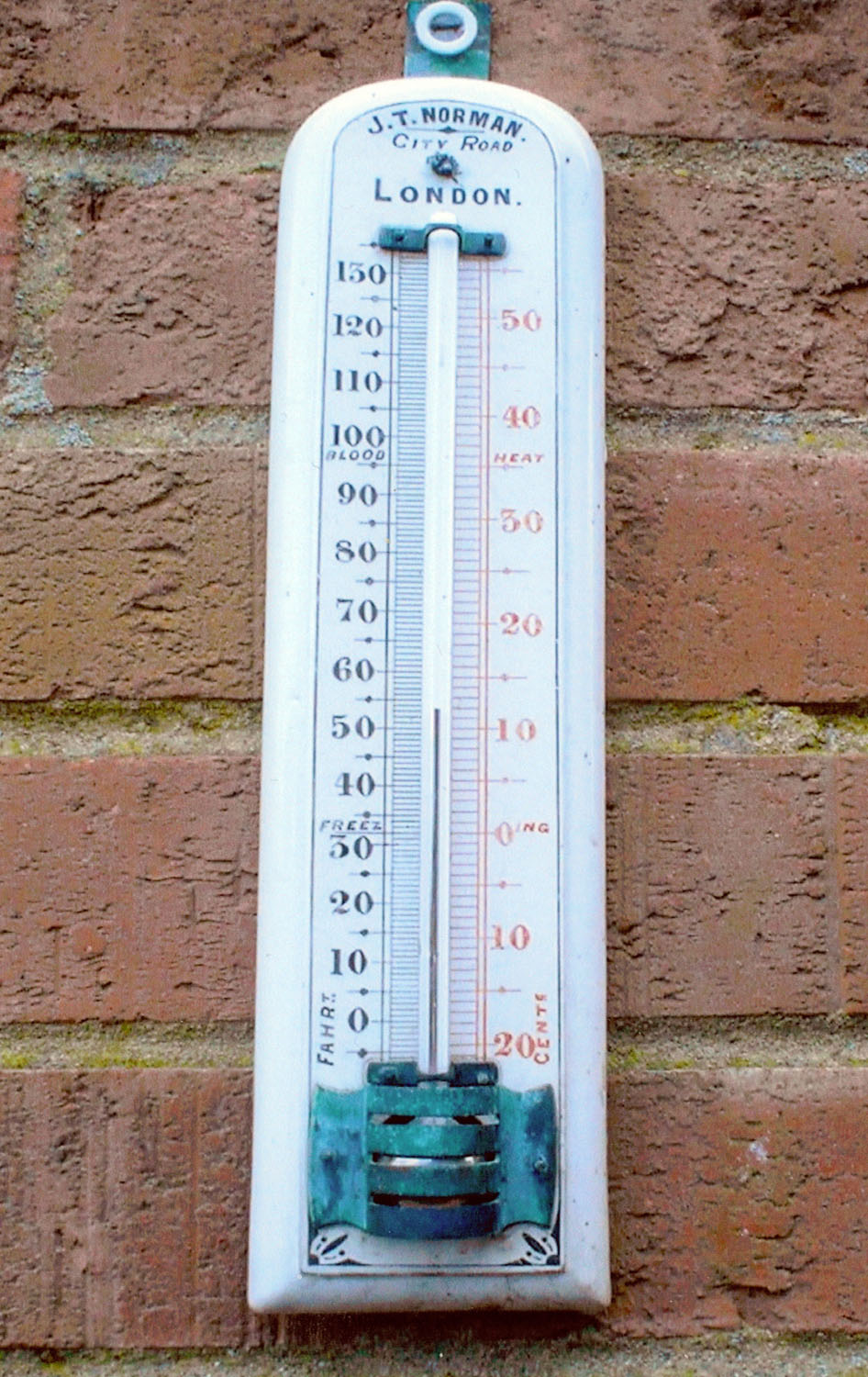 Figure 11. Another instrument sold by Norman, and probably made by him. Opticians of the period frequently advertised production of non-optical scientific instruments, such as thermometers. Courtesy of Leon Chambers.
&nbsp

Figure 12. Views of John Norman's medal from the 1862 London Exposition. Courtesy of Brian Norman.
&nbsp
John Norman entered a "good general collection" of microscope slides to the 1862 London International Exhibition. He was awarded a prize medal "for excellence of manufacture" (Figure 12). Norman also exhibited his work at the 1867 Paris International Exhibition.
In late 1878 or early 1879, a John Norman opened a retail microscopy shop at 123 Queen Victoria St (Figure 13A). Subsequent bankruptcy records suggest that this was operated by the eldest son, John Norman Junior. Those records indicate that the premises were also occupied by an electrician's business operated by Norman and Samuel Fynn. The John Norman Jr. microscopy shop advertised heavily in Nature, with ads appearing in every issue between January 16 and July 10, 1879 (Figure 13B). The following week, in the July 17 issue of Nature, they advertised from a different address, 34 Whitecross St. (Figure 13C). Presumably, the Queen Victoria St. shop did not live up to expectations, and John Norman Jr. and his partner decided to try their luck at another location. The bankruptcy records indicate that the electrician business also moved to Whitecross St. Advertising for the Whitecross St. microscopy shop ended abruptly in November, 1879. John Thomas Norman, electrician, filed for bankruptcy in Januuary, 1880. The precise role of John T. Norman, Senior, in the Queen Victoria and Whitecross ventures of his son has yet to be resolved.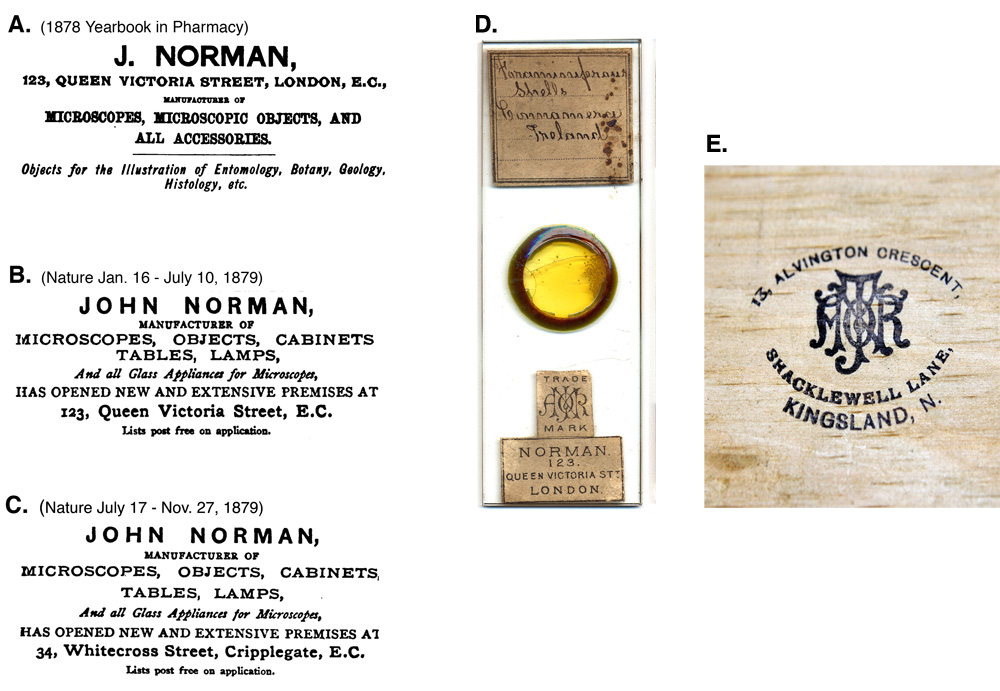 Figure 13. A - C Advertisements for the John Norman microscopy shops on Queen Victoria and Whitecross streets. Evidence indicates that these were operated by the Norman family's eldest son, John. D. A Norman microscope slide from 123 Queen Victoria Street. The handwriting is very similar to that seen on many J.T. Norman slides (e.g. see Figures 14, 16 and 17). E. The stylized "J NORMAN" trademark on the Queen Victoria Street slide is nearly identical to that later used by son Alfred Norman. Pictured is an insignia printed on a box of slides produced by Alfred, courtesy of Leon Chambers. The address, 13 Alvington Crescent, Hackney, was used by Alfred from 1898 until his death in 1936.
&nbsp
In addition to operating his own retail shop, J.T. Norman sold slides through other microscopy suppliers. The 1870 catalogue from James W. Queen & Co. (Philadelphia, USA) included a "classified list of first-class microscopic objects, with many new, rare, and interesting specimens, affording instructive illustrations in anatomy, physiology, botany, entomology, geology, and mineralogy, including the finest preparations of Wheeler, Norman, Topping, Moller, Bourgogne, Verick, Walmsley, and other foreign and American artists". Examples of slides made by the J.T. Norman company that have other retailers' labels attached are shown in Figure 14. Some of these were probably sold directly from Norman to the retailer, while others were likely sold second hand.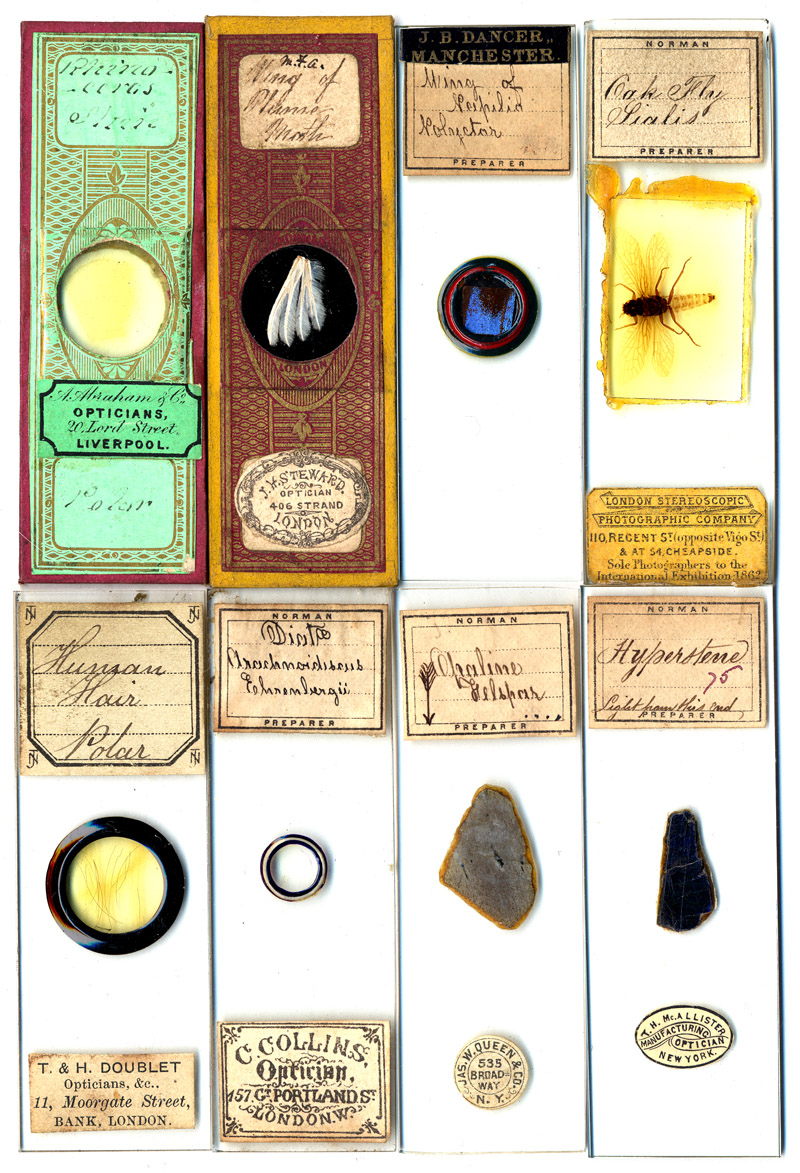 Figure 14. Examples of microscope slides made by the Norman business, with labels from other retailers. A list of Norman's customers, described by Brian Bracegirdle in the Quekett Journal of Microscopy, 1996, included C. Collins, T. & H. Doublet and J.W. Queen. Note that J.B. Dancer placed his name directly over Norman's, thereby taking credit for the preparation. Another Dancer-supplanted Norman slide is shown in Bracegirdle's Microscopical Mounts and Mounters, plate 14, slide C.
&nbsp
Norman was not above re-selling slides that he obtained from other makers, which makes good business sense (e.g. Figure 15). Figure 15B shows a slide with a convoluted history. The front bears paper with Edmund Wheeler's monogram and characteristic oval label. Norman placed his name plate on top of the Wheeler paper. Turning the slide over reveals that the coverslip was attached with red wax and black gummed paper, a method that is not generally associated with either Wheeler or Norman. As an aside, although this red wax and black paper method of mounting is now often attributed to Andrew Pritchard, that microscopist is not known to have actually made slides produced in such a manner.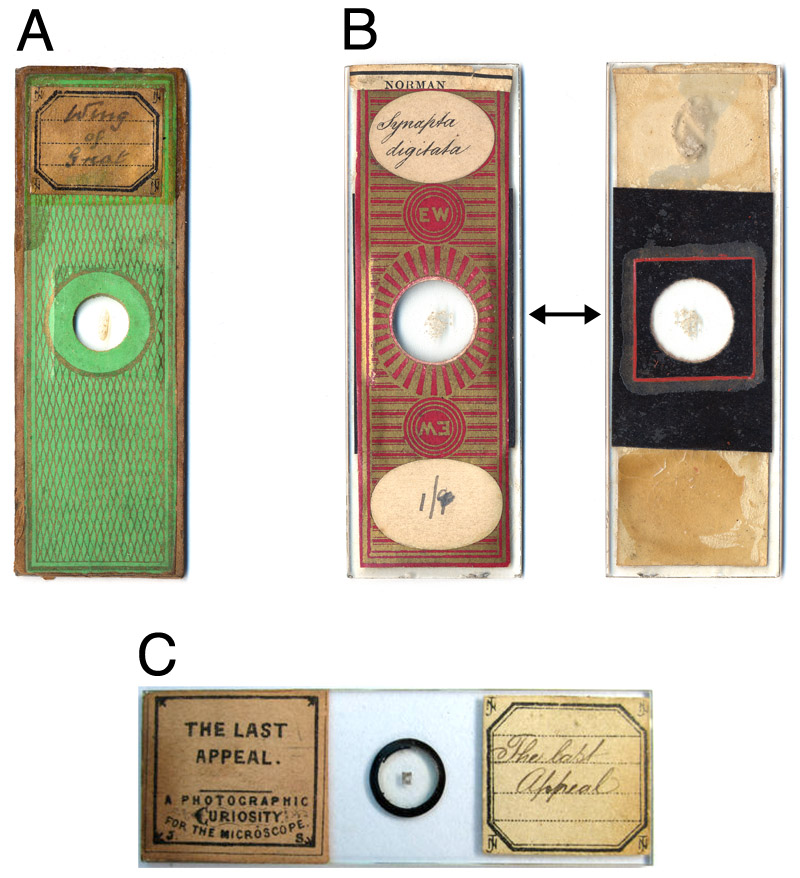 Figure 15. Three slides made by other mounters, to which Norman labels were subsequently attached. (A) "Wing of Gnat", by Cornelius Poulton, who died 1854. (B) Front and rear views of a microscope slide labeled by both J.T. Norman and Edmund Wheeler, but evidently of much older vintage. (C) Circa 1860 microphotograph produced by John Stovin, with a late 1800s Norman label.
&nbsp
John Norman wrote an interesting account of the origins of one of his specimens, in 1869. This was a rabbit infected with trichina worms (Figure 16).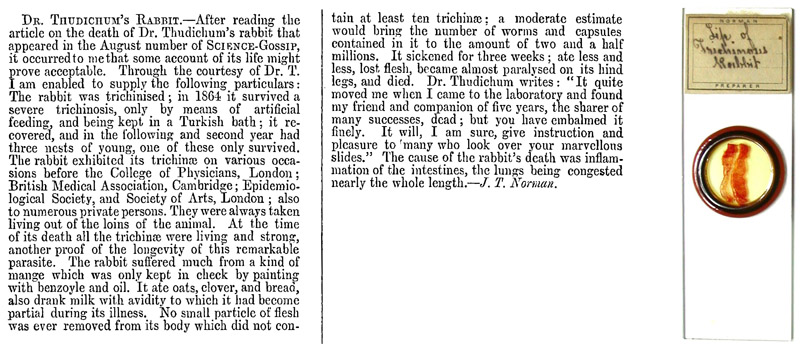 Figure 16. (A) A report from J.T. Norman on the source of one of his specimens. From Hardwicke's Science-Gossip, 1869. (B) A J.T. Norman slide of the same subject, possibly made from Dr. Thudichum's pet rabbit.
&nbsp
Shortly before his death, John Norman Sr. signed over his business to two of his sons, Alfred and Edwin. At about the same time, Alfred and Edwin signed a contract with their brother Charles, in which Charles pledged not to "trade or carry on any business in the name of John Thomas Norman". That contract has been taken as an implication that Charles had been selling independently using the J.T. Norman name, and that his brothers Alfred and Edwin wanted him to stop (Bracegirdle, Quekett Journal of Microscopy, 1996). However, census records indicate that Charles lived with his parents and worked for his father for nearly his whole life. The 1891 census, taken only 1 1/2 years before Charles promised not to use the John T. Norman name in business, indicates that Charles and his wife Susan lived with father John at 178 City Road. Brothers Alfred and Edwin lived elsewhere. This information suggests that the contract Charles signed in Oct., 1892 actually dealt with future possibilities. Apparently, Edwin and Alfred wanted to run their business under their father's name, and Charles was willing to let them. Why Charles stepped aside will probably never be known. Charles did, however, set up an independent optician business nearby, where he may have continued to make and sell slides.
John Thomas Norman died February 13, 1893, at his daughter Sarah's home in Penge, a suburb south of London. This was slightly more than 2 months after he signed over his business to Alfred and Edwin. The recorded cause of death was "decay of nature".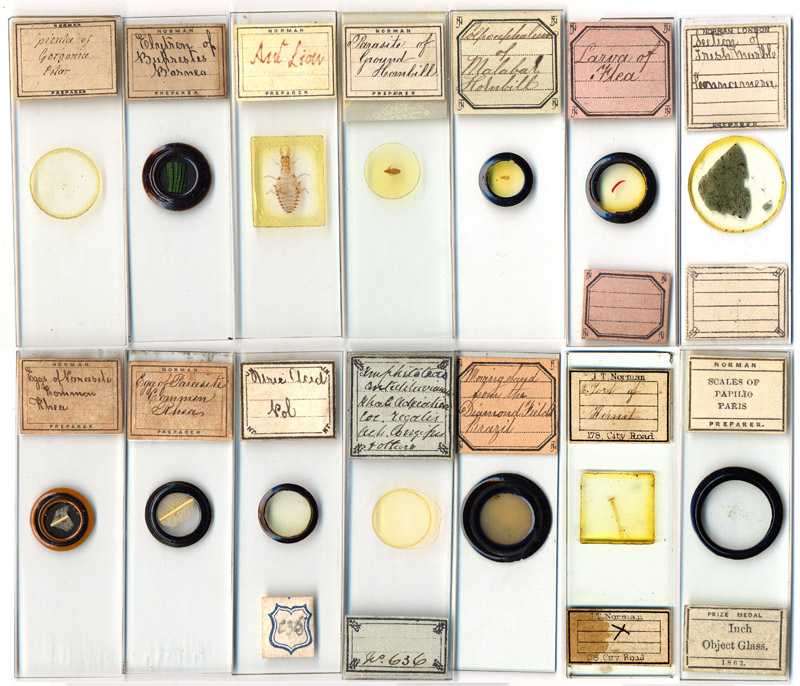 Figure 17. Examples of slides from the J.T. Norman slidemaking company, bearing a variety of label styles. Several distinct handwriting styles are evident. The two slides on the left side of the lower row are of the same specimen. The block printing on the upper left slide is the same as found on early Norman slides (e.g. Figure 1), and is presumably that of J.T. Norman, Sr.
&nbsp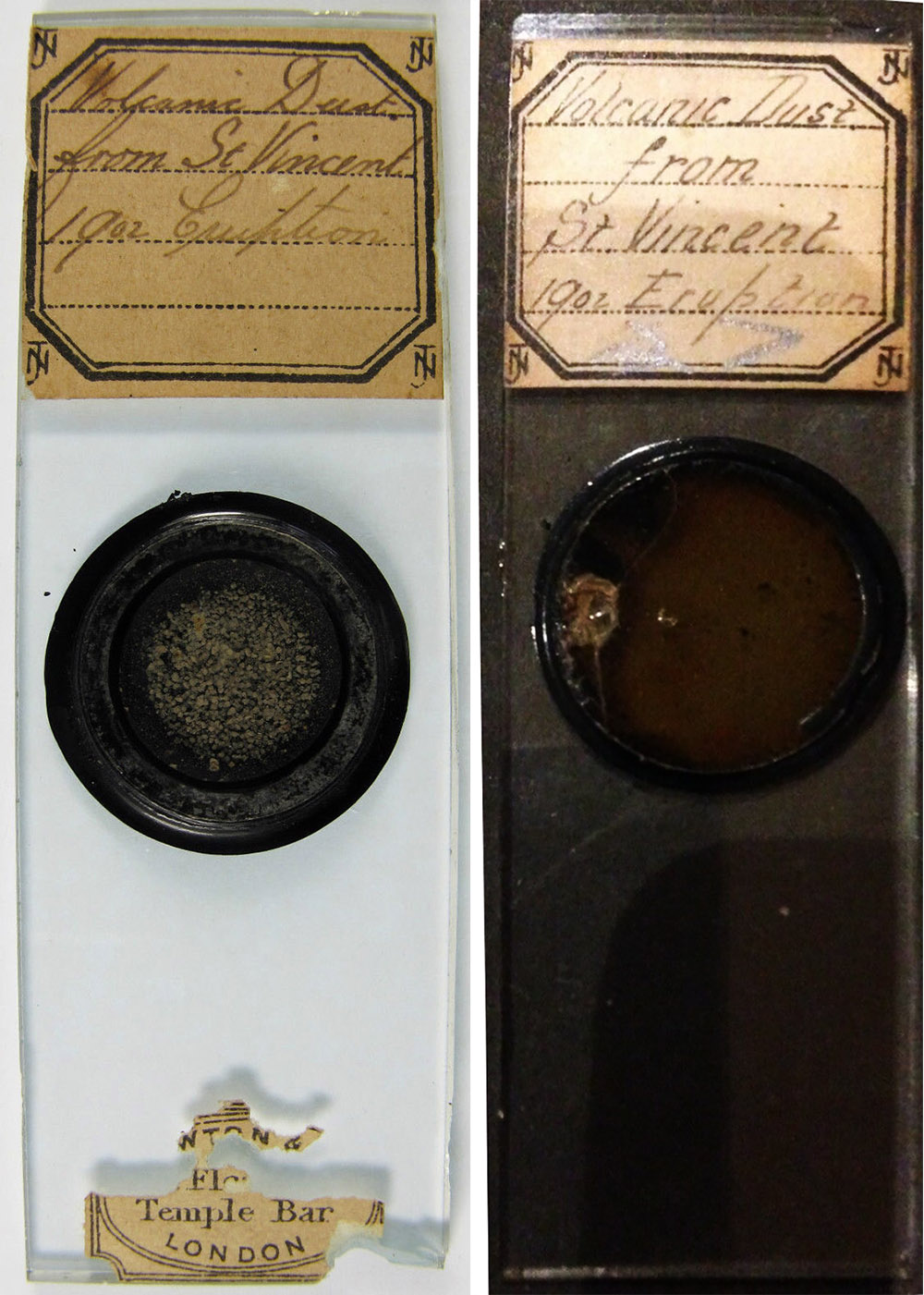 Figure 18. Two Norman slides of volcanic ash from the 1902 eruption on Saint Vincent, which provide help identifying a handwriting. At that time, only Alfred and William were alive and making microscope slides. The shapes of the letter "V" and the numbers "1902" suggest that these labels may have been written by the same hand, using cursive and block letters. Images adapted for nonprofit, educational purposes from internet auction sites.
&nbsp
John T. Norman is known to have had 9 children, two with his first wife Ann, and 7 with second wife Mary Ann. Five of the sons are known to have worked for the J.T. Norman slide making business. Since the family home was also the slide-making workshop, it would be surprising of the women of the family did not also pitch in to some extent, even if only cutting and pasting labels. Following are brief biographies of John Norman's children. Signatures of John Sr., John Jr. Charles, Harriet, Sarah and Mary Ann follow as Figures 19, 20 and 21.
John Thomas Norman (1838 - after 1884). The eldest son was born August 20, 1838, and christened July 28, 1847. The 1861 and 1871 censuses recorded him living with his father and family at 178 City Road, and working as a "microscopic object maker" and an "optician", respectively. During that era, any worker dealing with lenses (including a microscope slide maker) was considered to be an optician. John Sr. was also recorded as being an optician on the 1871 census. John Jr. joined the Quekett Microscopical Club in 1867, and remained a member until the end of 1869. He married Sarah Noakes at the Trinity Church, St. Marylebone in 1878. John's home parish was then the same as 178 City Road, so presumably he still lived with his father, step mother and siblings. He described himself on his marriage record as being an "optician". John Jr. operated microscopy shops on Queen Street and Whitecross Street during 1879, which were financial failures and he was bankrupt by January, 1880 (see above). In March, 1884, "J. Norman, jun." donated "2 slides of sticklebacks" to the Royal Microscopical Society. I have not found any further records of him. He may have taken another occupation and thereby become indistinguishable on census records, died, emigrated, or records with his information may have been lost. However, it is clear that John T. Norman, Jr. worked for the Norman microscopy business from childhood until at least 1878, and possibly longer.
William Joseph Norman (1840 - 1917). Several census records give William's middle initial as "H", but his parish christening record names him William Joseph. He was born January 14, 1840, and christened July 28, 1847. He appears on the 1841 census as a 1 year old, and on the 1851 census as an 11 year old scholar. In 1861, he was listed as a "microscopic object maker", and in 1871, as an "optician". During the summer of 1872, William married Mary Ekins. William and Mary appear on the 1881 census living at 4 Laburnum Cottages, Walthamstow, Essex. His occupation was listed as "histologist". I have not located his 1891 address, but in 1901 he and Mary were still at the Walthamstow address, and he was reported to be an "entomologist". Microscopy historian Peter Paisley has suggested that a considerable number of Norman slides were produced by William, based upon his interpretation of handwriting on labels. However, in my opinion, William's and Alfred's handwritings are very similar, so attributions to William may be overstated. A Norman record book from the 1880s lists William as making microscope slides of arranged butterfly scales for the firm. William died in 1917. William apparently worked as a slide maker for the Norman business from childhood until his death at the age of 77. A microscope slide that was evidently made by William Norman for his personal collection is shown in Figure 20, below - it bears his name and address of "178 City Road", dating it to before William's 1872 marriage and move to Walthamstow.
Harriett Norman (ca. 1847 - 1928). The eldest daughter shows up with the family as a 13 year old scholar on the 1861 census, but absent from the 1851 census. She appears to have been a daughter of Mary, and John may have been the father. Harriet lived at home at the time of the 1871 census, and worked as a "milliner". She married Johann Ludwig Kalb, a German bootmaker, in 1881. She died in 1928.
Mary Ann Norman (1850 - ca. 1920). Born May 31, 1850, and christened July 3, 1850. The 1871 census listed her at home, and working as a "milliner", like Harriet. She married a printer named George Brookes in 1877.
Thomas Norman (1853 - 1921). Born in 1853, he emigrated to the United States in 1870. A letter to Edwin, written in October, 1878, from Nez Perce County, Idaho Territory, is in still posession of family members. The 1880 US census recorded Thomas as being a "laborer", living with a dry goods merchant and family in Moscow, Idaho. A July, 1886 letter to Edwin, was sent from Yuba, California, asking for financial help, as Thomas' business plans had failed. He married Alice Brown Wilcoxon Martin in Yuba in 1886, and had two children, Oliver (born 1889) and Thomas (born 1898). Thomas died in Yuba on January 11, 1921.
Sarah Norman (1855 - 1931). Born in 1855, she married a printer named Richard Crawford in 1876. Her father died at their house in Penge, and Sarah signed John's death certificate as witness. Sarah died in 1931.
Edwin Norman (1857 - 1897). Born in 1857. Lived with his parents through the 1881 census. Edwin joined the Quekett Microscopical Club in March, 1881, but resigned during 1888. He was not at his father's house at the time of the 1891 census. Edwin and Alfred operated the J.T. Norman slide making business from 1893. Although Edwin is not specifically described as a slide maker on census records, it is highly unlikely that he would have been excused from the family business as a child, at least. Edwin presumably also made slides after he and Alfred took over the business. He died in 1897.
Charles Norman (1859 - ca. 1907). Born in 1859, he was listed at his parents' house on all censuses between 1861 and 1891. The 1891 census recorded his as being an "optician", as was his father. Charles married Susan Fletcher in 1889, and brought her home to his father's house. In late 1892, Charles signed an agreement with Edwin and Alfred that he would not sell slides under the name of John Thomas Norman. The 1895 and 1899 Post Office Directories of London reported that Charles Norman was operating an optician's shop at 119 Old Street, EC. This location was less than 5 minutes walk from 178 City Road. Having been a maker of microscope slides for his whole life, I think it reasonable to assume that Charles would have continued with the only line of work he knew after separating with his brothers. Charles and Susan had two children, Sidney Charles (born 1891) and Marie Susan (born 1894). He divorced Susan in 1899, on accusations of adultery, and she remarried in 1900. Charles' death record has not yet been identified. He may be the man of that name who died in Hackney during the third quarter of 1907. Thus, we can conclude that Charles worked for the Norman slide-making business from childhood until he was 33, and probably worked as an independent slide-maker for the remainder of his life.
Alfred Norman (1861 - 1936). Born in 1861. He married in 1882. The christening record of his first child, Jane Lilian, described Alfred's occupation as "porter", indicating that he tried a different line of work for a short while. When his second child, Alfred Thomas, was christened in 1885, Alfred was back to work as an "optician". At the time of the 1891 census, he, his wife Mary Ann and their 5 children lived at 28 Roseberry Place, Hackney. Alfred was recorded on that census as being an employed "microscopical lapidary". He and Edwin took over the J.T. Norman business in 1892, and ran it after Edwin died in 1897. The 1901 census records Alfred as being a "producer of specimens for microscope", who worked on his "own account". Alfred died in 1936.


Figure 19. Signatures of Norman family members, from parish marriage records. These may be helpful in identifying other writings by them. (A) John T. Norman, Sr. and Ann Bowell from their 1838 marriage. (B) John T. Norman, Jr., from his 1878 marriage. (C) Charles Norman, from his 1889 marriage. (D) Sarah, Harriet, Mary Ann and John, from Sarah's 1876 marriage. Comparisons of the "John" signature with that of the son (panel B) and the father (panel A and Bracegirdle, 1996) suggests that this was John Jr.'s signature. Examples of William's and Alfred's handwritings are shown below in Figures 20 and 21, excerpts from the 1911 census. I did not locate any record with Edwin's writing.
&nbsp


Figure 20. A microscope slide signed by William J. Norman, with the address of 178 City Road. William married in 1872, then moved to Walthamstow, Essex, with his wife, thus dating this slide to before 1872. William was not competing is business with his father, so this was undoubtedly from his personal collection.
&nbsp


Figure 21. Snippets of the 1911 England census record for William Norman and household, illustrating William's handwriting.
&nbsp


Figure 22. Snippets of the 1911 England census record for Alfred Norman and household, illustrating Alfred's handwriting.
&nbsp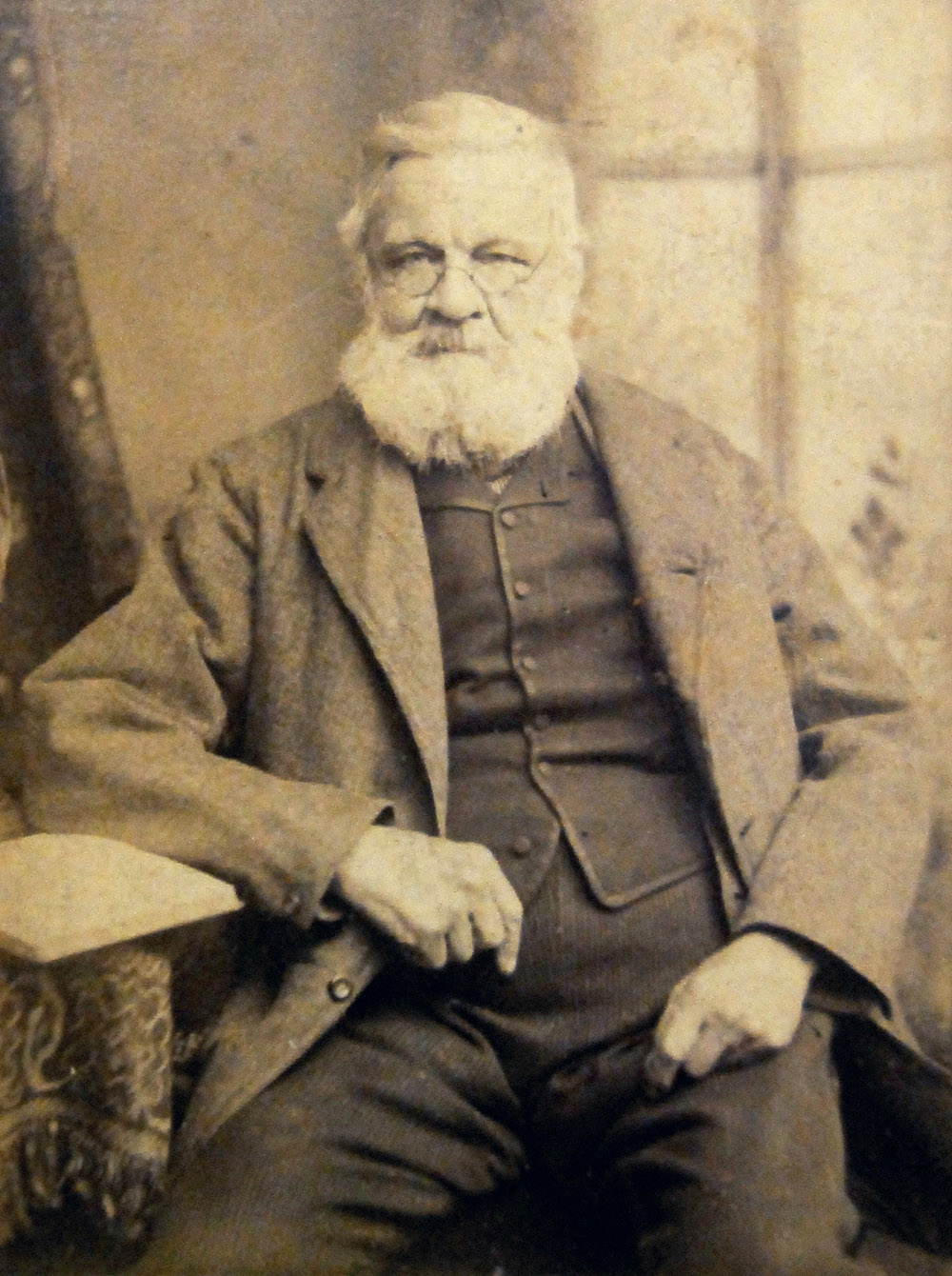 Figure 23. An undated photograph of John Thomas Norman, Senior. Courtesy of Leon Chambers.

&nbsp

Acknowledgements

My thanks to J.T. Norman's descendants, Brian Norman and Leon Chambers, for generously sharing information and photographs; to Howard Lynk for many helpful comments during this research and on the manuscript; to Brian Bracegirdle, Brian Darnton, Steve Gill, Peter Paisley, and Stanley Warren for their insightful publications on Norman and family; and to the colleagues who provided slide images.

&nbsp

Resources

Bracegirdle, Brian (1996) J.T. Norman - microscopical mounter, Quekett Journal of Microscopy, Vol 37, pages 514-535

Bracegirdle, Brian (1998) Microscopical Mounts and Mounters, Quekett Microscopical Club, London, pages 71-72, 132-133 (plate 14, slide C), and 158-159 (plate 27, slides B through Q)

Birth record of John Thomas Norman (1838) City of London, Vol. 2, page 120

California voter records of Thomas Norman, accessed through ancestry.com

Darnton, Brian (1999) The Norman inheritance: renovating, conserving, mounting and evaluating the material, Quekett Journal of Microscopy, Vol. 38, pages 377-383

Death record of a Charles Norman (1893) Fulham, Vol. 1a, page: 17. Note, not the microscopist, this man was a "valet and tailor, formerly with 1st Dragoon Guards". The death record of the microscopist has yet to be discovered

Death record of John Thomas Norman (1893) Croydon, Vol. 2a, page 180

Descriptive Catalogue of the Fossil Organic Remains of Plants Contained in the Museum of the Royal College of Surgeons of England (1855) pages 75-76.

England vital statistics, including birth, marriage, death and census records, accessed through ancestry.co.uk

The Entomologist's Annual for MDCCCLIX (1859) Van Voorst, London, page 25

Gill, Steven and Brian Bracegirdle (2010) J.T. Norman revisited Quekett Journal of Microscopy, Vol. 41, 349-355

Hannover, Adolphe (1853) On the Construction and Use of the Microscope, ed. by J. Goodsie, Sutherland and Knox, Edinburgh, advertisement at back of the book

Hayes, Boon (1853) Histological anatomy and microscopical manipulation, Medical Times & Gazette, Feb. 12, pages 155-158

Hogg, Jabez (1856) The Microscope: its History, Construction, and Applications. second edition, page 307

The Intellectual Observer (1863) advertisements, Dec. issue

Journal of the Quekett Microscopical Club (1868-69) Lists of members, Vol. 1, appendix

Journal of the Royal Microscopical Society (1884) List of donations, Vol. 1, page 332

The Lancet (1854) Advertisement for J.T. Norman, Vol. 1, April 22

The London Student (1868) Advertisement for J.T. Norman, Vol. 1, April issue, Advertiser section, page 14

Medals and Honourable Mentions Awarded by the International Juries (1862) "Class XIII: Philosophical Instruments and Processes depending upon their Use, entry 2941: Norman J, Microscopic objects. For excellence of manufacture", second edition, Her Majesty's Commissioners, London, page 198

Nature (1879) Advertisements for John Norman, vol. 19, page lxxxv (Jan. 16) and other pages up to Vol. 20, page lxxxvi (July 10).

Nature (1879) Advertisements for John Norman, vol. 20, page xciii (July 17) and other pages up to Vol. 21, page xxx (Nov. 27).

Nature (1880) advertisement for J.T. Norman, vol. 23, page xxiv (Dec. 2)

Nez Perce War Homeguard (accessed December, 2013) http://genealogytrails.com/ida/nezperce/military/homeguards.html

Norman, J.T. (1869) Dr. Thudichum's rabbit, Hardwicke's Science-Gossip, Vol. 5, page 237

Paisley, Peter (2012) William Joseph Norman revealed, Micscape, issue 198, April, http://www.microscopy-uk.org.uk/mag/apr12ind.html

Paisley, Peter (2012) Uncle Will: Another dimension, Micscape, issue 200, June, http://www.microscopy-uk.org.uk/mag/jun12ind.html

Paisley, Peter (2012) John Thomas Norman junior: his career, his mounts, his times and his family, Micscape, issue 201, July, http://www.microscopy-uk.org.uk/mag/jul12ind.html

Paris Universal Exhibition of 1867: Catalogue of the British Section (1867) page 93

Parish christening record of Alfred Thomas Norman (1885) St Philip Dalston

Parish burial record of Ann Norman (1841) St. John the Baptist, Hoxton

Parish christening record of Jane Lilian Norman (1883) St Philip Dalston

Parish christening record of John Thomas Norman (1807) St. Mary Whitechapel

Parish christening record of John Thomas Norman (1847) St. John the Baptist, Hoxton

Parish christening record of Mary Ann Norman (1850) St. John the Baptist, Hoxton

Parish christening record of William Joseph Norman (1847) St. John the Baptist, Hoxton

Parish marriage record of Thomas Norman and Sarah Cook (1806) St. Mary Whitechapel

Parish marriage record of John Thomas Norman and Ann Bowell (1838) St. Mary Aldermary

Parish marriage record of John Thomas Norman and Sarah Noakes (1879) St. Marylebone

Parish marriage record of Harriet Norman and Johann Ludwig Kalb (1881) St. Barnabas, Finsbury

Parish marriage record of Mary Ann Norman and George Brookes (1881) St. Barnabas, Finsbury

Parish marriage record of Sarah Norman and Richard William Crawford (1877) St. Barnabas, Finsbury

Priced and Illustrated Catalogue of Optical Instruments, Made, Imported and Sold, Wholesale and Retail (1870) James W Queen & Co., Philadelphia, page 73

Marriage record of John Thomas Norman and Mary Ann Boroff (1850) Shoreditch, Vol. 2, page 373

Post Office Directory of London (1895) Opticians

Post Office Directory of London (1899) Opticians

Quekett, John Thomas (1852) A Practical Treatise on the Use of the Microscope: Including the Different Methods of Preparing and Examining Animal, Vegetable, and Mineral Structures, 2nd Edition, page 399. H. Bailliere, London

Quekett, John Thomas (1855) A Practical Treatise on the Use of the Microscope: Including the Different Methods of Preparing and Examining Animal, Vegetable, and Mineral Structures, 3rd Edition, page 430. H. Bailliere, London

Stevenson, Brian (2009) J.T. Norman's retail shops on Queen Victoria Street and Whitecross Street, Quekett Journal of Microscopy, Vol. 41, 155-159

Sutter County Cemeteries, Yuba City Cemetery (accessed December, 2013) http://www.yubaroots.com/cemetery/yubacity-m.htm

United States censuses, accessed through ancestry.com

Warren, Stanley (2001) Comments on a letter from J.T. Norman, Quekett Journal of Microscopy, Vol. 39, pages 189-191

Yearbook of Pharmacy (1874) advertisement for John T. Norman, page 676

The Zoologist (1851) Proceedings of the British Entomological Society/Society of British Entomologists, Vol. 1, pages 3152-3256, 3180-3181, 3216 and 3532

The Zoologist (1855) Society of British Entomologists, Vol. 13, page 4644