Mark Langdale Sykes, 1855 - 1928
by Brian Stevenson
last updated September, 2017
An experienced and enthusiastic amateur microscopist, slides by Sykes are generally of high quality. They can be readily recognized by his "M L S" monogram and distinctively-written labels, both of which generally used yellow paper. Slides by other preparers that were in Sykes' collection are often marked with his monogram label and/or his signature. Records indicate that he became a serious microscopist around 1880. He was an active member of the Manchester Microscopical Society, a Fellow of the Royal Microscopical Society, and member of other scientific societies.

Figure 1. Microscope slides that were prepared by Mark Sykes (left two slides, with yellow labels and monogram) or were once part of his collection (right two slides with monogram and/or Sykes' signature). The leftmost Sykes slide is dated March, 1889 (note that he used the Society of Friends/Quaker format for the month). The third slide (left to right) was prepared by John L.W. Miles, a fellow amateur microscopist in the Manchester Microscopical Society. The rightmost slide was prepared by professional slide-maker Edward Ward, who was likewise a member of the MMS.
&nbsp
Mark Langdale Sykes was born during the late summer of 1855 in Scarborough, Yorkshire. His father, George, was a school master. Mark was the second child, and eldest son, of at least five children. Tragedy struck the Sykes family during the 1860s: mother Emily died in 1868, at the age of 36. Neither George nor the two youngest children have been identified in later records. The eldest child, Gertrude, appears in the 1881 census, working as "head nurse" at the Salford Dispensary, Manchester, but died in 1883 at the age of only 29.
The 1871 census recorded Mark and his younger brother, James, living as lodgers in Salford, Lancashire. No other family members were with them. Mark was then 15 years old, working as an "errand boy". James was 13, working as a "reading boy in printing office". James later became the chief assistant editor of The Yorkshire Post, and a president of the Institute of Journalists.
Mark married Martha Senior in 1877. Martha appears to have been a widow – an 8 year old boy was listed as being their son in the 1881 census.
The 1881 census listed Mark's occupation as "cashier at engineering works". Within a few years, he was owner of a Manchester brass foundry and engineering business, in partnership with Stanley George Harrison.
Sykes joined the Manchester Microscopical Society in 1884. That same year, he advertised in Hardwicke's Science-Gossip and The English Mechanic, "Wanted, to exchange splendid double-barrel rifle, muzzle loader, of Charles Lancaster's make, very finely engraved and little used, cost £80 and has case and all fittings, for a good binocular microscope by good maker; free particulars to be given, references exchanged. - Mark L. Sykes, Pendleton, Manchester". The following year, he advertised to exchange a variety of science and history books for a "best micro objective,1/4 in". He also requested specimens of Myrmelion (ant lion) larvae, presumably for mounting as microscopic objects.
By 1887, Sykes was offering to provide specimens of lepidoptera (butterflies and moths) that he had raised himself. To judge from his exchange offers and scientific publications, Lepidoptera were of special interest to Sykes (e.g. Figure 2)
He joined the Royal Microscopical Society in 1889. Sykes lived most of his life in the Manchester area, but remained a member of the London-based society until his death.
Sykes and partner Harrison dissolved their engineering and foundry business in 1900, and Harrison continued the operation by himself. The next year's census listed Sykes as being a "retired engineer". He and Martha were then living in Limpley Stoke, Wiltshire. Over the next few years, they moved to other cities in England, including Bristol and Bath. Retirement evidently did not fit the relatively young man, and he began a boiler setting business in Leeds, Yorkshire.
Martha died in 1922, while visiting Maine, USA. Mark Sykes died in Ryde, Isle of Wight, on December 28, 1928.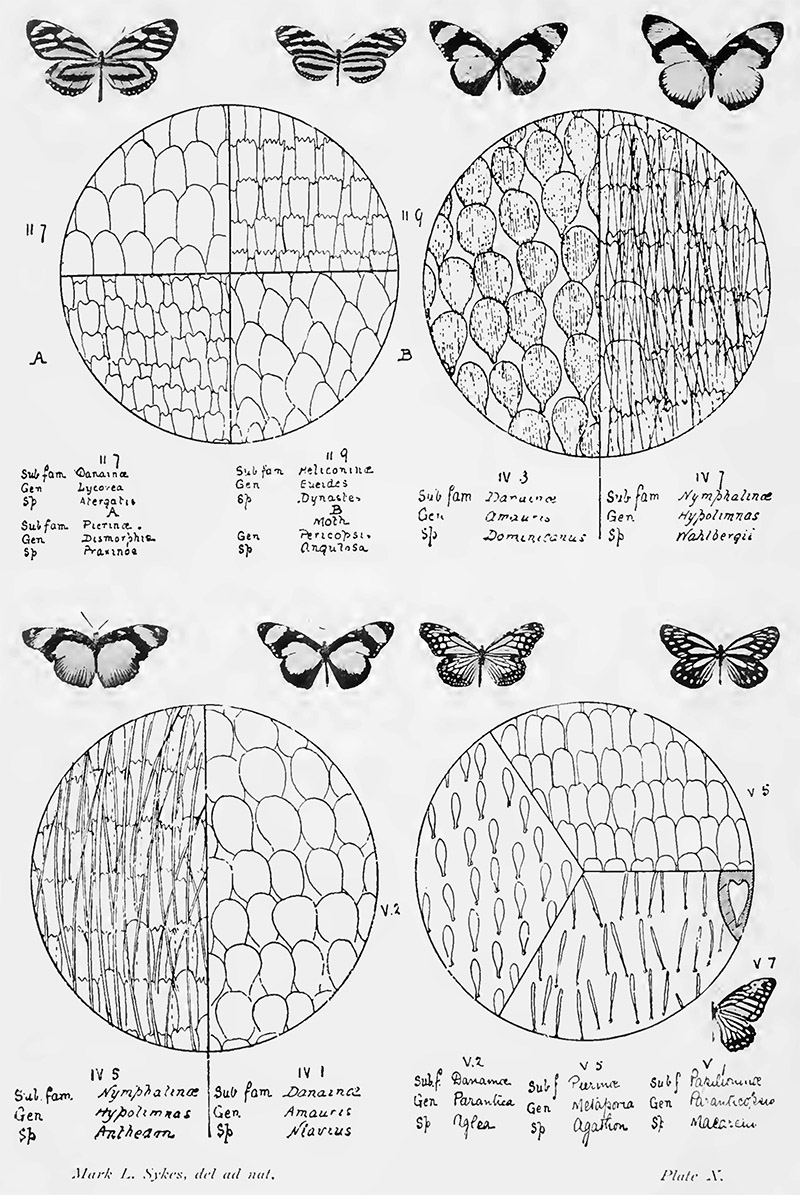 Figure 2. Photographs and microscope-aided drawings of butterflies and their wing scales by Mark Sykes, from his 1904 'Protective Resemblance in the Insecta'. The images illustrate butterflies with similar appearances, but with distinctive scale shapes and sizes.
&nbsp
Acknowledgement
Many thanks to Steve Gill for sharing information on Sykes' life.
&nbsp
Resources
England census, birth, marriage, death, and other records, accessed through ancestry.com
The English Mechanic and World of Science (1884) Exchange offer from Mark L. Sykes, Vol. 39, page 452
Gas World (1893) Patent application, "Valves For Steam, &c. - 3,093. Mark Langdale Sykes and Walter Walker, 17, St. Ann's Square, Manchester", Issue 18, page 207
Hardwicke's Science-Gossip (1884) Exchange offer from Mark L. Sykes, Vol. 20, page 192
Hardwicke's Science-Gossip (1885) Exchange offer from Mark L. Sykes, Vol. 21, page 192
Hardwicke's Science-Gossip (1887) Exchange offer from Mark L. Sykes, Vol. 23, page 168
Hardwicke's Science-Gossip (1888) Exchange offers from Mark L. Sykes, Vol. 24, pages 71 and 286
Hardwicke's Science-Gossip (1890) Exchange offer from Mark L. Sykes, Vol. 26, page 72
Hardwicke's Science-Gossip (1891) Exchange offer from Mark L. Sykes, Vol. 27, page 120
Hardwicke's Science-Gossip (1892) Exchange offers from Mark L. Sykes, Vol. 28, pages 24 and 216
Journal of the Royal Microscopical Society (1928) "During the year the Society has lost by death five Ordinary Fellows and two Honorary Fellows …The deaths reported are as follows: … Mark Langdale Sykes, Elected 1889", Series 3, Vol. 1, page 156
The Leisure Hour (1904) How insects hide, page 777
London Gazette (1900) Notice of dissolution of the partnership between Mark L. Sykes and Stanley G. Harrison, November 6
Newspaper World and Advertising Review (1928) "Mr. Mark Langdale Sykes, who died at Ryde, Isle of Wight, on Friday in last week, was the elder brother of Mr. James Sykes, formerly chief assistant editor of The Yorkshire Post, and an ex-president of the Institute of Journalists", page 4
Sykes, Mark L. (1884) Note on birds, Hardwicke's Science-Gossip, Vol. 20, page 191
Sykes, Mark L. (1887) Toads in rocks, Hardwicke's Science-Gossip, Vol. 23, page 22
Sykes, Mark L. (1898) Exhibit of termites from Sierra Leone, Memoirs and Proceedings of the Manchester Literary and Philosophical Society
Sykes, Mark L. (1898) On mimetic forms of lepidopterous insects, Memoirs and Proceedings of the Manchester Literary and Philosophical Society
Sykes, Mark L. (1899) On the Agave americana at Winthorpe near Newark, Memoirs and Proceedings of the Manchester Literary and Philosophical Society
Sykes, Mark L. (1899) On the elimination of extraneous micro-organisms from vaccine lymph, Memoirs and Proceedings of the Manchester Literary and Philosophical Society
Sykes, Mark L. (1904) Protective Resemblance in the Insecta, Hinchliffe and Co., Manchester
Sykes, Mark L. (1906) Animal colouration, Annual Report and Transactions of the Manchester Microscopical Society, pages 64-75