"A. Verinder"
John Henry Arthur ("Aloysius") Verinder, 1870 - 1924
by Brian Stevenson
last updated September, 2020
J.H.A. Verinder was a clerk and amateur microscopist, with particular interests in diatoms, polycystina, foraminifera, and soft-bodied aquatic animals such as rotifers. His microscope slides of silicous organisms are seen with some frequency, and usually consist of selected and arranged specimens (Figures 1 and 2). Brian Bracegirdle's Microscopical Mounts and Mounters shows a mount of arranged foraminifera in Plate 37-N.
Known slides by Verinder include custom-printed labels with "A. Verinder, F.R.M.S" (Figure 1). He joined the Royal Microscopical Society in January, 1900, and resigned in 1905 or 1906. The slide shown in Plate 37-N of Bracegirdle's Microscopical Mounts and Mounters has a line through "F.R.M.S", thus dating it to after 1905/6.
Curiously, Verinder joined the R.M.S. under the name "Aloysius Verinder", and used the initial "A." on his slide labels and in the majority of his scientific writings. Legal and society records indicate that Aloysius and J.H.A. Verinder were one and the same person. Perhaps he was trying to keep his personal life separate from his professional life?


Figure 1. Microscope slide of dry-mounted polycystina from Springfield, Barbados. Verinder was a Fellow of the Royal Microscopical Society between January 17, 1900 and ca. 1905.
&nbsp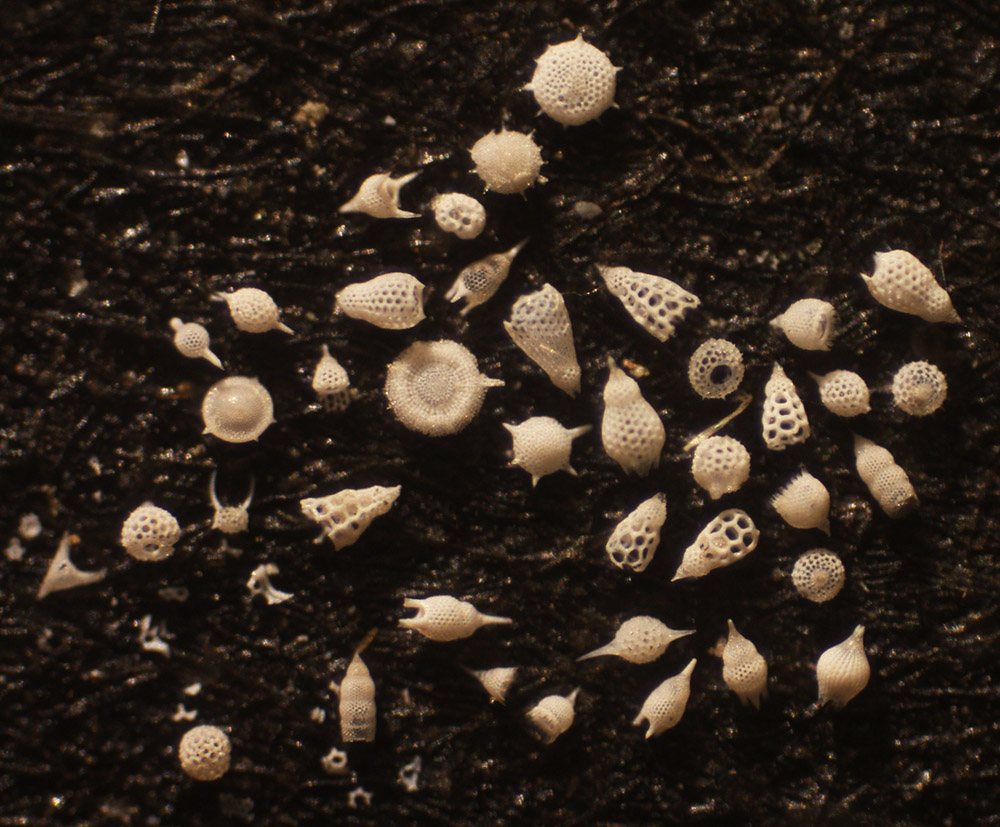 Figure 2. Polycystina from Springfield, Barbados, mounted by A. Verinder between 1900 and ca. 1905.
&nbsp
J.H.A. Verinder's father, also John, owned a major London cutlery manufacturing and retail business, which his ancestors had operated since 1766. Young John appears to have been an only child, yet he did not follow his father into the family business. Instead, he became a stock broker's clerk.
He was born on December 27, 1870, at his maternal grandparent's large home in Croydon, Surrey. He spent his youth in boarding schools - the 1881 census listed 10 year-old John as a student at University Preparatory School in Hastings, Sussex. By the time of the 1881 census, he was living with his parents and working for a stock broker.
Verinder showed an inclination toward studying nature with an 1888 query to Hardwick's Science-Gossip, asking about ways to preserve fossils that he had collected. Writing as "J.H.A. Verinder", "Can any of your readers suggest a method of preserving fossils of the Gault from decay? I find that those which I have got from the coast (Folkestone) are crumbling away of their own accord. Is there any solution they can be coated with that will prevent this?" (the Gault Formation is a layer of clay that is exposed near Folkestone, Kent).
An interest in microscopy evidently developed during the 1890s, as Verinder became a Fellow of the Royal Microscopical Society on January 17, 1900. The Journal of the Royal Microscopical Society recorded that he joined under the name of "Aloysius Verinder". However, JRMS reported that the May 20, 1903 meeting of the RMS included an exhibition of Stephanoceros eichhorni (a rotifer) by "Mr. J.H.A. Verinder".
Two 1904 letters to The English Mechanic and World of Science by "A. Verinder, F.R.M.S" described the use of a "mechanical finger" for selecting and arranging diatoms and other, similar specimens onto microscope slides. The second letter included a photograph of Verinder's set-up and details of its use (Figure 3). He published two additional letters in the same magazine that year, on "Rotifer vulgaris" and on "Aquarium versus pond life".
I did not find any writings from Verinder for 1905, but two that were published in 1906 were signed simply "A. Verinder". The absence of "F.R.M.S." indicates that Verinder had resigned from the RMS in the time since his 1904 publications.
The 1906 publications gave Verinder's address as "Beckenham, Kent". Consistent with that, the 1904 Beckenham Directory listed "Verinder, J.H.A." as residing at 7, Manivea road. Both of those 1906 papers, discussed Stephanoceros, the rotifer that Verinder had exhibited to the RMS in 1903.
A 1908 issue of Knowledge included the following note: "By the kindness of Mr. J.H.A. Verinder, of Beckenham, I am this month able to offer to such of my readers as care to apply for it some peat from Loch Kinnord, which is exceptionally rich in freshwater diatoms. It is easily cleaned by any of the usual methods, and Mr. Verinder states that he has a list of some two hundred different species which have been found in this peat. exact adjustment, but correspondingly more perfect This list was originally published in the Transactions of the Edinburgh Geological Society. Applications must be accompanied by a stamped, addressed envelope and by the coupon to be found in the advertisement columns of this issue".
Despite being 44 years old at the time, J.H.A. Verinder enlisted in the Army on June 28, 1915. It is not clear where he served during the Great War. His enlistment papers describe him as being 5 feet 6 inches tall, weighing 116 pounds, and having "deficient" teeth. He was discharged on September 18, 1918 due to tachycardia and other medical conditions.
John H.A. Verinder died in early 1924, shortly after his 53rd birthday.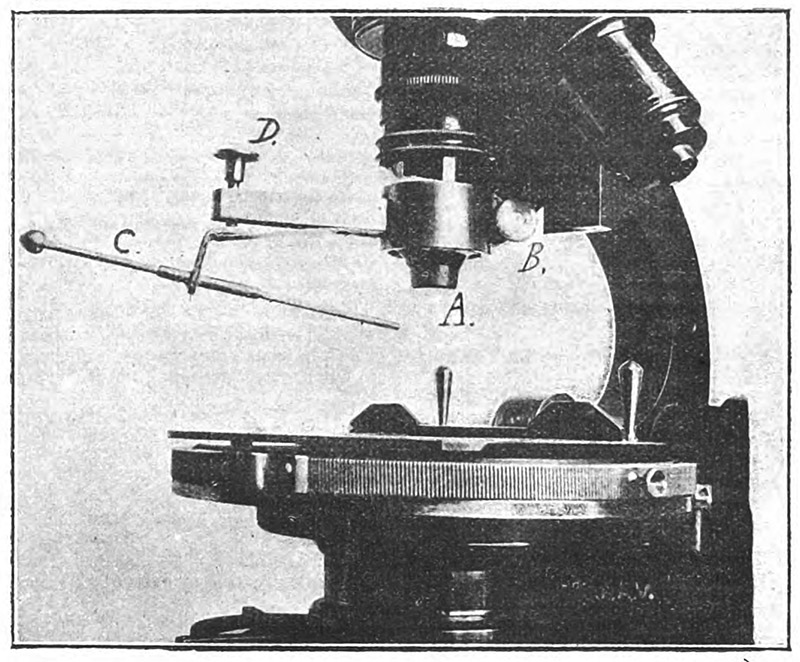 Figure 3. 1904 photograph of Verinder's "mechanical finger", useful for selecting and mounting foraminifera, diatoms, etc. It consists of a collar that fits around an objective lens (A), a horizontal arm, and a hinged bristle-holder (C) - he recommended use of a hair from a shaving brush. In Verinder's design, a screw (D) allows fine adjustment of the bristle-holder. To use, one adjusts the device so that the tip of the bristle is centered in the field of view, then the screw (D) is adjusted so that the bristle is slightly above the plane of focus. The user then places a glass slide containing a preparation of potential specimens, centers the lens over a desired specimen, and gently lowers the lens / mechanical finger. The specimen generally adheres to the tip of the bristle. One then removes the glass of potential specimens and replaces it with a clean glass slide or cover glass, to which has been applied an adhesive. Bringing the surface of the new glass into focus allows the user to identify the spot where the specimen is to be applied. A downward movement of the focusing knob places the specimen into position, and it is affixed to the glass. Repeated use of the mechanical finger allowed Verinder to produce arrangements of selected specimens such as the polycystina shown in Figure 2, above.
&nbsp
Resources
Army records of J.H.A. Verinder (1915-1918) accessed through ancestry.com
Beckenham Directory (1904) "Verinder, J.H.A., 7, Manivea road"
Bracegirdle, Brian (1998) Microscopical Mounts and Mounters, Quekett Microscopical Club, London, pages 96 and 178, and Plate 37-H
England census and other records, accessed through ancestry.com
Illustrated London and Its Representatives of Commerce (1893) Mr. Henry Verinder, Manufacturing Cutler, London Printing & Engraving Co., page 265
Journal of the Royal Microscopical Society (1900) Annual meeting, page 152
Journal of the Royal Microscopical Society (1903) Meeting of May 20, pages 378-380
Knowledge (1908) Vol. 31, page 115
Verinder, A. (1888) Cats and violata, Hardwicke's Science-Gossip, Vol. 24, page 45
Verinder, A. (1888) Preserving Gault fossils, Hardwicke's Science-Gossip, Vol. 24, page 282
Verinder, A. (1904) Microscopical, English Mechanic and World of Science, Vol. 79, page 88
Verinder, A. (1904) Mechanical finger, English Mechanic and World of Science, Vol. 79, page 154
Verinder, A. (1904) Rotifer vulgaris, English Mechanic and World of Science, Vol. 80, page 232
Verinder, A. (1904) Aquarium versus pond life, English Mechanic and World of Science, Vol. 79, page 368
Verinder, A. (1906) Pond life - Conochilus Volvox, English Mechanic and World of Science, Vol. 83, page 416
Verinder, A. (1906) Pond life, English Mechanic and World of Science, Vol. 83, page 557