Microphotograph maker "W.O.G.":
William Overend Geller, 1804-1881
by Brian Stevenson
last updated December, 2022
During the microphotograph craze that began in the 1850s, a large proportion of the photographers who produced such slides labeled their works only with their initials. Many of those makers' identities have been lost to time. Among those is the artist with initials WOG, whose microphotographs are encountered with a modest frequency in collections and at auctions. The evidence presented below indicates that WOG was William Overend Geller:
Geller was primarily an artistic engraver, creating plates from which prints were mass produced as artwork for homes. But he also did photography work. He was acquainted with many of the leading photographers of the age, including Henry Fox Talbot and Frederick Scott Archer, the inventor of the wet collodion method.
An 1885 biography of Geller stated that, "During the course of his life Mr. Geller went into many departments besides painting and engraving, and during his leisure moments was always contriving or constructing some apparatus for the same. In addition to mastering photography, he constructed a microscopic camera and photographed hundreds of excellent microscopic slides, several of which were for Amadio & Co.".
In addition to the shared initials, four known WOG microphotographs are of Geller engravings. WOG's "Hon. Mrs. Norton", "Grapes, Peaches &c" and "The Covenanter" are photographs of Geller's "Hon. Mrs. Norton", "Fruit Piece", and "The Covenanter", respectively, and WOG's "Little Fruiterer" matches descriptions of Geller's engraving with that name (Figures 1, 2, 3, and 4).
The 1864 catalog of Francis & Joseph Amadio lists numerous microphotographs of Geller engravings, and microphotographs that are also known to bear WOG labels (Figure 5). Examples of many of those slides have been identified, some with WOG labels, some with Amadio's (Figures 6, 7, 8, 11 and 12). Amadio also retailed microphotograph slides bearing labels that look remarkably like those of WOG (Figure 10).
Further, conclusive evidence that WOG was William O. Geller was located in May, 2020, when a cabinet-full of WOG slides came to light, which has Geller's name on it (Figures 15 and 16).
Additional information on William O. Geller's life and works follows Figure 17.
&nbsp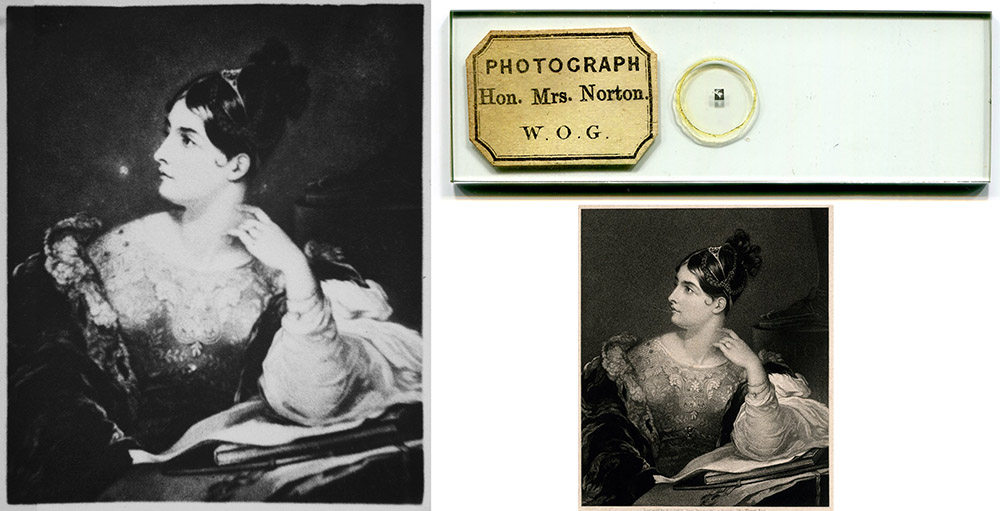 Figure 1. "Hon. Mrs. Norton" microphotograph by WOG. Inset: Engraving "Hon. Mrs. Norton" by W.O. Geller. Caroline Elizabeth Sarah Norton (1808-1877) was an English author and social reformer.
&nbsp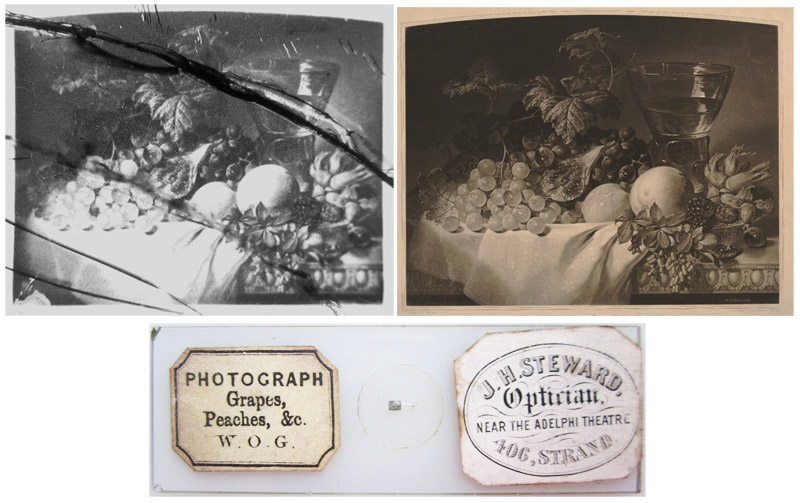 Figure 2. Left image: "Grapes, Peaches &c" microphotograph by WOG. Right image: Engraving "Fruit Piece", by W.O. Geller.
&nbsp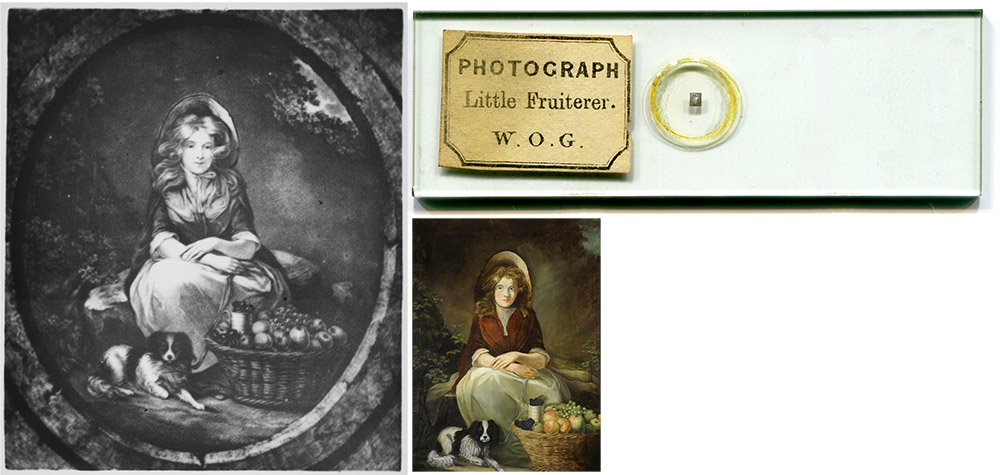 Figure 3. "The Little Fruiterer", by WOG. W.O. Geller produced an engraving of the same name, based upon J. Northcote's painting "The Little Fruit Girl" (colored inset). A photograph of Geller's engraving has not yet been located.
&nbsp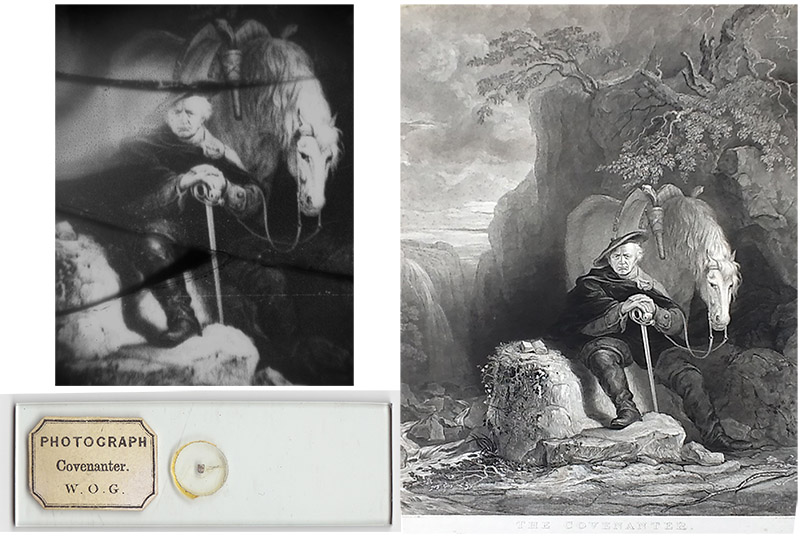 Figure 4A. "The Covenanter" by WOG. The microphotograph image (above the slide) is identical to the Geller engraving (to the right). A contemporary description of the engraving: "Mr. H.P. Parker¹s Covenanter, engraved by Geller. The stern champion of 'the solemn league' is seated under the shadow of a rock leaning upon his broadsword, and with his Bible at his side, equally ready, as his compressed lips and his rugged furrowed brow assure us, to use either the carnal or the spiritual weapon. Behind him, in striking contrast, stands his patient white horse, and a shattered tree waves over his head. This is a good illustration to one of Scott's finest novels, 'Old Mortality'."
&nbsp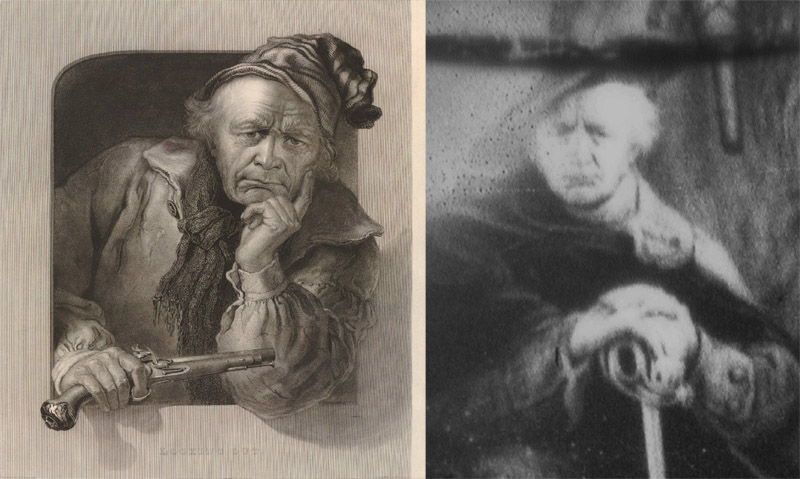 Figure 4B. A detail of the face in the WOG "Covenanter" microphotograph, alongside the Geller engraving "Looking Out". Henry Perlee Parker painted "Looking Out", which William O. Geller then engraved for mass production. Parker and Geller also teamed up to produce another popular engraving called "The Covenanter". A contemporary reviewer remarked upon the similarities between the men in the two pictures, "The Covenanter, H.P. Parker, pinxit; W.O. Geller, sculpsit. Ackermann and Co. Talk of Harlequin's wooden sword! What are its powers of transformation compared with those of the pencil? Here is our old friend, the smuggler, the 'looker-out', converted into the psalm-singing, though stern, member of 'a persecuted kirk', so finely described in 'Old Mortality'. We acknowledge that the expression is very characteristic: still we think that Mr. Parker, whose works are always distinguished by vigour and ability, does not do justice to his own talents, in thus copying his previous conceptions, and adapting them to new subjects". The original picture of "Looking out" is located in the British Museum, and is reproduced here for nonprofit, educational purposes.
&nbsp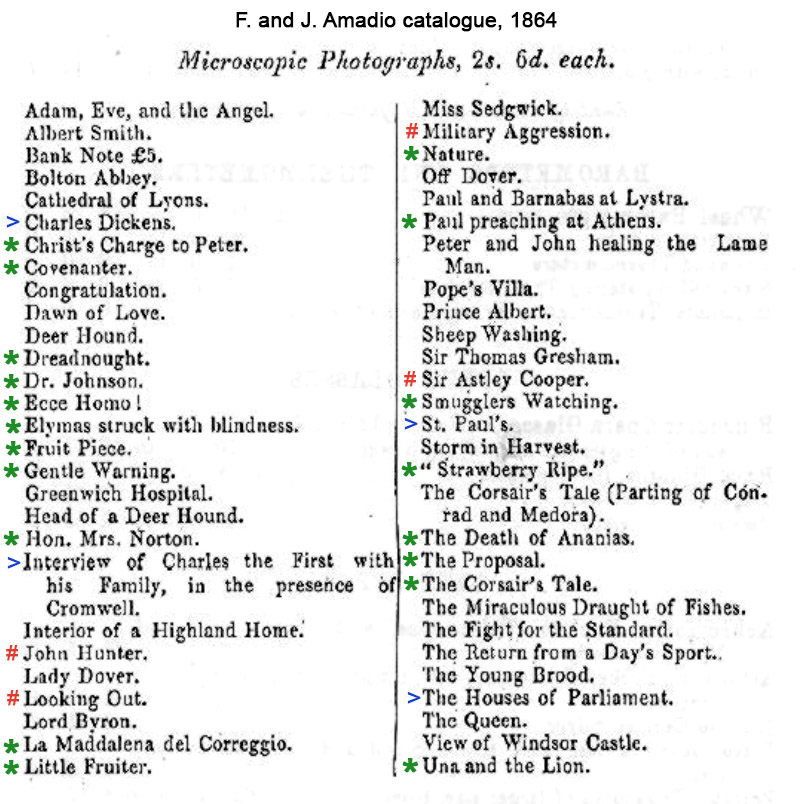 Figure 5. List of microphotographs sold by Francis and Joseph Amadio in 1864. The titles marked with a green * correspond with known WOG microphotograph slides (see Figures 1, 2, 3, 6, 7, 8 and 9). Those marked with a red # match the titles of engravings produced by W.O. Geller, some of which have been located (see Figures 4, 11 and 12). Slides marked with a blue > have been identified which carry Amadio labels shaped like those of WOG (Figure 10).
&nbsp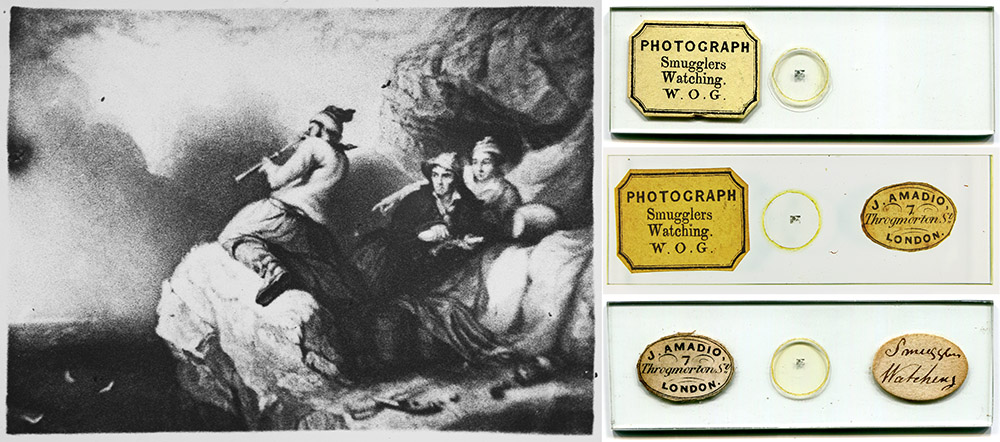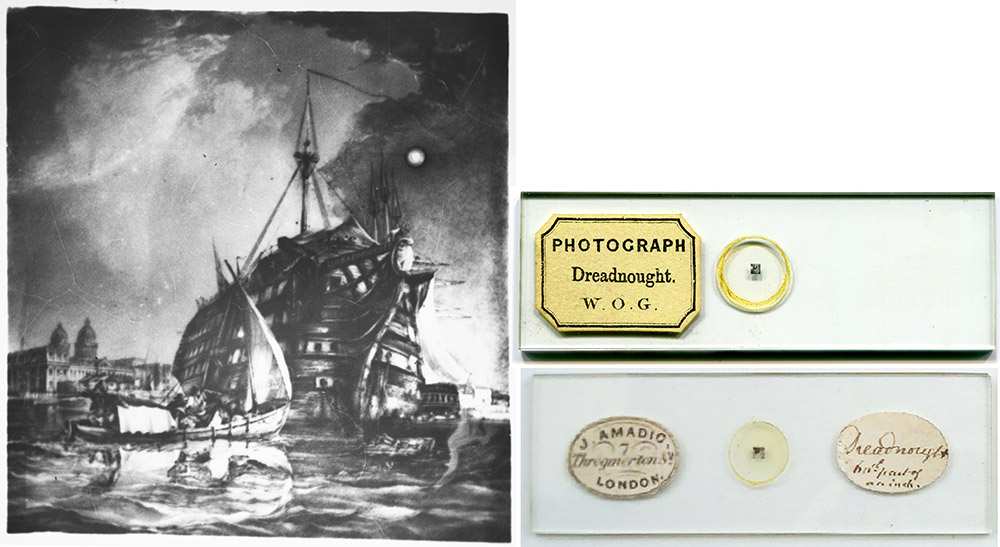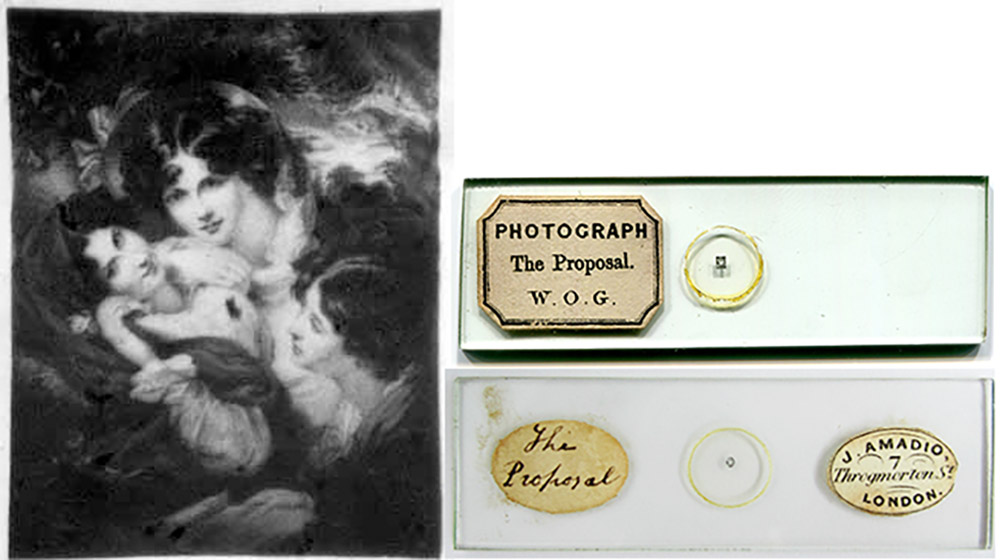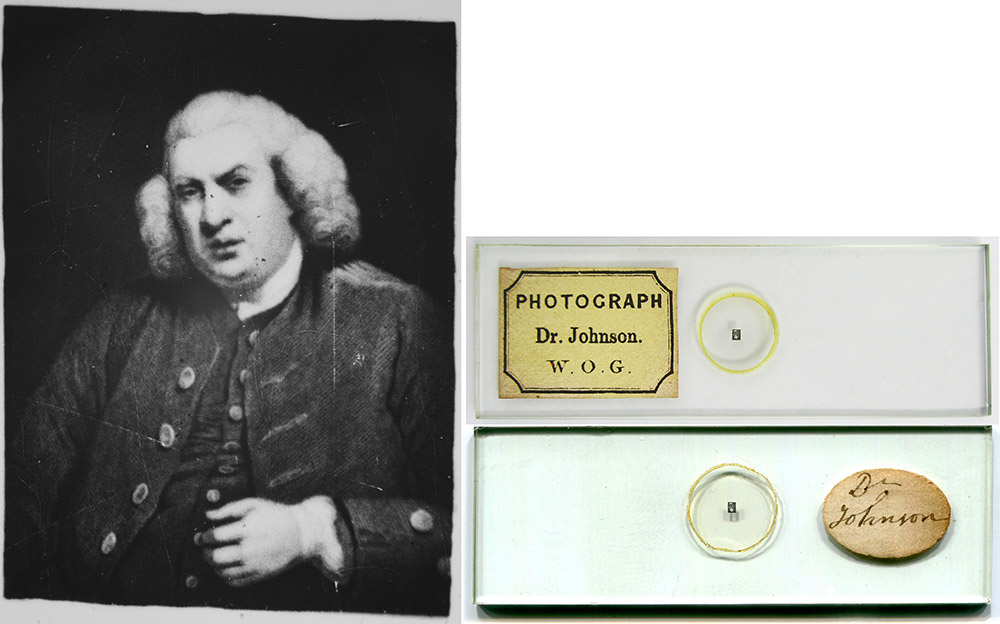 Figure 6. Duplicate/triplicate slides that carry the same microphotograph, with labels from W.O.Geller and Amadio. These titles were included in Amadio's 1858 and 1864 lists (see Figure 5).
&nbsp


Figure 7. "Entombment" microphotograph by Geller. This image was listed in Amadio's 1858 catalogue, but not the 1864 edition.
&nbsp


Figure 8. "Death of Ananias", on slides labeled by W.O. Geller and by Amadio. It was included in Amadio's 1864 list, but not his 1858 list. Geller may have also sold through other microscopy retailers, although it is possible that the J.H. Steward label was added during a re-sale.
&nbsp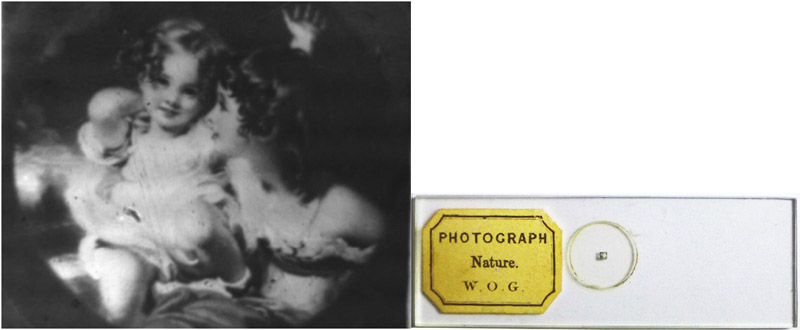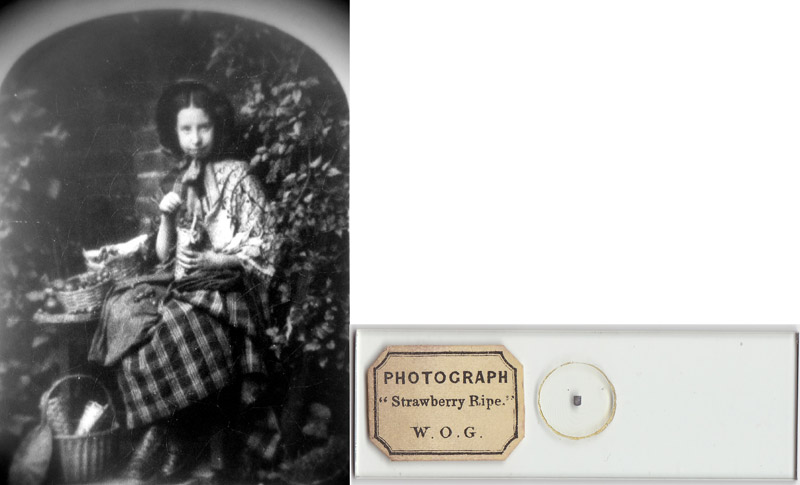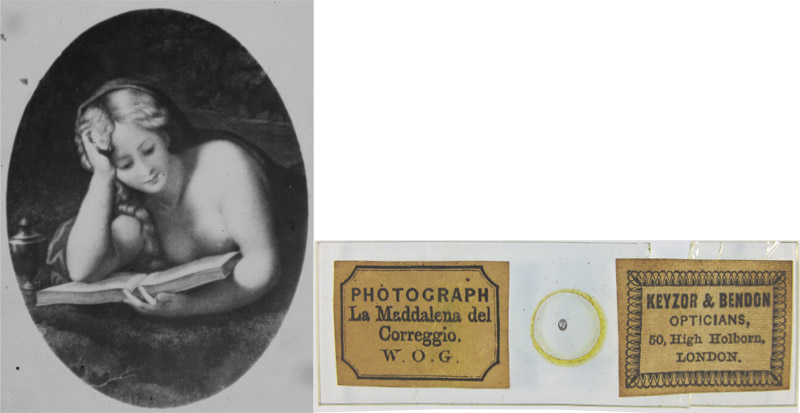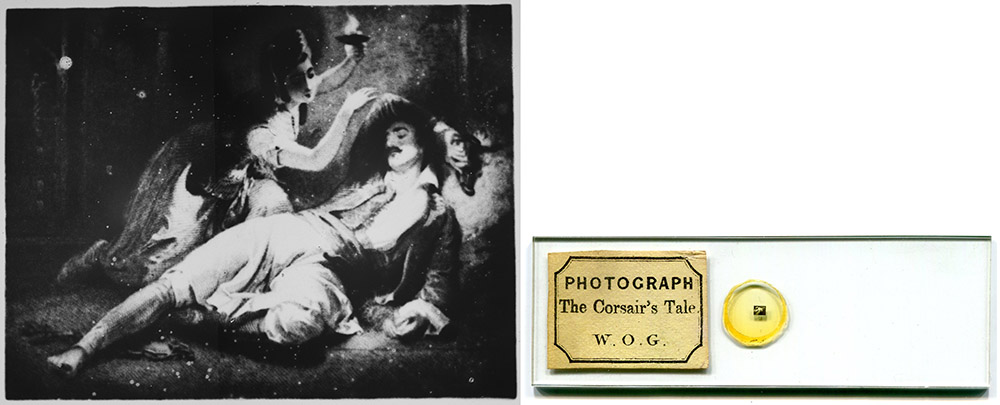 Figure 9. Further examples of microphotographs by W.O. Geller. All of the illustrated slides were included in Amadio's 1864 catalog (see Figure 5), although I do not know of examples with Amadio's trade labels.
&nbsp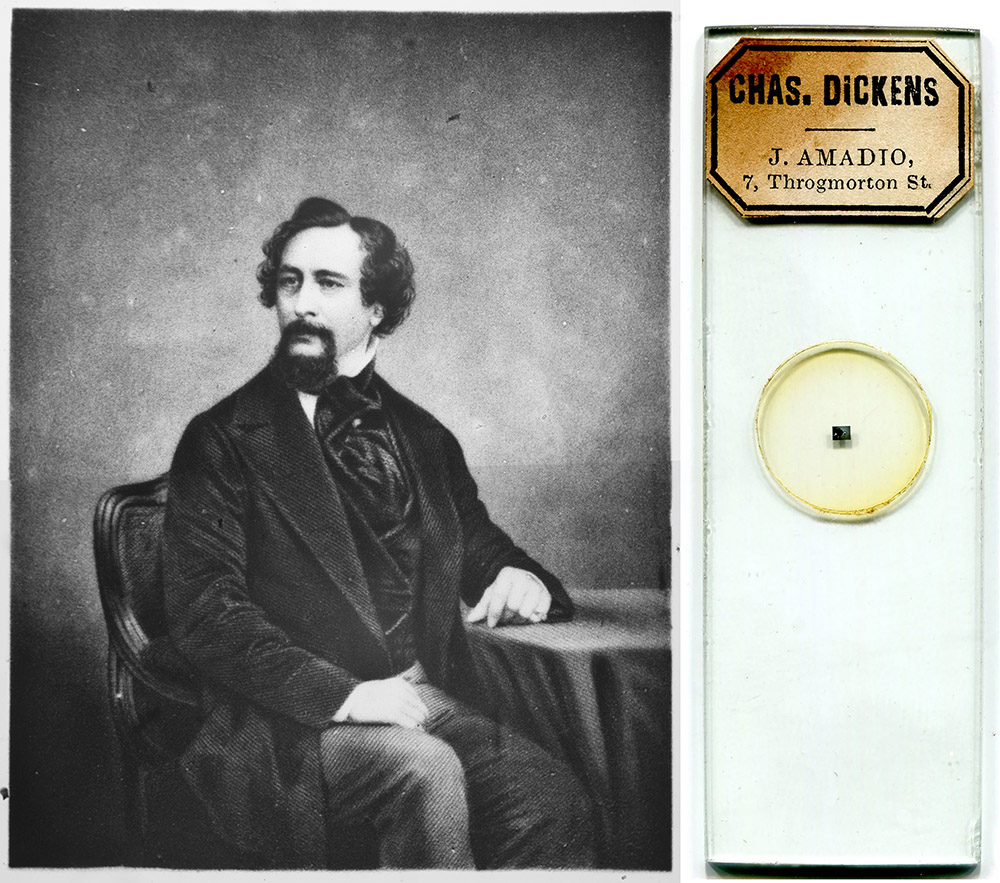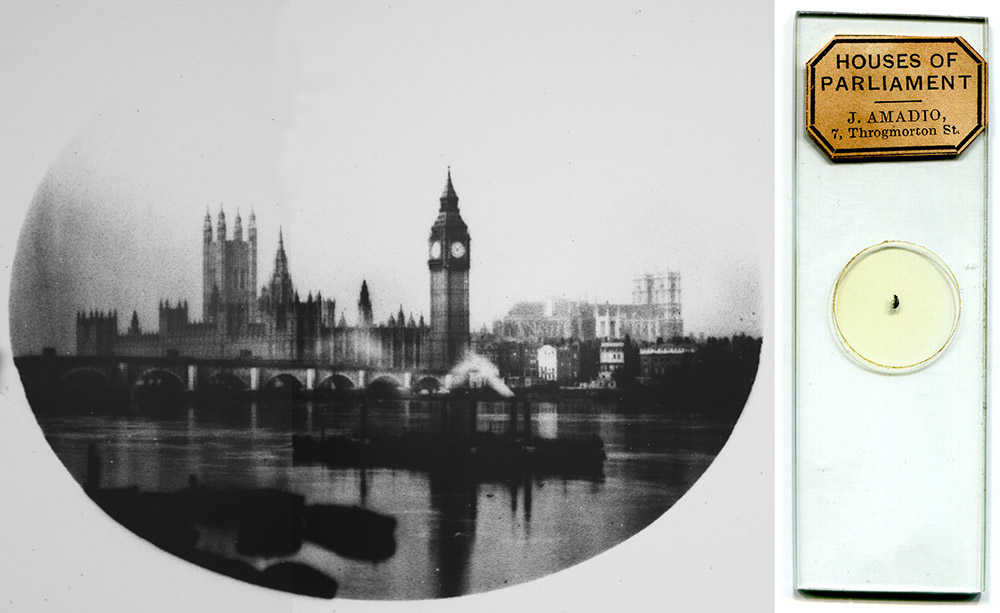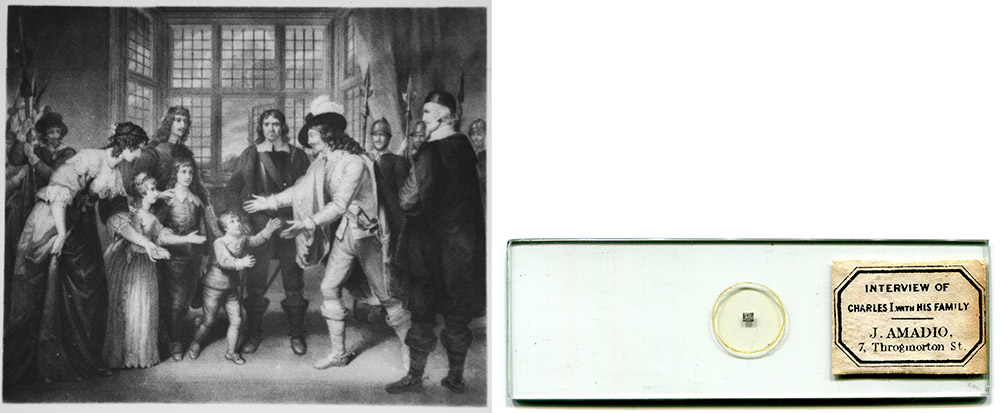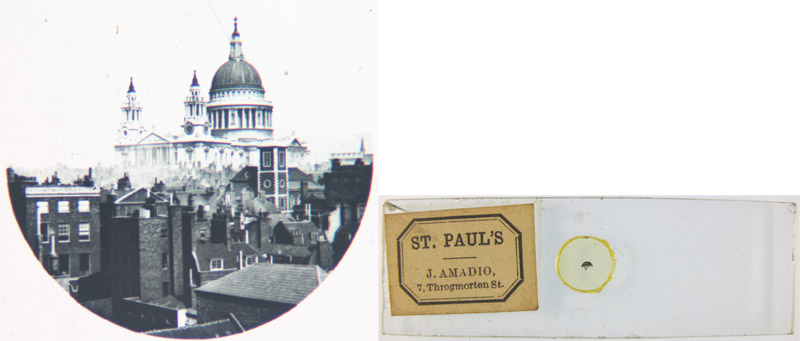 Figure 10. Microphotographs with labels stating sale by J. Amadio, but shaped like those used by W.O. Geller. These were all included in Amadio's 1864 catalog.
&nbsp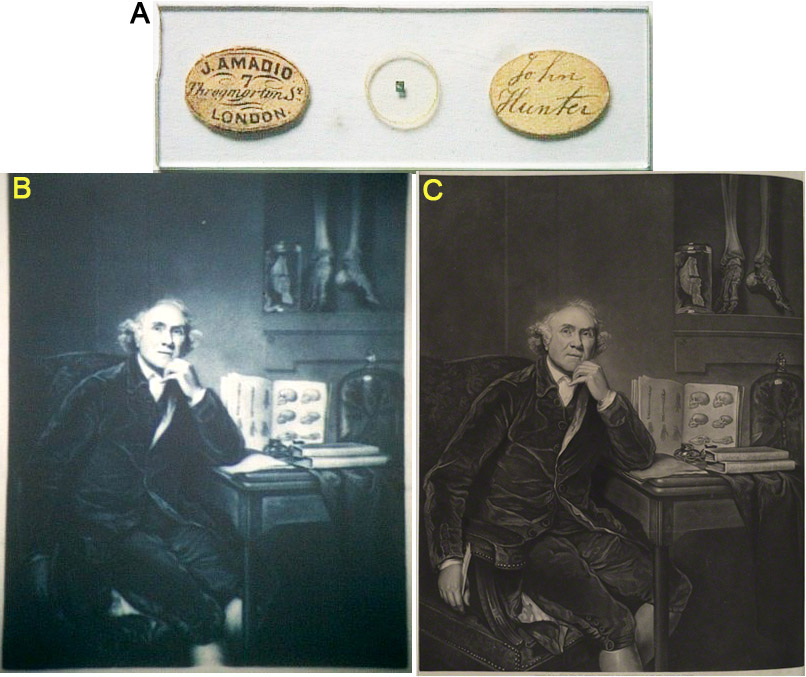 Figure 11. (A) An Amadio microphotograph slide of an engraving produced by Geller. (B) Image of the microphotograph. (C) Engraving of John Hunter, by William O. Geller.
&nbsp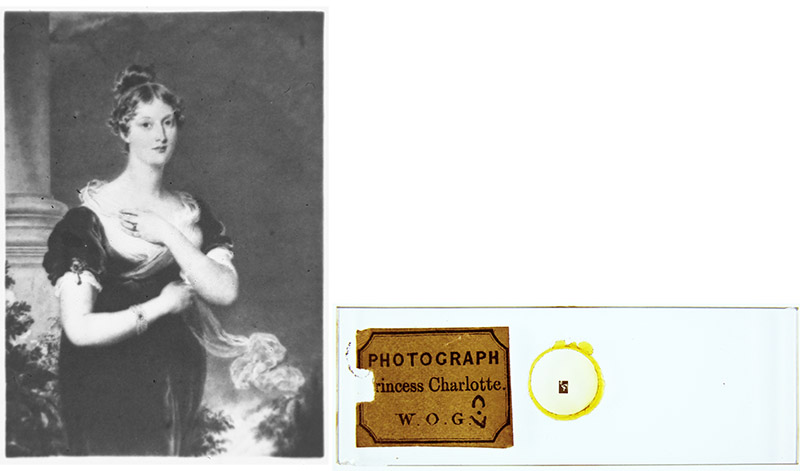 Figure 12. "Princess Charlotte" microphotograph by Geller. This was not included in any of Amadio's lists of microphotograph slides.
&nbsp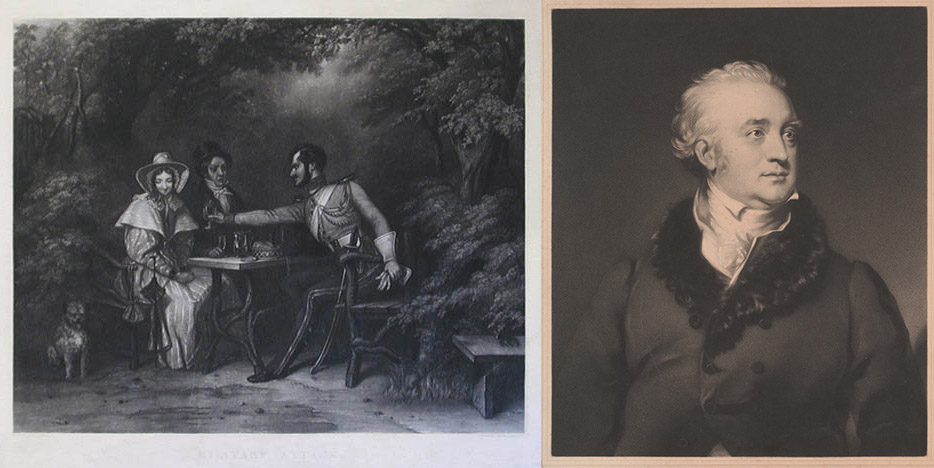 Figure 13. Engravings produced by William O. Geller, whose titles correspond with microphotographs sold by J. Amadio in 1864 (Figure 5), but slides of these subjects have not yet been located. Left, "Military Attack" or "Military Aggression". Right, "Sir Astley Cooper". The original pictures are located in the British Museum and other sites, and are reproduced here for nonprofit, educational purposes.
&nbsp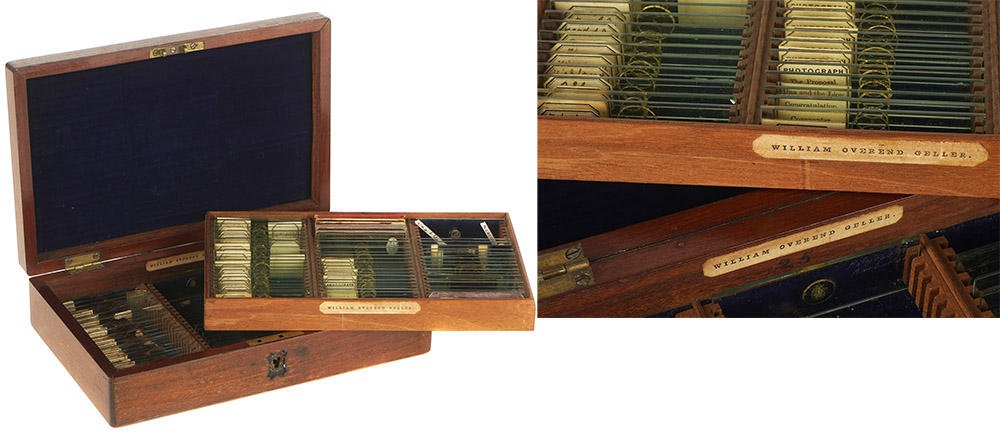 Figure 14. A slide cabinet, labeled with William Overend Geller's name, which is full of "WOG" microphotograph slides. Adapted for nonprofit, educational purposes from an internet auction site.
&nbsp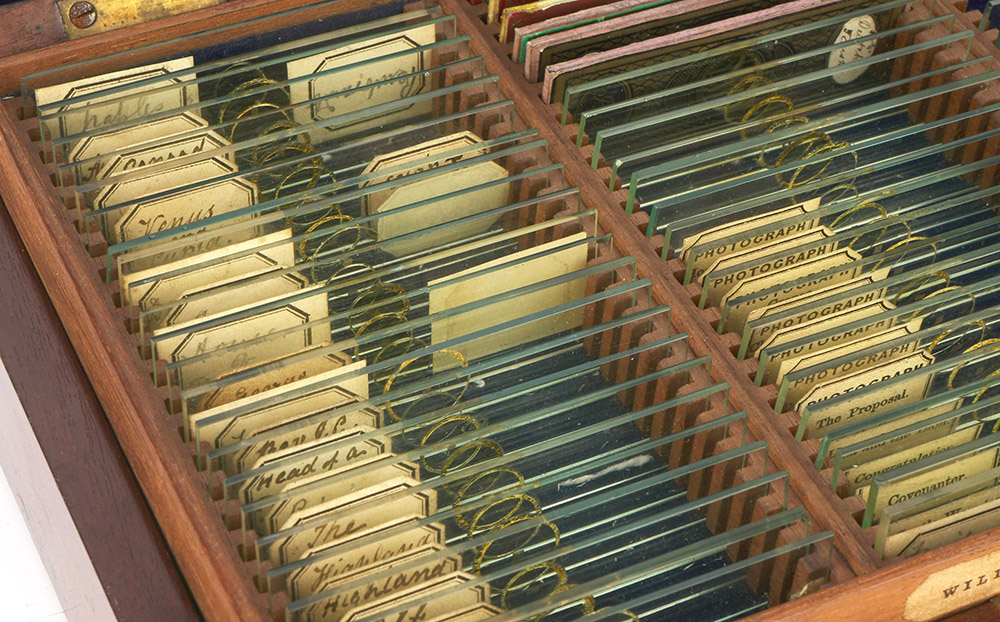 Figure 15. William Overend Geller's slide cabinet contains numerous microphotographs with handwritten labels. Presumably, these were written by Geller, and serve as examples to identify others of Geller's microphotographs. Adapted for nonprofit, educational purposes from an internet auction site.
&nbsp

Figure 16. William Overend Geller, from a photograph provided by Geller's descendant, David Wilks.
&nbsp
William O. Geller was born in 1804, and was baptized on March 26 of that year. "Overend" was his mother's maiden name. His original surname was "Gelder".
A summary of Geller's life and works was published in The Bradford Antiquary of 1895. This included numerous personal anecdotes by his daughter, Angelina Geller, who was also a notable artist. That biography is reprinted below, along with additional notes on Geller's life.
From The Bradford Antiquary: "Geller was born in Bradford in the year 1804, being the eldest son of John Gelder, a respectable tradesman in the town. He was brought up as a house-painter, but very early in life began to develop tastes for painting of a higher order, besides acquiring a knowledge of wood and steel engraving. His brother James .. learnt the art of wood engraving from him. In 1827 he formed one of the band of artists who got up the luckless exhibition already mentioned, and of course suffered some loss in consequence. Geller's first venture as an engraver was probably the 'View of the Bradford Parish Church', which is engraved in line and not in his usual mezzotint. In 1832 he issued a mezzotint portrait of the Rev. Henry Heap, which proved a financial failure, and so disgusted was he at the result that he resolved to leave Bradford as soon as the opportunity offered. His next plate was the Druid's Sacrifice, a work which appears to have yielded some small profit for his labours. About this time portraits of local worthies followed each other in quick succession, some being the result of commissions, while others were ventures of his own. He seems to have displayed some interest in educational matters, for we find him taking part in the formation of the Mechanics' Institute, in 1832, labouring hard with men like the Farrars to further this important object.
"Following up a resolve to find a better field for his talents, he left Bradford in 1833 and settled down in London. During his residence there he made a copy of Reynold's 'Cymon and lphigenia' for the Royal Institution, besides engraving a large number of plates, many of which were his own private speculations. Geller made the acquaintance of John Martin while in the metropolis: a circumstance which apparently influenced his work to a certain extent, judging from plates like Elijah at Horeb, Wesley at Gwennap, and some others which betray traces of Martin's extravagant style. The Cousens and Bentley, all of whom had found their way to London, were also his intimate friends. Here he remained for over 30 years, working diligently both with his brush and graving tools, and of course it was from here that most of his best work emanated."
In London, Geller, his wife, Margaret, and 5 children lived at 4 Stanhope Place, in the Regent's Park area of St. Pancras. Censuses do not record any servants in the Geller household, consistent with daughter Angelina's statements of the family's relative poverty (see below). Angelina also commented that William sold his engravings from the family home, and thought that had a negative impact on business.
An 1864 letter from Geller to Henry Fox Talbot survived in the latter's collection of correspondences. It dealt with some photographic prints Geller had obtained for Fox Talbot:
"4 Stanhope Place, Mornington Crescent, London. N.W.
Sepr 14th 1864
Dear Sir
Herewith I beg to forward the titles of the several Photographic Views from the Negatives by Archer, which you commissioned me to obtain, and were forwarded to you some time ago, – The Nos refer to corresponding ones in pencil at the back of each photograph – Should you be in this neighbourhood and would do me the honour to call, you may feel interested in seeing a proof or two, by 'Dallas' Photoelectric Engraving process, which I have surface scraped &c for him – as in most photographic engraving, its facsimilie (sic) capabilities are great. – but at present it requires the aid of an Engraver to clear the surface for printing.
I am Dear Sir Yours respectfully
W. O. Geller
to H. F. Talbot Esqre
3 West Door, Kenilworth Church
4 Gate House, Kenilworth Castle
31A Grand Entrance, – Do Do
9 Caesars' Tower, – Do Do
7 Leicesters Buildings, Kenilworth
10 Great Hall, interior – Do Castle
21 Window of Great Hall, -
46 Door in Rochester Cathedral
51 Gallery, with Figure, Rochester Castle
178 Chepstow Castle, Inner Court
231 Beddington Church, Surrey
100 Popes Villa, Twickenham,
I think you will find the above list correct –
P. S. May I beg the favour of a P.O. Order for the amount of the views, viz 13s/ – (as I am endeavouring to settle all a/c) it may be made payable at Eversholt Street Camden Town London N.W."
(The main Post Office for northwestern [N.W.] London was located on Eversholt Street)
In 1866, Geller was a signatory to an appeal to the Council of the Society of Arts. Among the other signers were E. Landseer and J.E. Millais:
"Gentlemen, - We, the undersigned, artists, engravers, and publishers of works connected with the fine arts, are desirous of bringing under your notice the present very defective state of the 'Engraving and Artistic Copyright Acts', and do respectfully request you to give the subject your serious consideration, with a view to the speedy amendment of the said acts, and to use your earnest endeavours to prepare such a bill as shall fully meet the present emergency, and give to proprietors of copyright in works of fine art that effectual protection which it was doubtless the intention of the legislature to have secured to them by means of the aforesaid acts.
We would at the same time suggest that the various international copyright treaties appear to demand that the new act should be, as far as practicable, assimilated to the French law, which is found to work exceedingly well, and to be in France a most effectual bar to piracy.
We would further submit for your consideration that the invention of photography having placed within the reach of all a process whereby every variety of design may be cheaply and indefinitely reproduced, the piracy of copyright engravings has for the last few years been carried on in the most unscrupulous and open manner, particularly by persons who employ hawkers to carry their illicit productions from house to house, being thus able to sell them at a very cheap rate, to the great and manifest injury of the proprietors of the copyright in such engravings.
In those cases in which the persons so offending have a fixed abode, we would endeavour to obtain a more speedy and summary remedy than is provided by the existing laws, and in case of hawkers who move from place to place and act merely as agents, refusing to give the names of their principals, we would also pray that such means might be devised as would bring these also under the power of the law".
Continuing from The Bradford Antiquarian:
"At the invitation of his friend W. K. Briggs, another Bradford artist, he left London, in 1867. to undertake an engagement with Mr. Sarony the photographer of Scarbro', with whom, however, he only remained a few years. He resided at Scarbro' until his death, which took place on the 4th of August, 1881. His remains now rest in the cemetery of that town.
"Miss Angelina Geller has kindly furnished me with some very interesting reminiscences of her father, and I therefore make no apology for giving the following quotations:
"He was most industrious and devoted to his art, but much of the work that he did on his own account did not, I believe, repay him for the outlay. I believe he was probably unwise in publishing them himself at a private residence. We have several steel engraved plates which represent years of work, such as the small and large 'Fruit Piece', 'Elijah at Horeb', of which a very limited number of engravings were sold during my father's life-time; the 'Elijah' would only be cared for by the few. Of course, some of the plates he engraved were orders, or orders for so many impressions. I think the 'Deathbed of Calvin' would be one of his best works; it was engraved before my time, but I have heard that his anxiety and close application brought on a very serious illness. The doctor asked what work he was engaged upon; when told, the 'Deathbed of Calvin', he said, 'take care it is not your death bed'.
"He used to attend medical lectures when homoeopathy was beginning to be practised. The doctors took some of the medicines to test and describe their effects, and on one occasion he was seriously affected by some medicine that stopped the action of the heart, more so than the others who had tried it. They at once gave him coffee, and one or two of the doctors came home with him after the attack was over; but it was a dangerous experiment. I have been told his account and description of the symptoms were more clear and full than any of the others.
"My father not only appreciated all true art and poetry, but he took an intelligent interest in several branches of science, astronomy particularly. He pointed out Jupiter to me when I was 2 1/2 years old, and I can quite remember being shown some of the more familiar constellations such as the 'Great Bear' and 'Orion', and on one occasion he took a tea plate in illustration, the rim to represent the milky way of which our sun and system form a part, all the suns circling round their suns, and together round some grand centre; the idea impressed my imagination.
"I remember he came in quite excitedly one Sunday evening; his first words were, I've discovered a Comet; we rushed out to the top of Mornington Road (my brother thinks to Primrose Hill) where we could see the Comet of 1858 as a small faint object, the first comet we had seen. The next day, I have been told, its appearance was noticed in the papers. I can remember with what deep interest we watched it, evening after evening, when it had grown into a splendid object in the western sky, with Arcturus shining through the tail. But the minute as well as the vast was of deep interest to my father. He had a very good microscope and would bring in some ditch or pond water, to see the animalcula. Once we had a dish in the cellar, containing spawn of frogs; he had to go from home, and the spawn developed into tadpoles; but he sent word we had to take and empty them into some ditch before they were ready to leave the water; we were rather anxious about them, as we did not want a plague of frogs.
"I have sometimes wondered how it was his work was so unproductive; of course at such times we were very limited, but my father has said he would rather go without a meal than borrow a shilling, and as my mother was of the same opinion, we early learned to go without what we could not pay for. I am thankful to remember that we always paid 20 shillings in the £, and that a kind providence, or I would rather say our Heavenly Father, often sent help in unexpected ways. I have heard my mother say that prospects were very dark before he had the commission to engrave the plate of 'Franklin'; but the gentleman who arranged with him about it, paid down £10 before he had done a stroke of work. After that plate, I don't think there was much engraving to be had. Once he began experimenting for electrotype. We had tanks of zinc, lined with gutta-percha, containing sulphate of copper, but it did not succeed. He thought the shaking of trains near had some effect.
"He also tried photography, doing some excellent work for 'Amadio' and Samuel Highley. My father belonged to the Artists' Annuity Fund, of which he was one of the early members, and was often useful on committees, &c. He took pleasure in meeting many artist friends there. He missed those meetings when we came to live at Scarbro', but we found the fund payments of great benefit during his illness of over two years."
"Turning our attention to the character of his work we might say that as a mezzotint engraver he had few, if any, equals in his day. All his work in this line is good, but the plates after Lance's Fruit Pieces are of the very highest character; the beautiful gradations of tone, the skillful rendering of light and shade, and the cleanness of detail, all combine to stamp them as works of art. The 'Deathbed of Calvin', so touchingly referred to by Miss Geller, is also a fine example of this class of engraving. In one respect his art reaches a very high mark indeed, namely, in his masterly rendering of light, a quality much in evidence in the smaller fruit piece after Lance.
"Like Bentley, he did not reach that degree of excellence in oil painting which he attained in engraving. Perhaps the best examples in this department are his paintings of 'Janet's Cave', and the 'Weyver's Death'. His portraits of Dr. Steadman, John Nicholson, and the Rev. W. Atkinson, are faithful likenesses, but speaking of his painting generally it may be said that he lacked that high technical training which is absolutely necessary to the production of great paintings. Imagination he had undoubtedly, but it was so little under control that it proved a source of weakness rather than strength. Referring to some of his pictures in the Art Society's Exhibition, of 1872, the Observer, of October 5th, I872, says, "W.O. Geller is an artist whom we do not presume to be able thoroughly to understand. He has an exaggerated sense of colour, and an ungovernable imagination which leads him into occasional nightmare delineations. Such a one is 'Elemental Commotions in Earth, Air, Fire, and Water', the wildness of conception being something astounding, but it is anything but Turneresque.
"The power of selection, that essential to good art, he somewhat lacked, this feature being strongly exemplified in the picture entitled 'Wesley preaching to the miners at Gwennap', which contains several hundreds of figures and took many years to paint. The picture is now in the possession of Mr. William Oddy, but from an examination of the plate it is evident the artist imagined the work would gain in dignity by the mere multiplication of figures; obviously an artistic mistake. We find him very early in life attempting to soar into the higher regions of art, for the 'Bradford Courier', reviewing the character of the 1827 exhibition, says: 'Mr. Geller has several pictures in the collection which do him credit as a self-taught artist, but Historical painting should only be attempted by masters in the art'.
Some additional contemporary comments on Geller's artwork:
From The Art Journal, 1840, "The Death-bed Of Calvin. The picture painted by Joseph Hornung, of Geneva, exhibited at the Royal Academy in 1839, is about to be engraved by Mr. Geller, and published by Messrs. Leggatt and Co., of Cornhill. Few of those who saw the work have forgotten it; as an example of art, it is one of the most meritorious of modern times; from its low tone, its excellence could hardly have been appreciated in Trafalgar-square; but the solemn character of the subject and scene must have made a deep impression upon thousands. The great Church Reformer is on his death-bed; around him are his principal disciples: Beza, Peter Viret, John Knox, William Farel, are among the group. The artist has laboured to procure and preserve authentic portraits—and not only of the great actors in the eventful drama; 'the Bible, the arm-chair, the table-cover, and the books in the back-ground, are painted from the originals which belonged to Calvin, preserved in the Public Library at Geneva'. We rejoice much that this valuable work is about to be multiplied. It will be another worthy testimonial to the memory of the great purifier of our faith".
From The Art Journal, 1848, "Fruit-piece. Painted by George Lance. Engraved by W. O. Geller. Published by Ackermann & Co., and the Engraver, 4, Stanhope Place, Mornington Crescent. This work is, strange to say, a novelty in Art; a very long period has passed since a subject of the class has been submitted to the engraver. Our 'supply' indeed has of late years proceeded from France, chiefly in the shape of coloured lithographic prints; and we had almost despaired of seeing an example multiplied by good Art. Yet it is notorious that the best living painter of fruit is an English artist; nothing in modern times has been produced by the schools of Holland or Belgium at all equal to his works. It is an act of fine spirit which prompted Mr. Geller to select one of Lance's pictures as a theme for his art; the result is a very noble and beautiful print, rendering to the painter as ample justice as he could receive, in the absence of colour, in which he so completely surpasses all competitors. The subject under notice is engraved from a picture exhibited at the British Institution in 1847; it was painted for C.T. Maud, Esq., and was the centre of three entitled the Triograph. The composition is, as usual with the artist, fruit of various sorts with a vase introduced, the vase being a copy of one presented to W.J. Broderip, Esq., the distinguished magistrate and intimate friend of Mr. Maud. We trust this print will be successful, as it eminently deserves to be. As a work of Art it possesses great merit and much interest, while it does something like justice to works which, from their nature, can be but seldom multiplied".
The Bradford Antiquarian provided the following list of W.O. Geller's artworks:
PAINTINGS.
(a) PORTRAITS. Rev. H. Heap, Rev. W. Atkinson, Dr. Steadman, Sir Astley Cooper, Dr. Fawcett of Ewood, Rev. Thomas Taylor, Rev. Henry Dowson, John Nicholson,' John Gelder (bro.), Duke of Wellington.
OTHER PICTURES IN OIL.
(b) Cymon and lphigenia, after Reynolds, Wesley at Gwennap, Bull's Head Sign, Druid's Altar, The Journey to Emmaus, Beautiful Snow, Moses lifting up the Serpent in the Wilderness, King Lear, Valley of Desolation, the Preferred Crown, Sublimity, Reverie, Wild Flowers, Chaotic Ruin, White Doe of Rylston, Janet's Cave, and Winter. These last 12 were shown at the Art Society's Exhibition, 1871. In 1872 he lent to the same society the following: "Elemental Commotions" Elijah fed by Ravens, The Accusers of Daniel, and portrait of John Gelder above mentioned. In 1873 he exhibited The Weyver's Death, which now belongs to Mr. Lewis Hainsworth. In 1874 only one picture was exhibited, "The Grove"; and in 1875 Elijah at Mount Horeb, and John de Wycliffe.
ENGRAVINGS.
(a) PORTRAITS. Rev. H. Heap, 1832, Rev. T. Taylor, Rev. N.T. Heineken, Abraham Holroyd, The Queen, Rev. Jonathan Glyde, Sir Astley Cooper, Mr. Jay, of Bath, Dr. Richardson, Lady Elina Bruce, James Hinton, Father Mathew, John Hunter, John Nicholson, Dr. Fawcett, The Queen, Rev. H. Dowson, Rev. W. Atkinson, Thomas Campbell, Hon. Mrs. Norton, (after Hayter,) J. Fletcher, M.D., (after W.S. Watson,) Hahnemann, (after the statue by Steinhauser,) Sir Rowland Hill.
(b) ENGRAVINGS FROM PICTURES. The Deathbed of Calvin, after Hornung, a Swiss Artist. Deathbed of Wesley, after M. Claxton, "Benjamin Franklin at the Court of France, in 1786, receiving the homage of his genius and the recognition of his country's advent amongst the nations," painted by Baron Jolly, of Brussels, and engraved for Messrs. Jay, Heidenberg & Emmerson, Philadelphia. The Druid's Sacrifice, Fruit Piece (upright) after Lance, I848, smaller Fruit Piece (oblong), I850, Elijah at Mount Horeb, 1847, The Druid's Altar (illustrating a scene in Nicholson's "Airedale"), Looking Out, H.P. Parker, 1836, Military Attack, after S.E. Jones, 1839, The Little Fruiterer, after J. Northcote, Cymon and lphigenia, after Reynolds, etched by F. Howard and engraved by Geller (printed in colours), The Covenanter, Vision of St. John, View of Bradford after J. Wilson Anderson, 1835.
&nbsp
Acknowledgements
Many thanks to Richard Courtiour, Peter Hodds and anonymous collectors who provided images of slides and microphotographs; to Robert Haley of "Photo Detective" for providing the quote from The Yorkshireman, 1885, and for his remarkably detailed and helpful web site on the Brontë sisters and W.O. Geller; and to W.O. Geller's great, great, great grandson, David Wilks, for providing pictures and information on his ancestor.
&nbsp
Resources
The Art Journal (1840) "The Death-Bed of Calvin", Vol. 1, page 92
The Art Journal (1848) "Fruit-Piece", Vol. 10, page 288
The Athenaeum (1837) Description of "The Covenanter", page 539
Baptism record of William Overend Gelder (1804) accessed from http://trees.ancestry.co.uk/tree/48408372/person/13025664694?ssrc=
The Bradford Antiquary (1895) W.O. Geller, Vol. 2, pages 200-203
The Brontë Sisters – A True Likeness? (accessed May, 2014) A comprehensive analysis of a photograph that appears to be of Charlotte, Anne and Emily Brontë, and may have been taken by W.O. Geller, http://www.brontesisters.co.uk/
Correspondence of Henry Fox Talbot (accessed May, 2014) Letter from W.O. Geller, http://foxtalbot.dmu.ac.uk/letters/transcriptName.php?bcode=Gell-WO&pageNumber=0&pageTotal=1&referringPage=0
England census, birth, marriage and death records, accessed through ancestry.co.uk
Journal of the Society of Arts (1866) Artistic Copyrights, Vol. 14, pages 173-174
The Literary Gazette and Journal of the Belles Lettres, Arts, Sciences, &c (1837) "The Covenanter", page 467
Scruton, William (1885) Some local worthies, The Yorkshireman, August issue. Excerpt provided by Robert Haley
Stanford's New London Guide (1860) E. Stanford, London, page 9
Warren, Stanley (2009) Studying microphotographic slides, an update to current knowledge, Journal of the Microscope Historical Society, Vol. 17, pages 35-50