Joseph Pepper Wright, 1855 - 1942
by Brian Stevenson
last updated November, 2021
Slides that were owned by amateur microscopist J.P. Wright are occasionally encountered (Figure 1). Some of his labeled microscope slides were prepared by him, while others were clearly obtained from other workers. Exchange offers that he placed in popular science magazines indicate that Wright collected a wide variety of biological objects, from the late 1870s until well into the twentieth century (Figure 2). Wright joined the Quekett Microscopical Club in 1907, and remained a member until around 1920.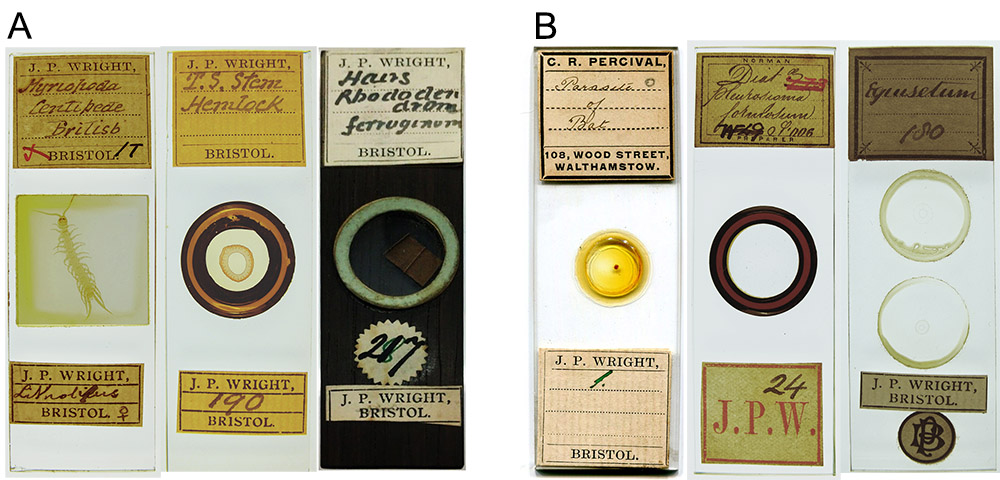 Figure 1. Microscope slides from J.P. Wright's collection. (A) Three slides that were probably prepared by Wright. (B) Three slides that were prepared by professional slide-makers Charles R. Percival, John T. Norman, and Bernard Piffard. Letters from 1906 and 1907 are known in which Wright requested slides from Percival. Slide images are from the author's collection, by courtesy of Richard Courtiour, or adapted for nonprofit, educational purposes from an internet auction site.
&nbsp


Figure 2. Exchange offers that were published by Joseph P. Wright, from "Hardwicke's Science-Gossip" (1879), and "Knowledge" (1907).
&nbsp
Joseph Pepper Wright was born on June 19, 1855, in Westminster, Middlesex (London), to John and Rose Wright. Father John was described on Joseph's christening record as being a "carpenter", and on Joseph's 1881 marriage record as a "cabinet maker".
Joseph's occupation was variously described as "provisions merchant" and "commercial traveler" through the end of the nineteenth century, with numerous relocations around England. In 1879, he posted an exchange offer in Hardwicke's Science-Gossip from Bradford, Yorkshire (Figure 2). In 1881, he married Charlotte Augusta Pierce in Bristol, Somersetshire, while listing his home address as Liverpool. Joseph and Charlotte's two children were born in York, in 1882 and 1885. By 1891, the family had settled in Bristol, Gloucestershire, although they moved houses at least twice. From ca. 1897 onward, the Wrights lived at 37 Ravenwood Road, in the Redland area of Bristol.
Wright's 1879 exchange request states that he would provide "micro objects", indicating that he was already interested in microscopy by that time.
Three letters are known in which Wright requested microscope slides from professional slide-maker Charles R. Percival (Figures 1 and 3). Boyd Suttie's 2000 publication on C.R. Percival describes two of those letters, "dated June 9, 1906, acknowledges receipt from Percival of 50 slides, and, in his reply, Mr. Wright returns five with a cheque for 15 shillings for the 45. Another letter, also from Wright and dated February 9, 1907, acknowledges receipt of 52 slides, and return of 18 slides with a cheque for 11 shillings and four pence for the 34 kept". In the third letter, dated January 27, 1907, Wright states, "I am not in want of Lepidoptera, Spiders or Coleoptera unless they are of special interest. Collembolla (sic), Hemiptera, Geological, or any on the list I sent you will be welcome".
Also in 1907, Wright joined the Quekett Microscopical Club. He remained a member until 1918-1922.
Soon afterward, Wright began to regularly travel outside of the country. Immigration records indicate that he primarily went to Canada, although he was in Australia in late 1912. The 1914, 1916, and 1918 membership records of the QMC gave Wright's address as "c/o Messrs. Davidson, Boules, Ld., 86 Wellington Street, W. Toronto, Canada". The 1939 register of England stated that Wright had worked for a Canadian woolens importer.
The 1939 register also reported that Joseph and Charlotte had retired to Portishead, Somersetshire. Charlotte died in 1940, and Joseph died on March 1, 1942.
&nbsp
Acknowledgement
Thank you to Richard Courtiour for sharing images of slides from his collection.
&nbsp
Resources
Christening record of Joseph Pepper Wright (1855) Parish records of St. John the Evangelist, Westminster, accessed through ancestry.com
England census and other records, accessed through ancestry.com
Hardwicke's Science-Gossip (1879) Exchange offer from J.P. Wright, Vol. 15, page 264
Kelly's Directory of Bristol (1894) "Wright Joseph, commercial traveller, 19 Brynland avenue, Bishopston", page 289
Kelly's Directory of Bristol (1897) "Wright Joseph, 37 Ravenswood road, Redland", page 194
Kelly's Directory of Bristol (1914) "Wright Joseph Pepper, 37 Ravenswood road, Redland", page 194
Knowledge (1907) Exchange offer from J.P. Wright, Vol. 30, page vii
Marriage record of Joseph Pepper Wright and Charlotte Augusta Pierce (1881) Parish records of St. Matthew, Bristol, accessed through ancestry.com
Probate of the will of Joseph P. Wright (1942) "Wright Joseph Pepper of 14 Adelaide-terrace Portishead Somersetshire died 1 March 1942 Probate Bristol 8 May to George Edwards bank clerk and Arthur Taylor solicitor. Effects £4503 1s 1d", accessed through ancestry.com
Journal of the Quekett Microscopical Club (1908, 1914, 1916, 1918, and 1922), Membership lists
Suttie, Boyd (2000) C.R. Percival: the work and equipment of a professional slide preparer, Rittenhouse, Vol. 14, pages 77-94