James Williams Butcher, 1857-1937
by Brian Stevenson
last updated November, 2018
J.W. Butcher operated a scientific and optical supply shop in central London between ca. 1910 and 1926. To judge from the number of microscope slides that can be found with his label, he moved a considerable number through his store in those 16 years. He advertised extensively in London college bulletins, which would probably have brought him considerable business. Butcher's labels appear on a wide variety of slides, both professional and amateur. Some identifiable makers were dead by the time Butcher began his business. If a maker's name was present on a slide, Butcher covered it over with his label. These suggest that he did not specifically enlist mounters to produce for him, but instead bought up old collections and re-sold slides. Similarly, his advertisements state that Butcher sold microscopes from many different makers, including obsolete styles such as the Society of Arts (Figure 4).
Butcher referred to his business at 2-3 Ludgate Circus Building as the "Slide Gallery". This was almost certainly due to his retailing of magic lantern slides, not microscope slides. In contrast to the microscopy aspect of his business, Butcher probably had many of those lantern slides produced for his shop. Butcher was an ordained Wesleyan (Methodist) minister, and sold numerous series of lantern slides to accompany sermons (Figure 5). Butcher also wrote a number of books, and published works by other authors, primarily on religious topics.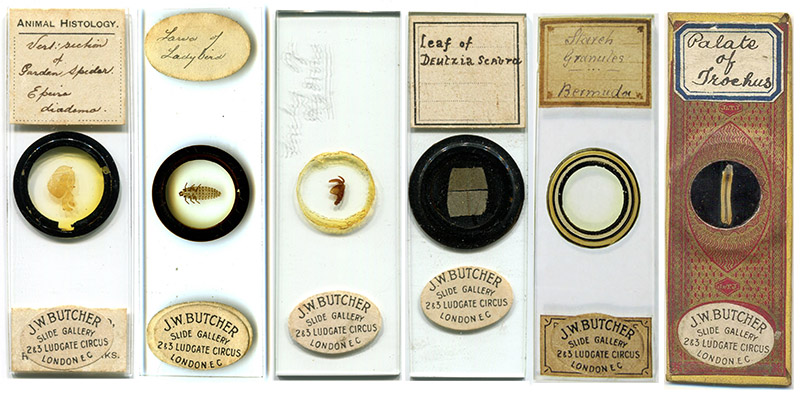 Figure 1. Examples of microscope slides that were sold by J.W. Butcher. All were probably re-sold from acquired collections. The two slides on the left were made by professionals James B. Howard and Herbert W.H. Darlaston - note that Butcher placed his labels over those makers' names. The two slides on the right were produced by professionals who were dead when Butcher was in business: George Harris / "W. White" (ca. 1835 – 1904), and J. and T. Jones (in business during the 1860s)
&nbsp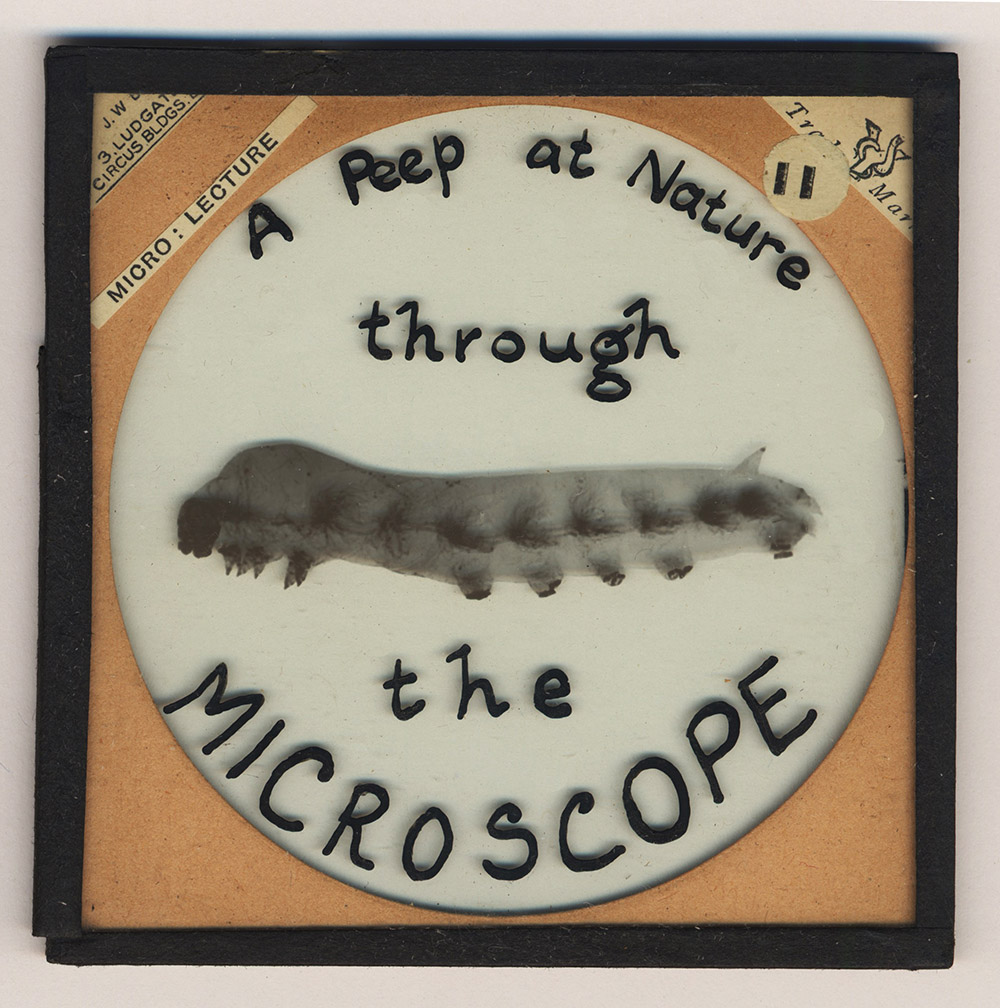 Figure 2. A circa 1920 lantern slide from J.W. Butcher. It includes a photograph of a silkworm caterpillar. It would have been used as an opening slide for an exhibition of microscopic images.
&nbsp

Figure 3. A 1916 advertisement by J.W. Butcher, from the Calendar of the University of London.
&nbsp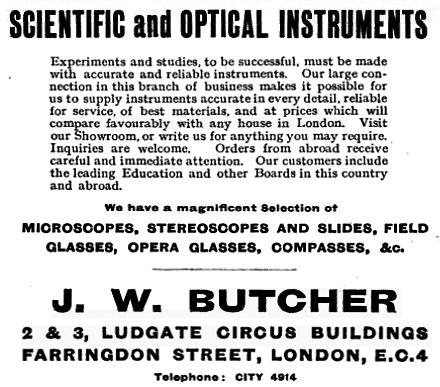 Figure 4. A 1921 advertisement, from The Bulletin of Entomological Research.
&nbsp

Figure 5. A 1922 advertisement from The Church Quarterly Review.
&nbsp
James William Butcher was born in Gravesend, Kent, during 1857. He became a Methodist minister in 1881, and subsequently served churches throughout Britain. He ministered in Wavertree, Lancashire in 1891, and in Glasgow during the early 1900s. During 1911, he relocated to London. Advertisements for his Ludgate Circus shop appeared soon afterward. Nothing has been found to explain why Butcher undertook his business venture at that time, and there are no indications that he operated similar businesses during his other posts. From 1907 to 1923, he was Secretary of the Wesleyan Sunday School Department. Butcher published advertisements through at least 1924. A 1926 advertisement lists the proprietor as A.J.G. Seaton "late J.W. Butcher", indicating a change in ownership (Figure 6). The end of Butcher's business was probably due to his transfer to a church in Liverpool. He died in that city on February 16, 1837.
Identifying the proprietor of the J.W. Butcher microscopy business was particularly challenging, as there were two similarly-named businesses in the Ludgate Circus area at the same time. The occurrence of three different businesses named Butcher within this small area appears to be mere coincidence:
J.W. Butcher and Company was an accounting firm, owned by John William Butcher, located in the Imperial Buildings, Ludgate Circus. There are no known family connections between the two Messrs. J.W. Butcher – John W. Butcher was originally from Brighton, Sussex.
W. Butcher and Sons was a large dealer of photographic supplies and equipment, including magic lanterns. Their "Camera House" was located on Saint Bride Street, adjacent to Ludgate Circus and Farringdon Street. There are no apparent relationships between James W. Butcher and the proprietors, William Butcher, William F. Butcher, and Frank Butcher.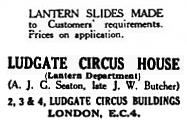 Figure 6. A 1926 advertisement, from The Landmark.
&nbsp


Figure 7. A 1920 advertisement, from The Bookman.
&nbsp
Acknowledgements
Many thanks to the operators of Lucerna (http://www.slides.uni-trier.de) for providing helpful information on the life of James William Butcher, and to the collectors who provided images of J.W. Butcher's microscope slides.
&nbsp
Resources
The Bookman (1920) Advertisement from J.W. Butcher, Vol. 59, page 157
Bracegirdle, Brian (1998) Microscopical Mounts and Mounters, Quekett Microscopical Club, London, page 19
The Bulletin of Entomological Research (1921) Advertisement from J.W. Butcher, Vol. 12, page 519
The Church Quarterly Review (1922) Advertisement from J.W. Butcher, page 400
England census, birth, death, electoral records, and probate records, accessed through ancestry.co.uk
Grace's Guide (accessed December, 2015) W. Butcher and Sons, http://www.gracesguide.co.uk/wiki/W._Butcher_and_Sons
Historic Camera (accessed December, 2015) W. Butcher and Sons, http://www.historiccamera.com/cgi-bin/librarium/pm.cgi?action=display&login=butcherco
The Institute of Chartered Accountants in England and Wales, List of Members 1904, Royal Charter and Bye-Laws (1904) "Butcher, John William, (J. W. Butcher & Co.), Imperial Buildings, Ludgate Circus, E.C.", page 194
The Landmark (1926) Advertisement from A.J.G. Seaton, Vol. 8, page xv
The Londoner's Education (1924) Advertisement from J.W. Butcher, Hodder & Stoughton, London
Lucerna (accessed December, 2015) Personal record for James Williams Butcher, http://www.slides.uni-trier.de/person/index.php?id=6002484
The Photographic Dealer and D. & P. Trade Review (1902) W. Butcher & Sons' New Premises, Vol. 12, pages 31-34
The Rose Annual (1922) Advertisement from J.W. Butcher
Routley, Eric (1953) Companion to Congregational Praise: With Notes on the Music, Independent Press, London, page 364
Stevenson, Brian, Brian Davidson, Peter Paisley and Howard Lynk (2010) Nineteenth century microscope slide mounters JWB and JB: their work and their identities, Quekett Journal of Microscopy Vol. 41, pages 203-217
University of London Calendar (1916) Advertisement from J.W. Butcher