James Bertram Howard, 1889 - 1931
by Brian Stevenson
last updated November, 2018
J.B. Howard developed a strong interest in microscopy during his teens, inspired by his employer, Frank W. Pybus. Howard was then working as a dispenser in Pybus' pharmacy shop, in Richmond, Yorkshire. There was a long-standing correlation between pharmacists/chemists and microscopy, in part because their work often involved correctly identifying botanicals and chemical compounds. Around 1910, Howard began selling his microscope slides for additional income. He was drafted into the Army in March 1917, having sold off his stock of slides some months earlier. Arthur P. Drake, of Nottingham, purchased a large number of Howard's slides, and re-sold many of them. Returning from World War I, Howard completed training as a pharmacist. He opened shops in Frome, Somerset (1924-1929) and Paignton, Dorset (1929-1931). He produced and sold slides from both of those locations.
Brian Bracegirdle, in Microscopical Mounts and Mounters, stated that J.B. Howard "began mounting about 1904". I have not found any evidence to support that early date, when James Howard was only 14 years old. I suspect that he confused J.B. Howard for Edward G. Howard, who is known to have begun selling microscope slides around 1904.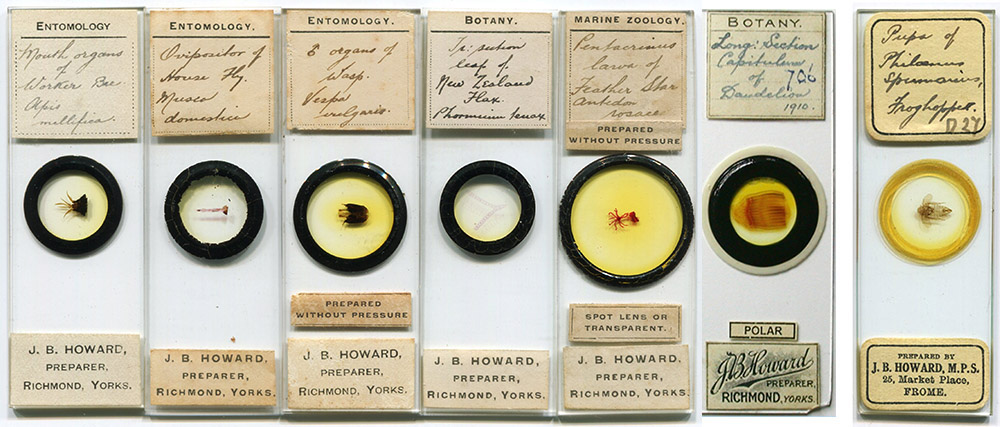 Figure 1. Examples of microscope slides by J.B. Howard. Those on the left, with his Richmond, Yorkshire address, date from between ca. 1910 and late 1916. One bears the date 1910. The slide on the far right was produced when he owned a pharmacy in Frome, between 1924 and 1929. The initials "M.P.S." after his name mean Master of Pharmaceutical Sciences, which he obtained after returning from World War I. A rare slide is known that bears a printed label, "Prepared by J. B. Howard, M.P.S., 237 Torquay Road, Paignton", his shop from 1929-1931.
&nbsp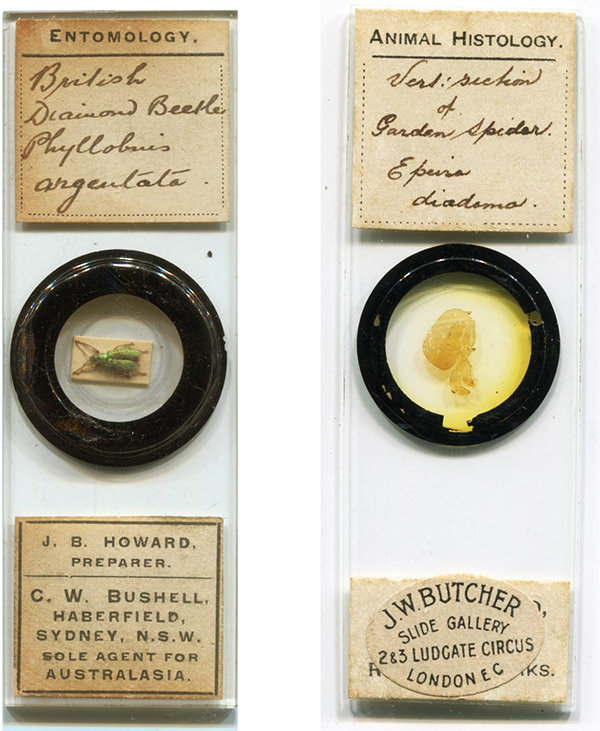 Figure 2. J.B. Howard slides with other seller's names attached. He evidently had an export deal with G.W. Bushell, a merchant in Sydney, Australia, probably before World War I. Slides with Bushell's label are relatively common nowadays, even in the U.K. That suggests that a good number were never exported before Howard sold off his stock in 1916-17. The slide on the right was re-sold by J.W. Butcher, London, who regularly re-sold used microscope slides. It is possible that Butcher bought some of Howard's stock during his sell-off.
&nbsp
James Bertram Howard was born in Richmond, Yorkshire, toward the end of 1889, and baptized on December 22 of that year. He was the eldest of three children of Albert and Ursula Howard. His father worked as a "draper's assistant".
During his teens, James began working for chemist Frank Whitelock Pybus, who had a shop on 4 King Street. Pybus lived on the same street as the Howard family, so they had probably known each other for some time. The 1911 census records that James was then an "assistant pharmacist".
Pybus later stated that he got James interested in microscopy. A slide is known with the handwritten date of 1910 (Figure 1); if that is accurate, then James Howard probably began learning how to make slides at least 1-2 years before that date. By early 1911, he was advertising to sell botanical slides "for students or amateurs, scientifically mounted, beautifully finished" (Figure 3). He also offered to provide live Volvox and polyzoa.
He joined the Birmingham Natural History and Philosophical Society in 1911, and was a member of the Postal Microscopical Society from 1912-1914.
By 1913, Howard's microscope slides were becoming well known throughout England. The March 7, 1913 issue of English Mechanic and World of Science included a letter from "Country Rector" (later revealed to be F.F. Key, of Eggington, Derbyshire) that included, "I recently obtained some (transverse sections) from Mr. Howard, of Richmond, Yorkshire, whose name is familiar to those who peruse your advertising columns. Many of these sections are of such exquisite beauty … Five of these sections deserve special mention - viz., clematis, flammula, spruce fir, pampas grass, and the buds of poppy and wallflower. It would be difficult to adequately describe their beauty of form, design, and colour, as well as their botanical interest. .. The cost is so ridiculously low that every lover of beauty should give them a place in his collection".
Howard responded with a brief letter of thanks to the magazine, signing himself as "Preparer of Microscopical Objects" (Figure 4). He followed shortly afterward with publication of a two-part series on "Preparation of micro-botanical slides".
He advertised and shipped internationally, as well. Figure 2 shows a J.B. Howard slide with a label indicating retail by C.W. Bushnell of Sydney, Australia. Advertisements ran in the U.S. magazine Guide to Nature throughout 1914 (Figure 5). The editors commented, "Fine Microscopical Slides - Inquiries have frequently come to this office regarding the mounting of microscopical slides and also where those made by experts may be bought. ... For larger microscopical specimens the best that we have seen come from J.B. Howard, 45 Frenchgate, Richmond, Yorks, England. He is indeed rightly entitled to be described as an 'Expert in Microscopy'. Some of his specimens have delighted students and visitors at Arcadia when these slides have been exhibited by the projection microscope. They also make good photo-micrographs. Some of these will later be shown in The Guide To Nature. Some of our old-time microscopists lament that microscopy as a popular recreation is a thing of the past, but it is pleasing to learn that slides of the old-time excellence may still be obtained and that any one who desires to use the microscope as an intellectual recreation may obtain either slides or lessons in micro-mounting. Correspond with Mr. Howard who is a master in his line". and "The best slides that we have received from a foreign worker and in wide range of subjects are made by J.B. Howard, 45, Frenchgate, Richmond, Yorks, England. For cross sections of woods and for a variety of other subjects his work is fine".
An advertisement in a 1915 Journal of the Photomicrographic Society specifically called out the suitability of Howard's double-stained botanical slides as subjects for photographing through the microscope (Figure 6).
James Howard's employer, F.W. Pybus, was drafted into the Army in 1915. James then went to work as a pharmaceutical dispenser for Dr. H.M. Eyres, a Richmond physician.
Advertisements for newly-made microscope slides continued through September, 1916 (Figure 7). Howard must have received his draft notice that month, as his advertisements suddenly took a very different tone, with "thousands of highest quality slides" being offered "at half price to clear". He also offered to sell his Crouch binocular microscope, microtomes, mounting media, and other supplies (Figure 7). A large number of Howard's slides were purchased by Arthur Drake, who re-sold many of them.
Dr. Eyres filed an appeal against Howard's conscription, claiming that he "is doing the work of two doctors, his own and his partner's, and he requires the assistance of J.B. Howard in order to carry on the work. Howard not only dispenses and keeps the books but renders first aid in the absence of the appellant". In a decision made on February 24, 1917, Howard was allowed until March 31 to report for duty.
J.B. Howard served the duration of the War in India, as a chemist's dispenser with the Royal Army Medical Corps. He was discharged in 1919, being awarded the British War Medal (for serving outside the U.K.) but not the Victory Medal (not having entered a theater of war).
According to Pybus, Howard served an apprenticeship in pharmacy with him. This would took place after the War, when both men returned to Richmond. J.B. Howard qualified as a pharmacist on April 5, 1923. When he later returned to making microscope slides, Howard included the initials "M.P.S." after his name, designating Master of Pharmaceutical Sciences.
His future looking bright, James married Florence Dyer during the summer of 1923. He was then 33 years old.
In 1924, The Chemist and Druggist reported that, "J.B. Howard, chemist and druggist, has acquired the business of Mr. J.E. Robinson, chemist and druggist, at 25 Market Place, Frome, of which he has been manager for some time". After establishing this business, Howard again produced microscope slides for commercial distribution.
The Chemist and Druggist reported in 1929 that, "Mr. J.B. Howard, chemist and druggist, is opening a business at 237 Torquay Road, Paignton", and "Davies, John & Aspell, chemists, 15 Old Bond Street, Bath, have acquired the business of Mr. J.B. Howard, chemist and druggist, 25 Market Place. Frome".
J.B Howard died suddenly at the age of 41, on June 29, 1931. A notice in The Chemist and Druggist read, "Howard - At 237 Torquay Road, Preston, Paignton, recently, Mr. James Bertram Howard, chemist and druggist, aged forty-one. Mr. Howard went to Preston about two years ago. He leaves a widow and three children".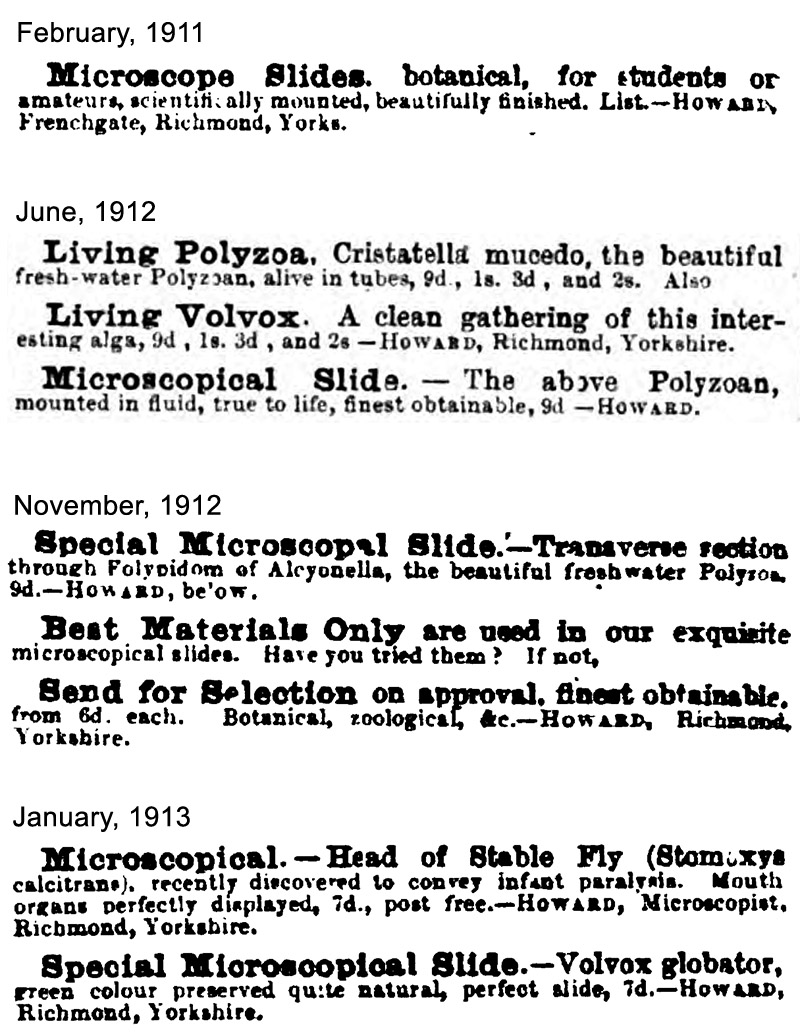 Figure 3. Early advertisements from J.B. Howard, all from "The English Mechanic and World of Science".
&nbsp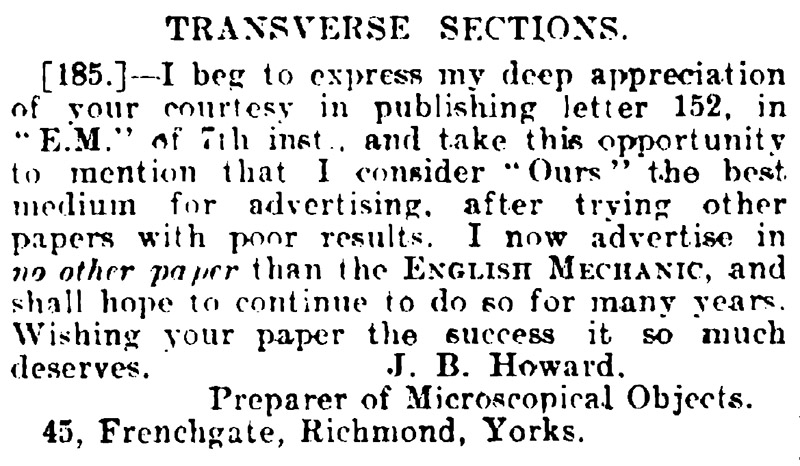 Figure 4. A 1913 letter from Howard to "The English Mechanic and World of Science", thanking them for publishing an earlier letter of praise for Howard's microscope slides.
&nbsp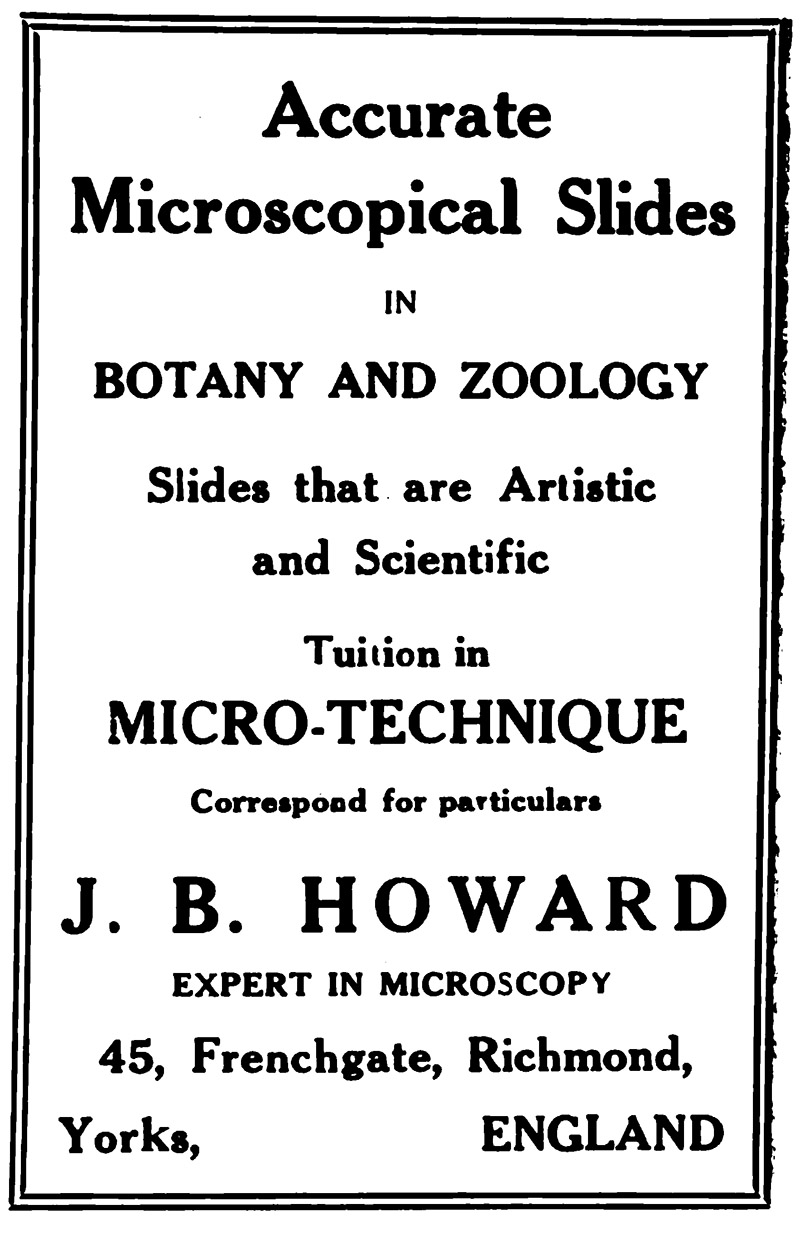 Figure 5. A 1914 advertisement from J.B. Howard, from the U.S. publication "The Guide to Nature".
&nbsp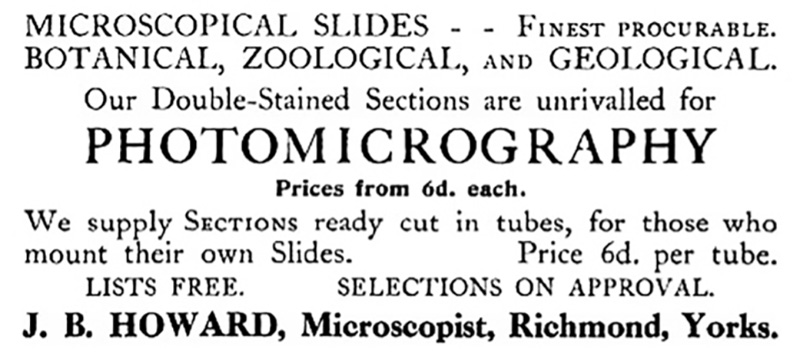 Figure 6. A 1915 advertisement, from "The Journal of the Photomicrographic Society".
&nbsp

Figure 7. Advertisements from J.B. Howard, leading up to the time he received his draft notice in 1916. The March, 1917 advertisement from A.P. Drake announced that he had Howard's slides available for sale. All from "The English Mechanic and World of Science".
&nbsp

Figure 8. "Vertical section of blow fly Caliphora erythrocephala", by J.B. Howard. Photomicrographs taken with a 3.5x objective lens and digital SLR camera.
&nbsp
Resources
Annual Report of the Birmingham Natural History and Philosophical Society (1911) List of members
Bracegirdle, Brian (1998) Microscopical Mounts and Mounters, Quekett Microscopical Club, pages 54 and146, and Plates 21-K, 21-L, and 21-M
The Chemist and Druggist (1924) Note on J.B. Howard establishing a business in Frome, Vol. 100, page 544
The Chemist and Druggist (1929) Note on J.B. Howard establishing a business in Paignton, Vol. 110, page 234
The Chemist and Druggist (1931) Note on J.B. Howard establishing a business in Paignton, Vol. 115, page 49
"Country Rector" (1913) Transverse sections, English Mechanic and World of Science, Vol. 97, page 136
"Country Rector" (F.F. Key) (1913) Transverse sections, English Mechanic and World of Science, Vol. 97, pages 202-203
England census and other records, accessed through ancestry.com
English Mechanic and World of Science (1911-1916) Advertisements from J.B. Howard, Vols. 93-104
English Mechanic and World of Science (1917) Advertisements from A.P. Drake, Vol. 106, March 8 advertising section
The Guide to Nature (1914) Fine microscopical slides, Vol. 7, pages 280 and 379
The Guide to Nature (1914) Advertisements from J.B. Howard, Vol. 7, multiple issues
Howard, J.B. (1913) Transverse sections, English Mechanic and World of Science, Vol. 97, page 180
Howard, J.B. (1913) Preparation of micro-botanical slides, English Mechanic and World of Science, Vol. 97, pages 315 and 383-384
Journal of the Photomicrographic Society (1915) Advertisement from J.B. Howard, page 32
Kelly's Directory of the Chemical Industries (1921) "Richmond … Chemists & Druggists … Pybus Frank W. 4 King street", page 293
The Microscope (1958?) James Bertram Howard, page 268
The Microscope (1958?) "James Bertram Howard - This mounter did mount professionally after his setting up in Paignton: the writer was lucky enough to come across, in the shop of Deepees, Ltd., a slide labelled in writing, 'Freshwater Polyzoa. Lophopus crystallinus' and bearing a printed label, 'Prepared by J.B. Howard, M.P.S., 237 Torquay Road, Paignton'. The date would evidently be between 1929 and 1931, and the fluid mount is practically dried up", page 314
Military service records of J.B. Howard, accessed through ancestry.com
Military service records of F.W. Pybus, accessed through ancestry.com
Yorkshire Government Archives (accessed November, 2018) North Riding appeal tribunal number 2920, Appeal against conscription of James Bertram Howard, https://archives.northyorks.gov.uk/CalmView/Record.aspx?src=CalmView.Catalog&id=NRCC%2FCL%2F9%2F1%2F2920