Henry Edwards Freeman, 1840 - 1929
by Brian Stevenson
last updated December, 2012
This law clerk and amateur microscopist produced and exchanged a large number of microscope slides, and wrote authoritatively on a wide variety of microscopy topics. Freeman generally labeled his slides with square labels with his name and an outline in red (occasionally blue) (Figure 1). His colleague in the QMC, A.C. Tipple, used nearly identical labels, which may cause some confusion to modern-day collectors (not shown). Brian Bracegirdle's Microscopical Mounts and Mounters illustrates a slide to which Freeman attached an oval name-plate (slide 18-J). The other label on that slide is not written in Freeman's hand. Henry Freeman, like most microscopists, both made his own microscope slides and acquired slides made by other makers. Some examples of the former are illustrated below in Figure 1, and the latter in Figure 3.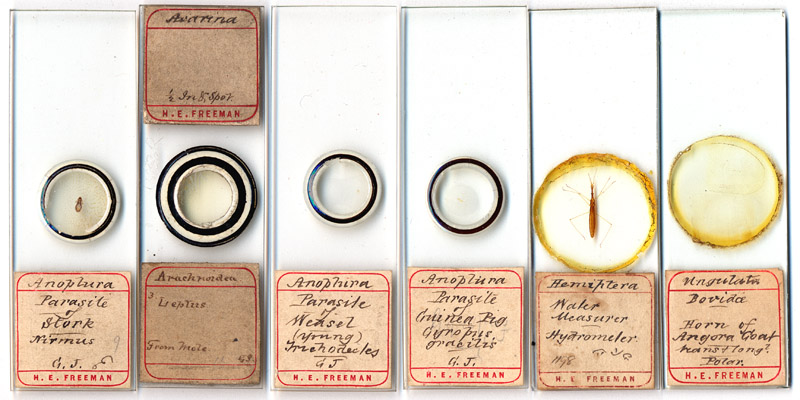 Figure 1. Microscope slides made by Henry Freeman. The subject matter, tending toward parasitic arthropods, is in line with subjects Freeman is known to have exhibited at Club functions and offered for exchange.
&nbsp
The earliest known record regarding Henry Freeman's interest in microscopy was his election to the Quekett Club on June 23, 1871, the same day that Amos Topping joined the Club. Quekett records misspell Freeman's middle name as "Edward". Freeman remained a member of Quekett through at least 1918. Beginning in 1872, and for the next 14 or so years, Freeman advertised exchange offers in Hardwicke's Science-Gossip, the Journal of the Postal Microscopical Club and other magazines (Figure 2). In addition to the specimens described in Fig. 2, Freeman requested a wide variety of objects for mounting, including "leaves of Deutzia scabra and gracilis", "parasite of bat (Nycteridia), also Ixodes from boa or snakes", "mole crickets", "Haematopinus spinulosus from rat, and H. vituli from calf" and "mange mites and allied genera". Initially, Freeman offered to provide unmounted objects in exchange, such as the insects and the Melicerta described in Fig. 2, and "rich foraminiferous Sand from Connemara". Beginning in 1874, he offered to exchange multiple slides, suggesting that he was proficient in slide making by that time, and comfortable in sharing his creations with strangers. Examples of slides acquired by Freeman are illustrated in Figure 3. Many of these were made by other amateur microscopists, and so were most likely obtained by exchanges.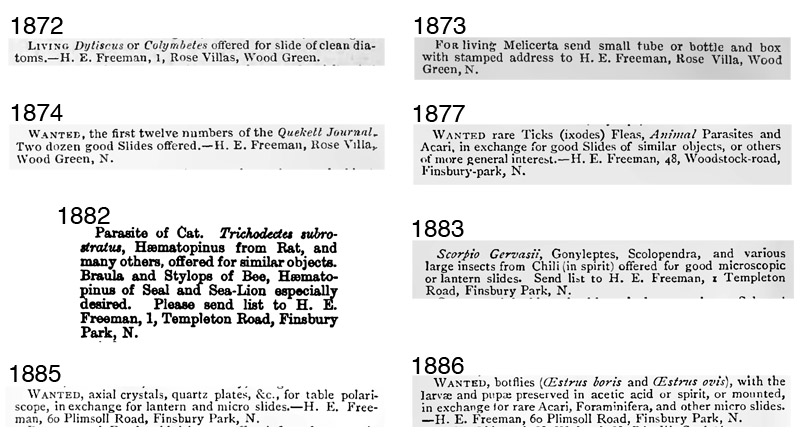 Figure 2. Some published exchange requests from Henry Freeman. I did not find any requests after the mid-1880s, suggesting that by that time, Freeman had established enough contacts to supply his needs for new specimens.
&nbsp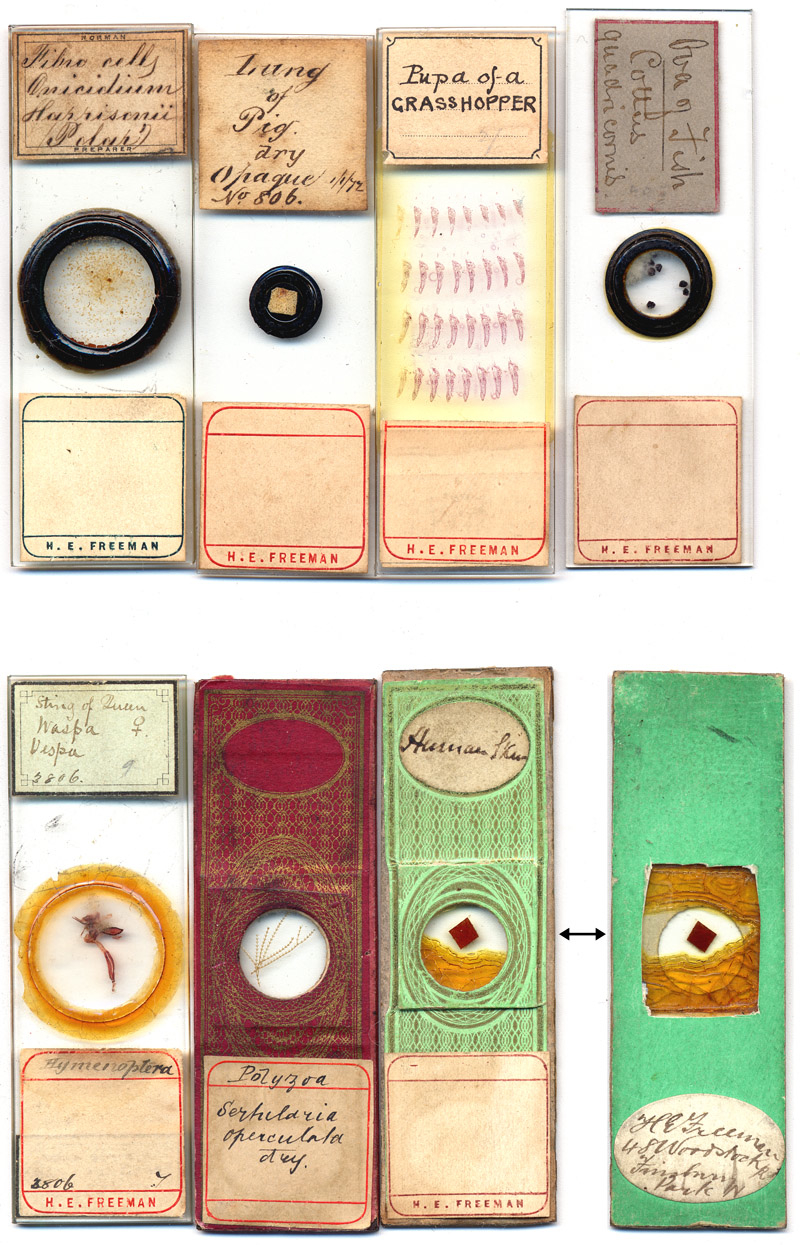 Figure 3. Slides from Henry Freeman's collection that were made by other microscopists, both amateur and professional. Distinctive handwriting or paper style identify many. Top row: John T. Norman (professional), unknown (probably amateur), Henry M.J. Underhill (amateur), and Edward Horsnaill (amateur). Bottom row: unknown (probably amateur), unknown (possibly professional), Charles M. Topping (professional, front and back shown). Freeman's address on the back of the Topping slide dates this acquisition to between 1874 and 1877. Freeman exhibited H.M.J. Underhill's serial sections of insects, spiders and other creatures to the Quekett Club during October, 1886 and January 1887, and to the Royal Microscopical Society in June 1887 (see Figure 4).
&nbsp
Among the many objects exhibited by Freeman to the QMC were "parasite of ox" and "sawfly Tenthredo cincta" (both 1872), "Fibro-cells of Orchid. Oncidium harrisonii (polarised)" and "parasite of spider" (both 1873), "jaws and teeth of Echinus (polar)", "skin of dog fish, Scyllium canicula", and "wing of midge" (1874), "sections of head of minnow", "exuvia of plant insect, and casts of foraminifera from Colon", and "palatal tooth of Ctenodus elegans from Northumberland coal shale, compared with teeth of Acanthurus, an existing species" (1892), "catkin of yew with pollen" (1893), and "Conops quadrifasciata, antennae" and "Syringa, section of flower bud" (both 1894).
Freeman made some very significant presentations to the Quekett Microscopical Club and the Royal Microscopical Society during 1886 and 1887. Freeman reported to have read in "The Welcome" of serial section cuttings being made by Henry M.J. Underhill, an amateur microscopist in Oxford. Knowing that Quekett Club members would be very interested in Underhill's sections, Freeman wrote to Underhill requesting one of his slides. Underhill pleasantly surprised Freeman by sending a large group of section slides. Freeman exhibited slides of the garden spider Epiera diadema to the QMS on October 22, 1886, and sections of the slug Limax agrestis on January 28, 1887 (Figure 4). Underhill later attended QMC meetings, discussed his work, and exhibited additional slides.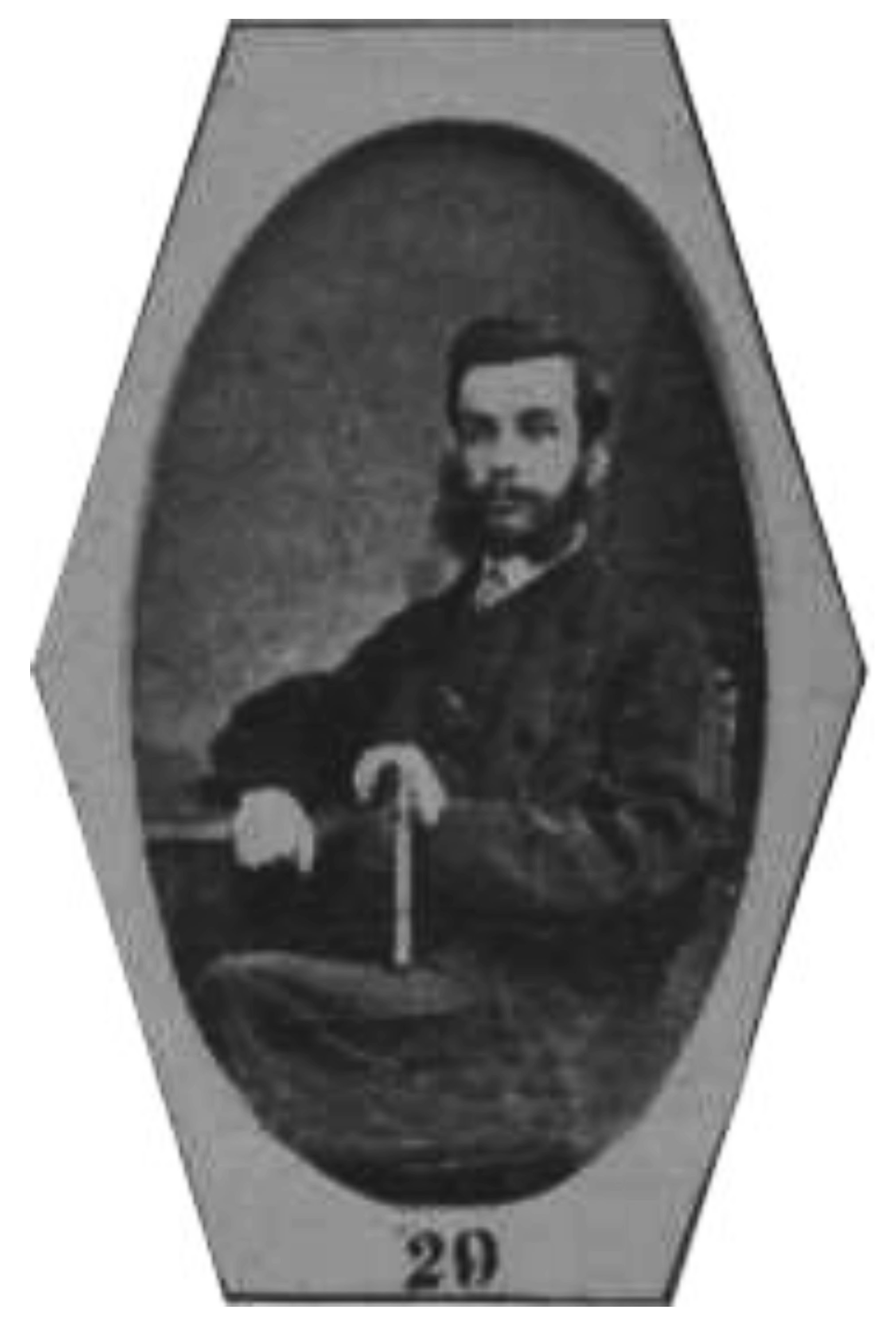 Figure 4. Excerpt from the Journal of the Royal Microscopical Society, 1887, describing Freeman's June exhibition of Underhill's work to the Quekett Microscopical Club.
&nbsp
Freeman was evidently well-read, and wrote authoritatively on many topics. Published essays and comments include subjects such as midges, fleas, sphaeraphide crystals from cactus, grinding tooth specimens for mounting on slides, sea cucumbers, spines of Cidaris and Echinus, and mounting botfly larvae. Edmund Spitta, in his 1907 book Microscopy: The Construction, Theory and Use of the Microscope, wrote: "H.E. Freeman, who is interested in and has studied at some length the Acarina, with the life history in general of microscopic insects, employs a 3-in., 1 1/2 -in., and 2/3rds with opaque objects in small sunk cells. He objects to the use of very high powers because of the difficulty in following a moving object about the field of view."
On January 16, 1901, Freeman presented the Royal Microscopical Society with "a small pocket microscope...It was made by H. Gilbertson, of London, but the date was unknown. It is non-achromatic, and designed for field use; it has neither stand nor stage ; but in place of the latter it has a compressorium or live-box, which slides over the body of the microscope, this sliding tube constituting its sole focussing arrangement." On November 23, Freeman donated to the Quekett Microscopical Club "a copy of Koch's 'Ubersicht des Arachniden-systems' (1837), formerly belonging to the Rev. C.R.N. Burrows."
Henry Edwards Freeman was born during the summer of 1840, at Walcott Farm, Swindon, Wiltshire. Henry later gave the name "Walcott" to his home on Limes Ave., New Southgate. His father, also named Henry Edwards Freeman, was a fairly successful farmer, managing 128 acres and 4 men at the time of the 1851 census. That same census found the 10 year-old Henry as a boarding student at Church Croft, Hungerford, Berkshire. By the time of the 1861 census, Henry had moved back home and was working as an attorney's general clerk. An 1865 issue of Pitman's Journal of Commercial Education listed Henry as being a member of the Phonetic Society, a group that promoted a shorthand writing system.
During the autumn of 1867, Henry Freeman married Elizabeth Mary Laslett in Hungerford. Shortly thereafter, they moved to Islington, in Greater London. The couple had 8 children over the next 22 years. The 1871 census recorded employment of a live-in maid, while later census did not indicate servants. Thus, the Freemans were not particularly well-off. Censuses and Quekett Club records indicate that the Freemans moved several times. Until 1872, the family lived at 10 Durnford Road, Holloway, N. From 1872 until 1874 at 1 Rose Villas, Colney Hatch Road, Wood-green, N. From 1874 through 1877 at 48 Woodstock Road, Finsbury Park, N. The green-papered Topping slide shown in Figure 3, above, dates from this time. Between 1877 and 1883 at 1 Templeton Road, Finsbury Park. Bracegirdle's slide 18-J dates from this period. By 1884, the Freemans were at 60 Plimsoll Road, Finsbury Park. The 1891 census found the Freeman family living at 104 Shaftesbury Road, Crouch Hill, N. By 1901, they had moved to "Ashleigh", on Priory Road, Hornsey, N. The family moved to "Walcott", on Limes Avenue, New Southgate, N., by 1904, and remained at that home until at least 1918. Henry Edwards Freeman died in 1929, at the age of 88.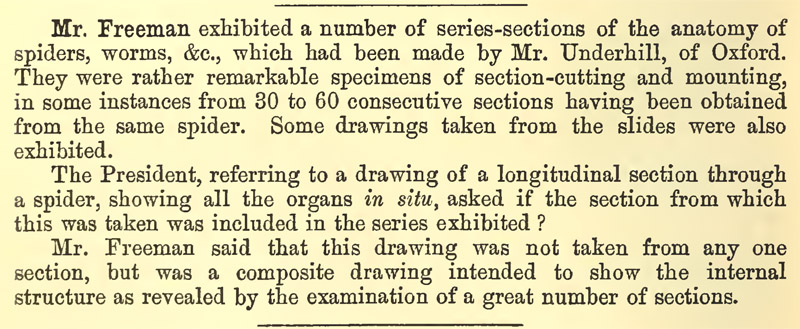 Figure 5. Detail of water measurer mount by Henry Freeman.
&nbsp
Resources
The American Monthly Microscopical Journal (1900) pages 87-88
Bracegirdle, Brian (1998) Microscopical Mounts and Mounters, Quekett Microscopical Club, London
British Journal of Photography (1876) Exchange offers, Vol. 23, page 60
Freeman, Henry E. (1876) Midges and thunder-flies, Hardwicke's Science-Gossip, Vol. 12, page 260
Hardwicke's Science-Gossip (1872) Exchange offers, Vol. 8, pages 168 and 284
Hardwicke's Science-Gossip (1873) Exchange offers, Vol. 9, page 192
Hardwicke's Science-Gossip (1874) Exchange offers, Vol. 10, page 144
Hardwicke's Science-Gossip (1875) Exchange offers, Vol. 11, page 120
Hardwicke's Science-Gossip (1876) Exchange offers, Vol. 12, pages 96 and 283
Hardwicke's Science-Gossip (1877) Exchange offers, Vol. 13, pages 96 and 240
Hardwicke's Science-Gossip (1878) Exchange offers, Vol. 14, page 168
Hardwicke's Science-Gossip (1883) Exchange offers, Vol. 19, page 96
Hardwicke's Science-Gossip (1884) Exchange offers, Vol. 20, pages 24 and 240
Hardwicke's Science-Gossip (1885) Exchange offers, Vol. 21, page 96
Hardwicke's Science-Gossip (1886) Exchange offers, Vol. 22, pages 24 and 144
International Journal of Microscopy & Natural Science (1891) Third series, Vol. 1, pages 91 and 282
Journal of the Royal Microscopical Society (1887) Part 2, June issue, page 698
Journal of the Royal Microscopical Society (1901) page 124
ournal of the Postal Microscopical Club (1882) Vol. 1, pages 56, 94, 192 and 194
Journal of the Postal Microscopical Club (1883) Vol. 2, pages 51, 244 and 250
Journal of the Quekett Microscopical Club (1871) Vol. 2, pages 243 and List of Members
Journal of the Quekett Microscopical Club (1872) Vol. 3, pages 32, 89, 92 and List of Members
Journal of the Quekett Microscopical Club (1873) Vol. 3, pages 154, 185 and List of Members
Journal of the Quekett Microscopical Club (1874) Vol. 3, pages 254, 305, 307 and List of Members
Journal of the Quekett Microscopical Club (1879) Vol. 5, List of Members
Journal of the Quekett Microscopical Club (1886) Series 2, Vol. 3, pages 24-25
Journal of the Quekett Microscopical Club (1887) Series 2, Vol. 3, page 88
Journal of the Quekett Microscopical Club (1892) Series 2, Vol. 5, pages 109, 110 and 381
Journal of the Quekett Microscopical Club (1893) Series 2, Vol. 5, page 381
Journal of the Quekett Microscopical Club (1894) Series 2, Vol. 5, pages 475 and List of Members
Journal of the Quekett Microscopical Club (1894) Series 2, Vol. 6, page 43
Journal of the Quekett Microscopical Club (1899) Series 2, Vol. 7, List of Members
Journal of the Quekett Microscopical Club (1901) Series 2, Vol. 8, List of Members
Journal of the Quekett Microscopical Club (1904) Series 2, Vol. 9, List of Members
Journal of the Quekett Microscopical Club (1909) Series 2, Vol. 11, page 33
Journal of the Quekett Microscopical Club (1918) Series 2, Vol. 13, List of Members
Pitman's Journal of Commercial Education (1865) The Phonetic Society, Vol. 24
Spitta, Edmund J. (1907) Microscopy: The Construction, Theory and Use of the Microscope, page 327
Vital statistics of England, accessed through ancestry.co.uk