Charles Edwin Waddington, 1855 - 1907
by Brian Stevenson
last updated September, 2018
C.E. Waddington was working as a chemist (pharmacist / apothecary) during the time when he appears to have been producing and (probably) selling microscope slides. It was relatively common for Victorian era chemists to supply customers with supplies for microscopy, photography, and other hobbies, along with pharmaceuticals. Many notable microscope slide-makers of that era were primarily chemists, including several whose biographies can be seen on microscopist.net: Henry Ebbage (1862-1949), F.R. Martin (1842-1883), J.J. Owles (1836-1894), T.H. Powell (1851-1932), William E. Porter (1832-1909), and Cornelius Poulton (1814-1854).
Waddington established his chemist's business in Bradford, Yorkshire, in 1879. He advertised to exchange "well-mounted" microscope slides of sheep fluke eggs in 1882. This was during an especially bad outbreak of liver flukes in England's sheep flocks, so there was especially high interest in that parasitic trematode. The Waddington slide shown in Figure 1 is of a sheep fluke, and probably dates from that time.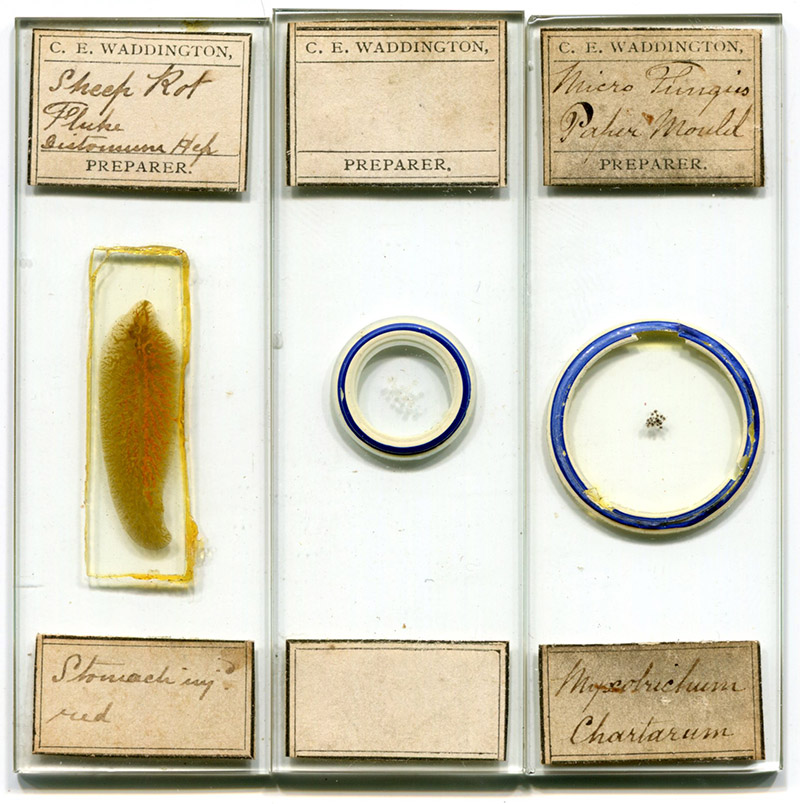 Figure 1. "Sheep Rot Fluke", prepared by C.E. Waddington. He injected the flatworm with a red substance, which highlights internal structures. The early 1880s were especially bad for these parasites in England, with an estimated three million sheep dying from fluke infestation during the winter of 1879-1880. This slide likely dates from around that time.
&nbsp


Figure 2. Top, an exchange request from C.E. Waddington, offering slides of sheep fluke eggs for slides of diatoms of foraminifera. Bottom, one of Waddington's trading partners gave him a defective microscope slide in exchange, leading to this statement from the editors of "Hardwicke's Science-Gossip".
&nbsp
Charles Waddington was born during early 1855 in Boldersby, Yorkshire. He was the sixth of seven children, and the second son. His father, Titus, was a railway station master.
Charles was apprenticed as a teenager. The 1871 census records the 16 year-old as an "apprentice to homeopathic chemist", working for Edmund Capper in Walcot, Somerset. He evidently learned legitimate chemistry, as indicated by notes he wrote in 1874 to The English Mechanic.
Waddington took over the Bradford homeopathic chemist's shop of Mrs. J. Teasdale in 1879. Business must have been very good. The 1881 census shows that Waddington did not live above his shop, but was instead 10 miles away in the suburb of Heaton. He lived with his widowed mother and two siblings, and a domestic servant. His younger brother, Alfred, was then apprenticed to Charles.
The Bradford Microscopical Society was founded in 1882, and Charles served as Secretary for many years. He was still in office when the club merged with the Bradford Naturalists' Society in 1890.
Waddington married during the summer of 1882, to Mary Ellen Butterfield. They had four children, two boys and two girls.
Charles entered medical school at Leeds in 1887. His brother, Alfred, earned his chemist's certificate that year, and probably maintained the Bradford shop. Charles received his degree in 1891, and qualified as Member of the Royal College of Surgeons of England and Licentiate of the Royal College of Physicians, London. He then assigned the chemist's shop to Alfred, and worked as a homeopathic physician in Bradford.
It is not clear whether or not Charles Waddington continued with his microscopical studies and sales after earning his M.D. He was active with other societies, such as his November 15, 1898 lecture on "Nerves" to the Bradford and District Chemists' Association.
Alfred died on May 25, 1904, and the chemist's shop was sold to an outside operation.
Charles Waddington died on December 10, 1909. His obituary in The British Homeopathic Review read, "We regret to announce the death of Dr. Charles Edwin Waddington, which took place on December 10, at Bradford. So long ago as in June last, Dr. Waddington's health broke down under the strain of overwork, and the means since used for his restoration to health were, unhappily, unsuccessful, and he passed away as already stated, aged 52. Dr. Waddington was born at Boldersby, near Ripon, and was the fourth son (sic) of the late Mr. Titus Waddington. The family being attached to the Society of Friends, he was educated at Rawdon School. Entering the Leeds Medical School in 1887, he graduated in 1891, and in the same year qualified as M.R.C.S.Eng. and L.R.C.P.Lond. He established himself in the Manningham district of Bradford, and in the course of a few years gained considerable repute as a homoeopathic practitioner. Skillful, thorough, and in temperament most genial, he was a man to make strong attachments, and among his patients he was a kindly friend as well as a doctor. His practice was more than ordinarily exacting, for he had many patients living at a distance from the city; but he was possessed of great energy, which he devoted unsparingly to his profession".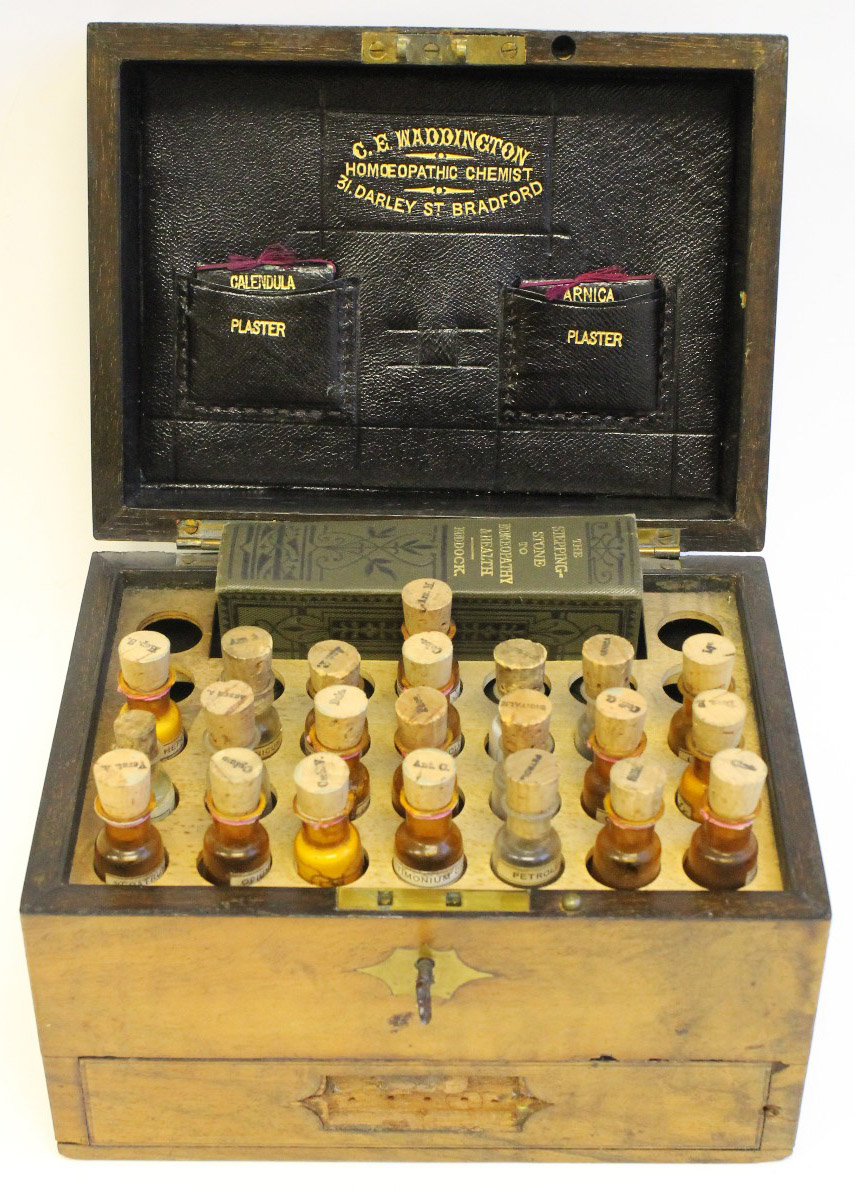 Figure 3. A homeopathic medicine chest, retailed by C.E. Waddington, 31 Darley Street, Bradford. He opened his shop in 1879, and turned it over to brother Alfred in 1891. Adapted for nonprofit, educational purposes from an internet auction site.
&nbsp


Figure 4. Magnified view of the sheep rot fluke on the slide shown in Figure 1. Waddington injected internal organs with red material.
&nbsp
Resources
Annual report of the Yorkshire Naturalists' Union (1890) page 140
The British Friend (1882) "Waddington - Butterfield. - 27th. At Bradford, Charles Edwin Waddington, to Mary Ellen, second daughter of Benjamin and Anna Maria Butterfield, all of Bradford", Vol. 40, page 289
The British Homoeopathic Review (1908) Obituary of C.E. Waddington, Vol. 2, pages 115-116
England census and other records, accessed through ancestry.com
Hardwicke's Science-gossip (1882) Exchange offer from C.E. Waddington, Vol. 18, age 143
Hardwicke's Science-gossip (1882) Editors comments on a complaint from C.E. Waddington, Vol. 18, age 192
The Homeopathic World (1879) Note on C.E. Waddington's new business in Bradford, Vol. 14, page 544
Pharmaceutical Journal (1898) "Tuesday, November 15: Bradford And District Chemists' Association, County Restaurant, Bradford - Dr. C.E. Waddington will lecture on 'Nerves', with lantern illustrations", Vol. 61, page 514h
Pharmaceutical Journal (1904) "We record with great regret the death of Mr. Alfred Henry Waddington, homoeopathic chemist, of Darley Street, Bradford, which occurred on Wednesday last, May 25, from pneumonia, after three days' illness. Mr. Waddington has for years past been not only one of the leaders in pharmaceutical affairs in the West Riding of Yorkshire, but has also figured with considerable prominence in the local affairs of Bradford. Mr. Waddington was born in Hull of a Quaker family in 1860, was educated at Ackworth School, and went to Bradford to act as assistant to his brother, Dr. C. E. Waddington, who established the business in Darley Street. When the brother took his medical degree he transferred the chemist's business to Mr. Waddington, who had qualified in 1887, and he has since carried on the concern with very marked success …", Vol. 72, page 748
Probate of the will of Charles E. Waddington (1909) "Waddington Charles Edwin of 2 Marlborough-road Manningham Bradford died 10 December 1907 Probate London 24 December to Mary Ellen Waddington widow Effects £3321 11s 3d", accessed through ancestry.com
Report of the Fifty-Third Meeting of the British Association for the Advancement of Science (1883) "Bradford Microscopical Society, (established in) 1882, (Secretary) C.E. Waddington, 31 Darley Street, Bradford", Vol. 53, page 344
Thomas, A.P. (1882) The rot in sheep, or the life-history of the liver-fluke, Nature, Vol. 26, pages 606-608
Waddington, C.E. (1874) Ammonia in air, The English Mechanic and World of Science, Vol. 20, page 281
Waddington, C.E. (1874) Oxygen gas, The English Mechanic and World of Science, Vol. 20, page 281
The Yearbook of the Scientific and Learned Societies of Great Britain and Ireland (1885) "Bradford Microscopical Society … Secretary: Charles E. Waddington, 31 Darley Street", page 98
The Yearbook of the Scientific and Learned Societies of Great Britain and Ireland (1889) "Bradford Microscopical Society … Secretary: Charles E. Waddington, 31 Darley Street", page 109